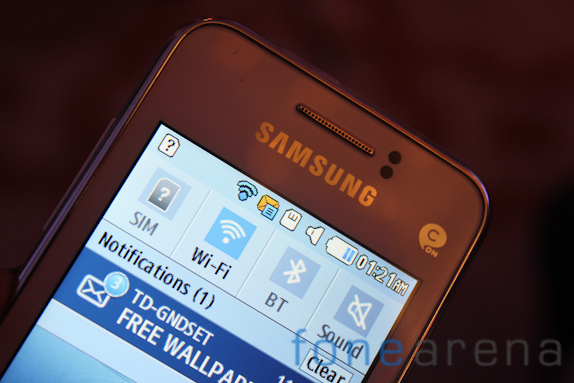 Samsung, in an effort to revamp its featurephone strategy, launched its new range of smart feature phones recently at a press conference in New Delhi. They are called the REX series of devices and four devices have been launched namely REX 60, REX 70, REX 80 and REX 90. We've been taking a look at these phones recently with the photo gallery of the Samsung REX 80, one of the two devices in this range with WiFi in built, along with EDGE. Take a look at the REX 80 hands on below
httpv://www.youtube.com/watch?v=KRNds_i1bqI
The REX 80 has a 3 inch QVGA display with a capacitive multi touch screen. Being a smart Dual SIM phone, it supports active standby with two SIMs simultaneously. It has usual connectivity options like Bluetooth and WiFi, but relies on EDGE instead of 3G for data connectivity.
One the software front, this phone runs on Samsung's own Java operating system that now looks a lot more like the Touchwiz UI, having the same name to it. The icons look exactly the same as its Android counterpart and even the bloop sounds haven't been spared. Samsung has bundled 10 free full version Gameloft games and a lot of apps in this device. The device has apps for Facebook, Twitter, Google Talk, Chat On and some more. There is also the Samsung apps store for additional downloads, and a special My Music and My Movies services too, that can be used for buying music and movies from a huge catalog. The My Music service is free for the first three months.
The build quality of the REX 80 is slightly better in accordance with the price, but the boxy design leaves much to be desired. The phone, like the other REX devices, is easy to hold and fits right in your palm, something which the Samsung R&D guys are really proud of. The capacitive screen, coupled with OS performance is a test of patience, enough said.
So, that was the hands on of the Samsung REX 80, you can check out other hands on videos on our YouTube channel.