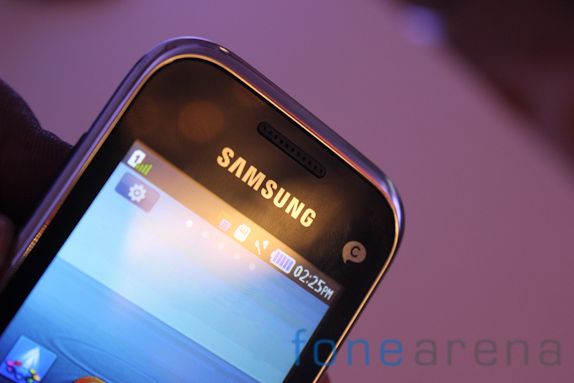 Samsung had launched their new REX series of smart feature phones recently at a press conference in New Delhi here, in India. This is a global launch and the REX series of devices have been designed at the Samsung R&D center in Delhi. Four devices were launched today, as a part of the new REX series, and they are the REX 60, REX 70, REX 80 and the REX 90. We had posted a photo gallery of the REX 60 a while ago, and here is the hands on of the same, with a short video below –
httpv://www.youtube.com/watch?v=E2S6oD5W5J4
The Samsung REX 60 occupies the lowest end of the spectrum in the new REX series of devices with the starting price of Rs. 4280. The phone is a java based feature phone and Samsung has the similar touchwiz UI. It has a QVGA 2.8 inch display. It has eight customisable homescreens. The phone has a 1.3 megapixel camera with smart Dual SIM technology. In the software side, amongst various java apps are the Facebook and Twitter clients, Activesync push mail, Opera Mini browser and 10 full version Gameloft games.
The phone is very small to hold and has typical Samsung glossy plastic all over it. However, the device is very easy to hold, but feels really cheap, because lets face, it's a really cheap device. The display is average and at that price, pretty decent, but the resolution is still something from the stone age, stuck at QVGA resolution. Overall, we don't find anything special in this device, but we are not meant to either, because most devices at this price range don't give much features in the first place.
So, that was the hands on of the Samsung REX 60. Check out our YouTube channel for more hands on videos.