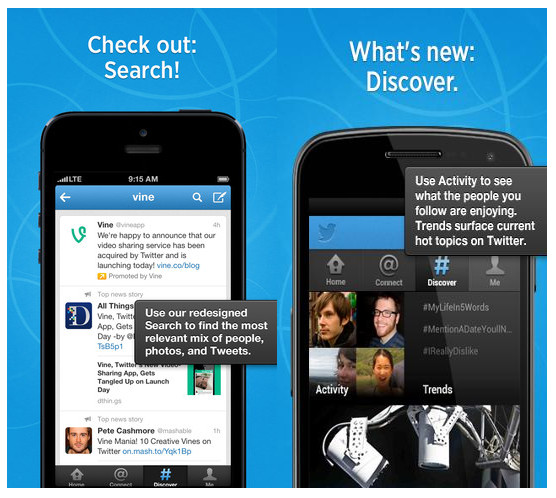 Twitter for Android, iPhone, iPad and the mobile web app has been updated that brings enhanced Discover and Search features that provides a single stream of content in each tab.  Search and Discover features for these Twitter apps have been constantly improving, these apps got instant discovery and photos, videos and news highlight in an update back in November. This new update would offer simpler searching and easier discovery experience.
New features in Twitter for Android, iPhone and iPad
Discover delivers a single stream of Tweets, Trends, Activity and accounts to follow. Pull to refresh or keep scrolling to see more content.
Search shows the most relevant mix of people, Tweets and photos.
It's also easier to use search with one button at the top of the app. (only on iPhone and iPad)
Get five most recent searches and tap them to redo the search, or clear recent search history. (only on iPhone and iPad)
Links instantly open web pages when you tap URLs in your stream.
Performance improvements make launch times faster, especially for older iOS devices.
Connect shows interactions like new followers, retweets and mentions by default. Switch to view mentions only in settings.
Improved right-to-left language support for Arabic and Hebrew (on iPhone and iPad) and  Arabic, Farsi and Hebrew ( on Android 4.0 and higher).
Bug fixes and other improvements.
Download Twitter for Android v3.7 from the Google Play Store, and Twitter for iPhone and iPad v5.3 from the Apple iTunes Store for free, if you don't have them yet.