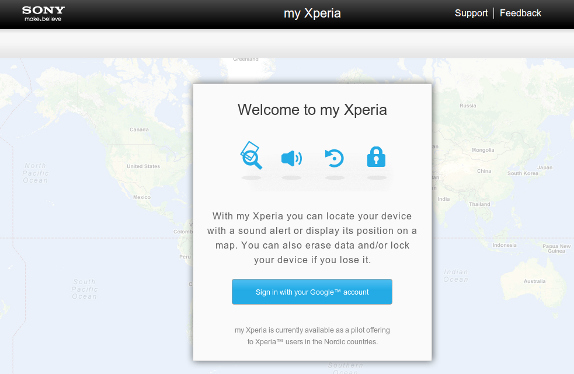 Sony Mobile has announced their own free remote security service called my Xperia for Xperia smartphones. This would let the Xperia users find the device remotely when it is lost, protect private information by locking the device or delete all the information on the device. It uses Google account to connect to the device.
Features of my Xperia service
Find your Xperia device remotely, by locating it on a map. If my Xperia cannot find your device immediately, an email is sent to Google account once your device has been located.
Make the device play a sound to help you find it, if it is misplaced.
Lock your device with a four digit PIN code remotely and write a message to be displayed on the screen when it is found.
Set a phone number where the finder can reach you.
Erase the data on internal memory, memory card or both remotely
A confirmation message is sent to your Google account once it is locked or erased
The my Xperia service would roll out starting from Nordic countries, which could downloaded from Software update > New apps on the phone. It would be available first on Xperia Acro S, and new compatible devices 2012 Xperia smartphones running Android 4.0 ICS would be added over the coming weeks.
This is just a pilot program, global roll out would start in Q2 2013.