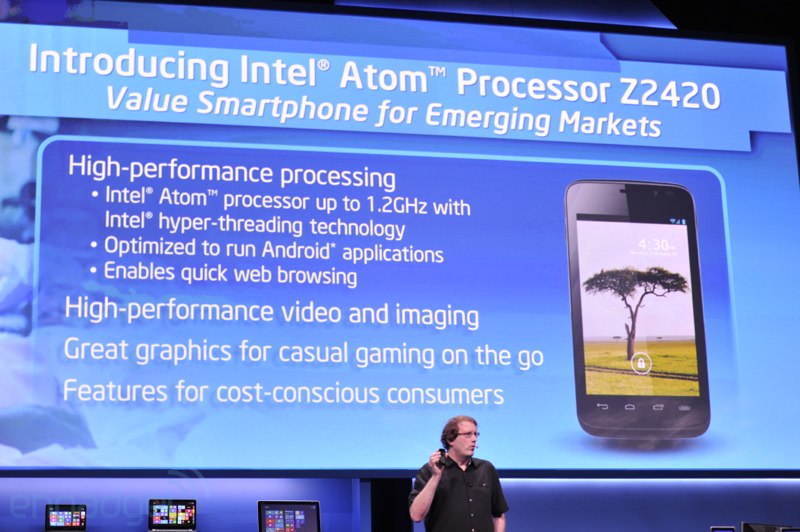 Intel just unveiled its new SoC platform for value smartphones in emerging markets. It is codenamed the Atom Z2420, and it directly aimed at the ever burgeoning mid range smartphone market that craves for powerful hardware. And it looks like Intel might have just the solution for value smartphones, yes, that's what they call mid range devices now. The platform was unveiled today along with a reference device with a 3.5 inch screen, 5 megapixel camera that can shoot 7 frames per second and 1080p full HD video.
The Atom Z2420 has a 1.2 GHz single core processor with hyper threading technology and incorporates the Power VR SGX540 GPU from Imagination technologies. The SGX540 was introduced with the Galaxy S, if we remember right. According to Inte, this chip enables low – mid range smartphone to be blazing fast in web browsing and major multimedia tasks. And talking about multimedia, Intel has made sure that this reference platform is choc a bloc filled with every feature that you can imagine, including full support for most of the video codecs and full HD 1080p encoding/decoding with Intel Wireless display support. We find it a pretty impressive feat for this reference platform. And yes it runs Android and can run all the apps and games, much like the Intel XOLO.
Intel also claims that they have massively improved upon in the battery life department claiming that they can last even longer than rival ARM platforms like the Qualcomm S4. And that's not it, it includes full support for micro SD, dual SIMs and FM radio. Now we are talking! This pretty much sums up the mid range device range. This platform is all set to be utilised by partners like Lava, Acer and Safaricom. With the popularity of the Xolo range of devices here, the Z2420 based devices can't come sooner.
Image via Engadget