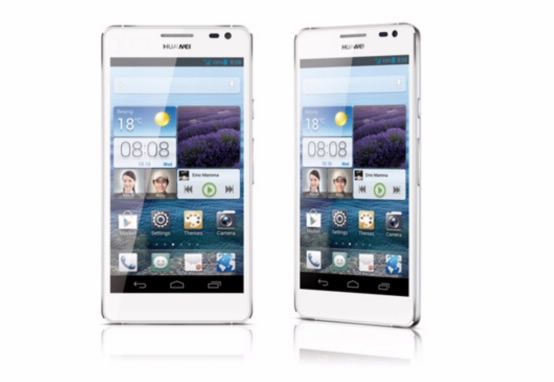 We have seen the leaks and we definitely saw this coming. Yes, Huawei has unveiled the new Ascend D2 and Ascend Mate at CES today, at their press conference. It has a 5 inch full HD 1080p screen, which means that it will join the ranks of HTC's J Butterfly and many more Android devices to come this year. The phone sports a 1.5 GHz Quad core in house K3V3 processor and runs on Android Jellybean. The battery is rated at 3000 mAH and the device sports a 13 megapixel rear camera.
As we said earlier, the screen is a 5 inch 1080p LCD TFT display with a pixel density of 443 ppi, the same as the HTC J butterfly. Interesting facts about the camera is that it has a f2.2 aperture and  a hybrid IR filter. The device also boasts a very loud loudspeaker that can be heard from 2 metres away. Additional features being dust proof and water proof.
The device measures at 9.9mm in thickness and has a curved design, with a plastic back. Huawei also calls this the "most powerful" smartphone. The jury is still out on that one and we are sure that our friends at AnandTech will clear those doubts soon. Is Huawei hitting this out of the park? We'll see for sure, soon.
The Huawei Ascend mate was also launched along with the Ascend D2, sporting a bigger screen and similar internals save for the display, which is 720p on the Ascend Mate. You can check out the Ascend Mate here.