India's leading mobile and broadband provider Airtel has now sought after a new way to provide its broadband internet as a service. While the notion of a paid WiFi hotspot is nothing new in India, there has not been a wide commercial push that has widened its reach, and Airtel may fix just that, with its new "WiFi Hangout" service, a prepaid WiFi hotspot, initially launched in three cities/regions namely Mumbai, NCR and Bangalore.
The WiFi hangouts are Airtel's public WiFi hotspots that can be connected to, using a simple activation method. As mentioned in the webpage, you just need to select "Airtel WiFi zone", activate the voucher, with prepaid plans at Rs.20, Rs.30 and Rs.50, with 30, 60 and 120 minutes of unlimited usage respectively. While we are not exactly sure how the voucher is activated, we think it will be easy.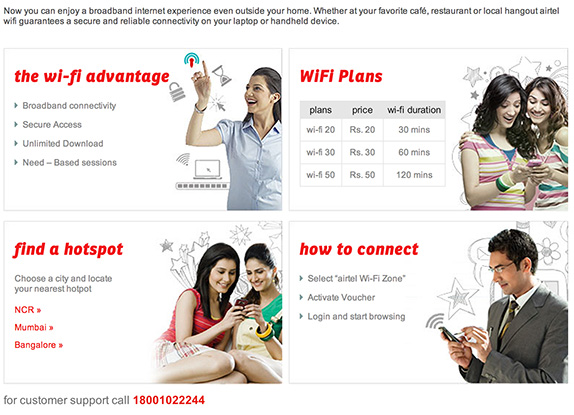 This move also means that establishments can contact Airtel and let them install Airtel WiFi hangouts. Airtel probably sees this as an opportunity to even expand its services and provide a competition to the shoddy upstarts that have been providing this kind of a service as of now. We like competition, so we approve WiFi hangouts! But we sincerely hope there is no FUP involved in this service.
You can visit the source link for more information, and do note that browsing the webpage to find a hotspot location nearby is not enabled yet, we just have to wait longer, I guess.
Source Airtel