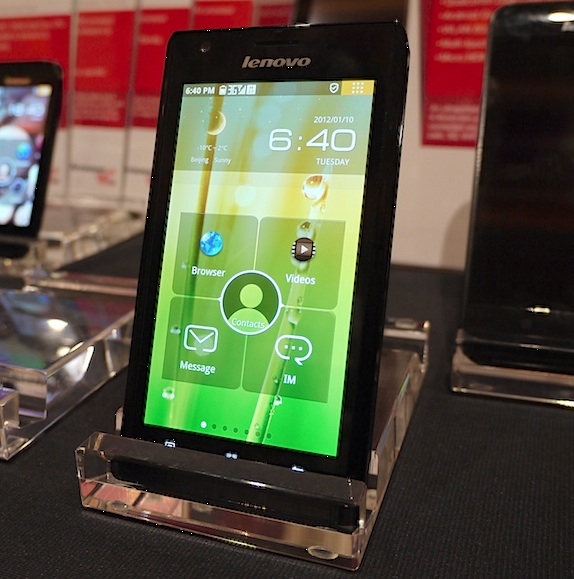 Lenovo is a company that most people associate with personal computers. It's easy to see why. They purchased IBM's computer business in 2005 and quickly started overtaking competitors such as Dell and HP. Today they're the world's largest PC maker and we'd even go far as to say that they make the best PCs (Apple's portfolio not included) on the market. But there's a small problem. The world isn't as hungry for personal computers as it once was. PC sales are actually declining, down over 8% year on year according to the research firm Gartner. Windows 8 might fix things, but people seem to be quite scared of Microsoft's new tile based user interface and the high learning curve it demands.
Seeing that more and more people are interested in mobile devices, Lenovo started selling smartphones in their home country. According to The Wall Street Journal, they're now going to expand to other countries. Not America and Europe, but emerging countries like India and Indonesia. The WSJ says we can expect to see 5 to 8 models being launched in India early next month, all running Android, with prices ranging from $149 to $349.
Will Lenovo ever enter "mature" markets? Milko van Duijl, Lenovo's President of Asia-Pacific and Latin America, says:
"Over time we will look at mature markets like Europe and the U.S., but that is not yet in the plan. That is going to take us a lot more time to get ready for such an expansion."
Asked how Lenovo plans to grow, Milko says that Lenovo is open to buying up companies. Earlier this year there was speculation that Lenovo would buy Nokia, but that obviously hasn't happened yet. With Nokia's stock price continuing to dive, and with Stephen Elop's terrible performance, then who knows. Maybe this time next year the once might Finnish handset maker will become just another Chinese phone brand?