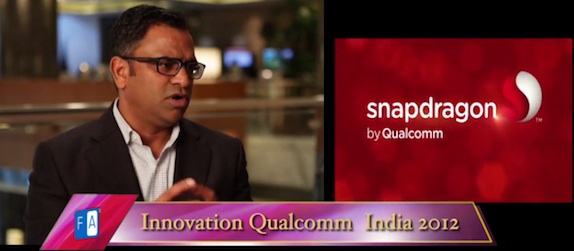 At IQ India 2012 , I got a chance to sit down with Raj Talluri , Senior Vice President , Application Processors  at Qualcomm Inc. Raj is leading the company's Snapdragon lineup of products. I quizzed Raj about Snapdragon , Nvidia Tegra 3 , Samsung Exynos and even Apple's custom chip approach.Watch the full video interview below.
Here is the full text of FoneArena's interview with Qualcomm's Raj Talluri:
Varun: Hi, I am Varun Krish from FoneArena and here we have Raj Talluri, SVP of Application Processors at Qualcomm inc. He is heading the Snapdragon team. So hi Raj, how are you doing?

Raj: Very good, thank you, great to be here.

Varun: Snapdragon is a huge line of products for Qualcomm and India is a big part of it, so how critical is India today?

Raj: Yeah, you know, India, clearly, a large part of the Indian market is price sensitive, although there is a segment of India that can clearly afford higher priced phones, but for that (price sensitive) part of the market, we are actually working quite hard to get some of our Snapdragon chipsets into the more affordable smartphones.
As you can see with S4, we have different classes of products and some of the newer products that we announced recently on S4 are going into a lot of 100$ and below smartphones. We are doing multiple things there, one, just integration and getting rid of, reducing the cost, and the total bill of materials of the phone, and secondly, we are developing something called the Qualcomm reference design, which is a full bill of materials optimized reference design that our partners are now able to take and make phones..
Varun:  The time to market will be reduced because of that?

Raj: …the time to market will be reduced, and also we are able to reduce the R&D, that our partners need to spend to get the phone out, and also provide them very quick time to market.
Varun: So, which are the companies that sell Snapdragon powered phones in India?

Raj: All are traditional customers, cellphones here, HTC, Samsung, Sony Ericsson and also a lot of Indian manufacturers like Micromax, CellOn and Lava, all these customers are using our products, so, quite a bit of traction in the Indian market for a lot of phones.
Varun: So, what do you think makes Snapdragon stand out of the competition?

Raj: Actually, the simple answer is, you know, the key to Snapdragon's success is, may be three things, one, great performance that delivers a great user experience, then integration, because we integrate many things in one package and one chipset, so, you are able to get that power and performance benefit, and also, just a whole footprint inside the phone. And the third one is, we spend a lot of time on optimizing the power, the battery life, because we have always focused on mobile first, in everything we do, use that power advantage. So performance, power and integration.
Varun: You have the HTC One S powered by a Snapdragon chip inside, does Snapdragon or Qualcomm play a role in what goes inside the phone in terms of components?

Raj: What we typically do is, when we make snapdragon chipsets, on the high end, we build things called mobile development platforms or Snapdragon development platforms where we choose a bunch of components and we build an experience device, it's a very high end experience device with great cameras, great audio and video, where we make sure that a 13 megapixel camera is working with the device and so on, and so we test out our display controller for example, like the touch screen. So we get all those things worked out with Snapdragon, ahead of time, and when HTC is ready to make component selection, it's nice for them to know that we have already done the work with many of the hardware component vendors to get the great performance, so they have a choice on which ones to use. Ultimately, they make the choice in what they want, but we provide quite a few choices for them, of things that work well with Snapdragon. Well you know, in addition to the three things I mentioned, there is another important reason that also add to the other three is, we have a very strong roadmap, so we are able to make Snapdragon chipsets that allow the OEMs to make phones from 900$ 1000$ phones to sub 100$ phones, in a very software compatible manner, so they are able to take advantage of the R&D and leverage it to make phones across the segment. We are kind of unique in that manner, most of the competition has one or two products at different parts of it, but they don't cover the whole breadth of the smartphone roadmap.
Varun: So, we saw the quad core APQ8064 reference device at the bloggers' benchmarking session in San Francisco, last month. So, we saw really good performance numbers on that device, and now, a couple of months later, you have real devices from several manufacturers, LG is the first one to launch a phone, so you have real devices running on a quad core grade CPU, so do you think the performance numbers would match with what we saw in the device, back then?
Raj: Oh, it's a very good question. We expect them to be very close. Because, when you guys did the blogger benchmark, those were full phone designs, they were actually full tablet designs in real world applications. So we expect our partner phones to perform similarly.  Actually, just this morning I saw that the verge or one of those sites had a review of the new LG phone and I just saw the performance numbers, they look really good! So, we hope that in real world use cases, you would see the same kind of products and same kind of performance.
Varun: Your competition, Nvidia has five cores in their quad core phone, the fifth core, they say is for their power management. So, on your Snapdragon S4 pro, you don't have the fifth core, but only four cores, do you have a better power management compared to Nvidia?
Raj: Right, so, Krait is fundamentally a different architecture than, the other ARM processors that our competitors have chosen, you know, A15 that is coming from ARM is actually going to be in the Krait class. But you know, A15 is not here yet, so Krait has got a significant advantage in terms of time to market and we have really optimized Krait for power performance. So what happens is, when you run krait, you are able to run the Krait processor, by clocking it down very low and clocking it up very high, and it actually smoothly moves in the power curve. So we don't really need, unlike Nvidia, who needed another core to manage the power because I guess they couldn't manage the A9s to do that. With Krait, we don't really need another one like that because it uses the same processor from the low end to the high end of the performance curve and scale down in the power curve. So we are actually very happy with the design.
Varun: Samsung has their own line up of chipsets called Exynos which is very good in terms of performance and competing with Qualcomm snapdragon, so what are your thoughts on that?

Raj: I think it's a very good platform and they do a good job but it's a competitive marketplace and we compete with lots of chip vendors, you know, Nvidia, Intel, Exynos and TI. Ultimately, Samsung uses whatever product is the best for them, at any point of time, and we are quite happy with the way it's been working out with Snapdragon and Samsung.
Varun: So, what are your thoughts about Apple going with their own custom cores for their iPhones and their iPads?
Raj:  Apple is a very different customer, because they have a total ecosystem that they control in terms of iTunes, the app store and the phones. So, they design their own processors, it's working for them, so it's pretty good for them.
Varun: LTE is the next big thing in terms of technology and pretty must have feature in the handsets which are sold in the U.S and all the phones are mostly powered by Qualcomm, so LTE is still not there in India yet, fully, so probably for pricing reasons. When do you think the prices of LTE based phone be affordable?
Raj: We are actually working quite hard to make very affordable LTE chipsets, in the next year and year after, and we will continue to drive the prices of the LTE chipsets down. But it's not just the price of the chipset, there's a premium for the odd two and so on, it'll take a little longer but we are absolutely doing our part to get the chipset prices down and the integration, so that we can deliver affordable LTE handsets.
Varun: So, what's your current phone?
Raj: I use a bunch of different phones, I think here, I have the HTC One X now, and I have a Samsung Galaxy S III and I guess I will go get the new LG Quad core phone when I get back, in the U.S.
Varun: Alright Raj, it was great talking to you, thanks for your time.
Raj: Yeah, thank you, my pleasure.