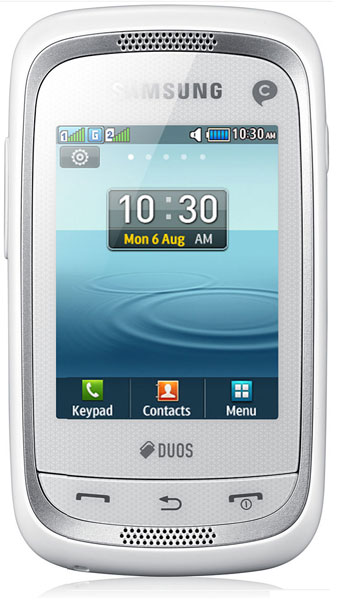 Samsung has just announced a brand new device for the Indian market called the Champ Neo Duos. It doesn't run Android, sadly, or any other smartphone operating system, which means it's a feature phone. Before you run away though, let's see what makes this device special. First, the screen. It's 2.4 inches diagonal, which makes it impossibly tiny. Some people have a thing for small devices, so that's a plus. Now because the phone is so miniscule, Samsung knows you're probably going to rip your hair out trying to use it, so they were nice enough to throw in a stylus. That's right, a feature phone with a stylus! When was the last time you saw that? And finally there's the best feature of all: It takes two SIM cards. Perfect for saving money.
How much does it cost exactly? Rs. 3260. That makes it incredibly cheap, but should you buy it? You should do your research first. Take the Samsung Galaxy Pocket for example. At 2.8 inches it's a tiny bit bigger, but it comes with Android, which makes it incredibly powerful. It even has 3G and GPS. That phone comes in at Rs. 6990, which is more than double, but you really get a much better handset. Chances are you can find a used Galaxy Pocket for much less. You should also look for a used Galaxy Y, which is the predecessor to the Galaxy Pocket.
Back to the Champ Neo, we don't know what else to say about this phone. It's definitely odd. We can't remember the last time Samsung announced a feature phone. We thought they moved their entire product portfolio to either Android or Windows Phone at this point.
Update: If you're looking for a budget smartphone you should also check out Micromax. They're a local Indian vendor who can compete with pretty much anyone when it comes to price!