After finding success with their 7 inch tablet offering, Micromax has decided to out a tablet more suitable for multimedia consumption. The 10inch Micromax Funbook Pro is aimed at those who require something larger but are still constrained by a budget.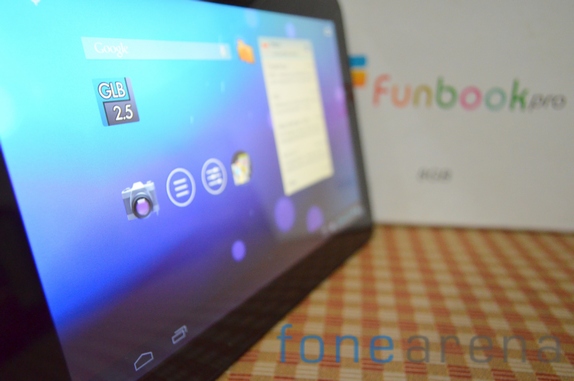 The ridiculously low price point of Rs. 9,999 might throw you off balance and make you think that this is a low cost unbranded tablet but by making some smart choices, the company has managed to bring out something which gives you great bang for the buck. Read on to find more.
Hardware
At first glance, the Funbook Pro looks like a larger version of the Funbook and that description wouldn't be wrong. As the hardware has been specifically built keeping Android 4.0 and higher in mind, there are no hardware keys on the side. Instead what we find is a half inch bezel on all sides making it easy to pick up and use the tablet without accidentally touching the screen.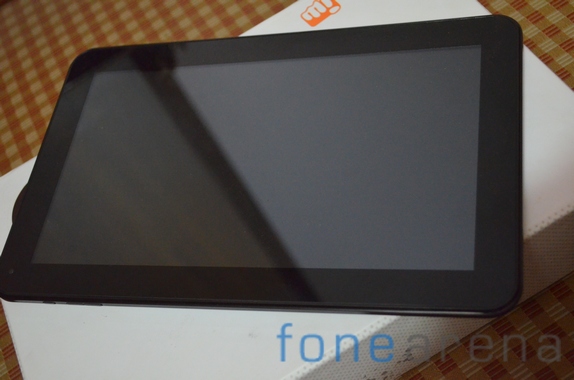 The front of the tablet is mostly focussed on the screen about which we'll talk in a bit. The plastics used are quite glossy and don't feel too high quality. There's no Gorilla Glass on the front of the tablet so you'd better be careful with it. The top of the tablet has a volume rocker.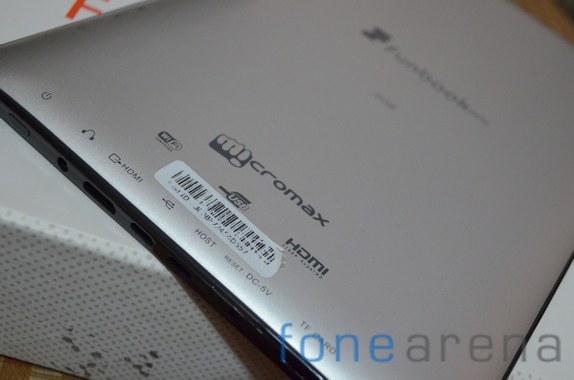 On the right side we have the power key along with a wide array of ports ranging from the power key to headphone , HDMI , USB Host  ports. A microSD card slot can be found on the far right.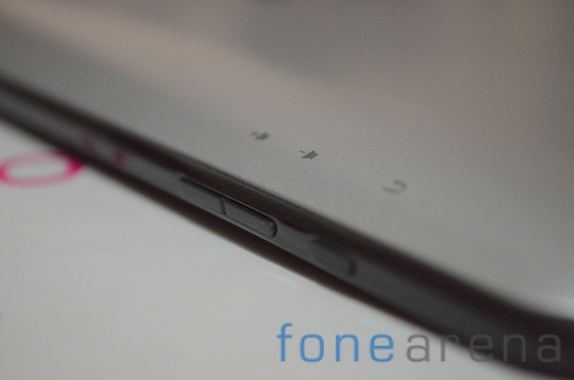 The back of the tablet is identical to the smaller Funbook and is covered in slate gray plastic. A Funbook logo is silkscreened in the middle. and speaker ports are also located here.
Screen
The screen is 10.1 inches in size and is pushing 1024 x 600 pixels. Of this the usable resolution is 1024 x 552 with the rest being allocated to the onscreen buttons.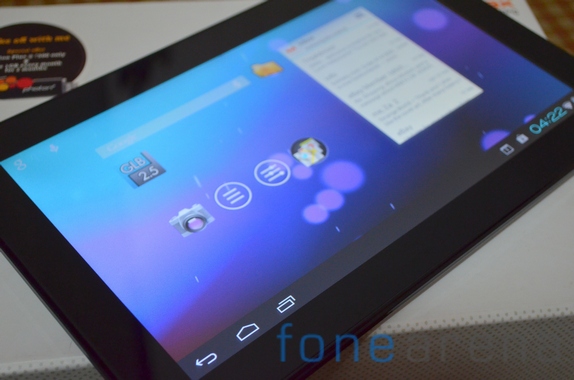 Micromax has made some efforts to improve the quality of the screen here and it clearly shows. Contrast levels are much improved and so are viewing angles. Brightness levels are quite decent too though visibility in direct sunlight was predictably poor.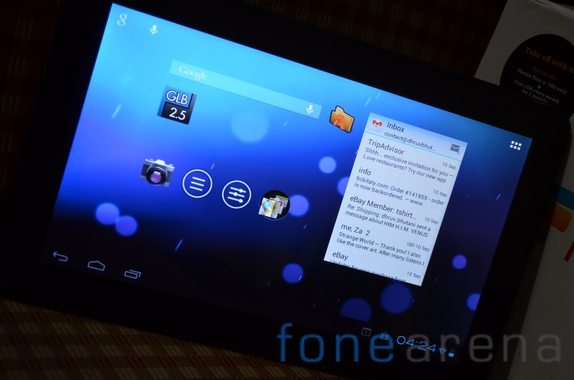 The increased viewing angles mean that it should be possible for you to share and watch a movie together with your friend.
Performance
The tablet is powered by a 1 Ghz sun4i processor with a Mali 400 GPU handling the graphic duties. 1GB of RAM is provided to aid multitasking. Performs across the board remains smooth though there are occasional hiccups and jerks while accessing the UI. Android has GPU acceleration ICS onwards and it makes good use of the Mali 400 GPU.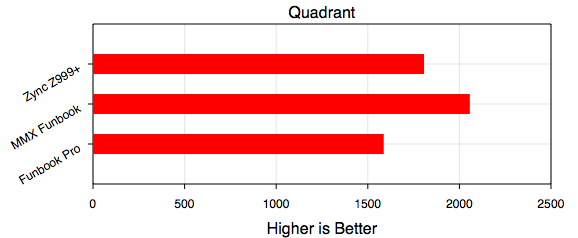 A Quadrant score of 1587 is not the most impressive considering its younger brother, the Funbook, managed to score almost 500 points more than it. Even the Zync Z999+ which we didn't like much scored higher than the Funbook Pro. Quadrant measures CPU, I/O and 3D performance.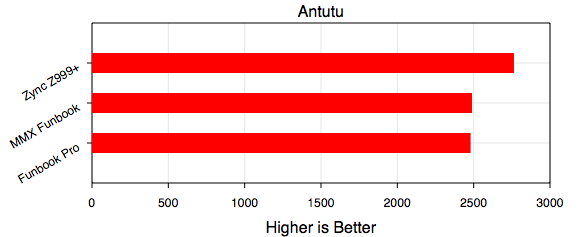 Antutu is another popular benchmark used to score the performance of Android phones. Once again the Funbook Pro scored the lowest but came close to the 7″ Funbook. The reason behind the not so impressive benchmark scores is that the tablet is pushing a greater number of pixels while using similar hardware resulting in greater stress on the device.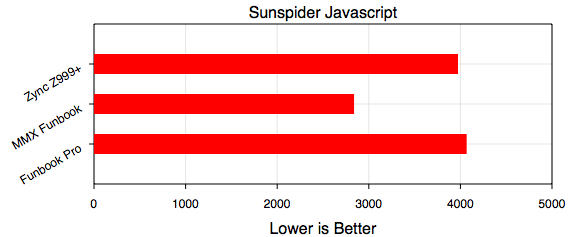 Web browsing comprises of one of the most popular uses for tablets so it makes sense to test out the browsing performance. The Sunspider Javascript benchmark gives us a good idea of browser performance. The Funbook Pro took 4068.3 ms to complete the test compared to 2839.3 ms on the 7″ Funbook. Keep in mind that lower scores are better here. The tablet does not look particularly impressive in the synthetic benchmarks but things aren't so dire in actual usage. The tablet struggles with particularly heavy pages but remains sufficiently speedy while browsing through the usual social networking sites and news pages.
Multimedia
The tablet includes 8GB of storage which can be further augmented by microSD storage to store your multimedia content. The tablet manages to play back  up to 720p video content. Being equipped with a HDMI port means that it is possible to play back HD content over on your television. There is no Bluetooth on the tablet which means that you will not be able to use wireless headphones with your tablet to stream over audio.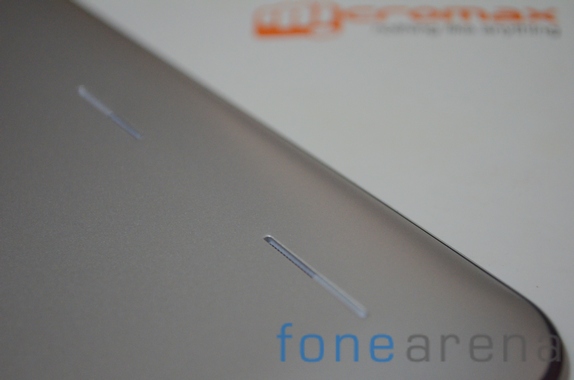 Speaker volume is decent enough but completely lacks bass. Listening to music on the tablet is not the most enjoyable experience as it sounds too shrill and high on treble.
Software
The tablet runs on Android 4.0 Ice Cream Sandwich with a few custom icons installed by Micromax. There are a few extra applications pre-installed by Micromax including a few of their eLearning oriented apps.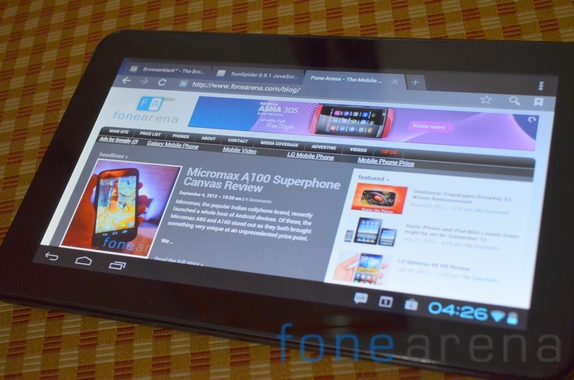 Micromax has also installed its custom store which provides a curated lists of apps to users. That said, the Play Store is present on the tablet so you will have no problems in installing any app you need from the store.
Battery Life
On paper, the 5600 mAh battery on the Funbook Pro sounds very impressive but reality disappoints. Battery life isn't particularly impressive probably due to the lack of software optimization. We consistently got between 3-4 hours of heavy usage. With light browsing, we were able to stretch it to just under 5 hours. You will definitely want to keep that charger handy.
Conclusion
The Micromax Funbook Pro is an interesting piece of hardware as it offers quite a few benefits of higher priced tablets at a fraction of the price. Priced at Rs. 9,999 there is a lot to like about it. On the other hand, performance takes a hit and you will struggle to run processor intensive apps or the latest games.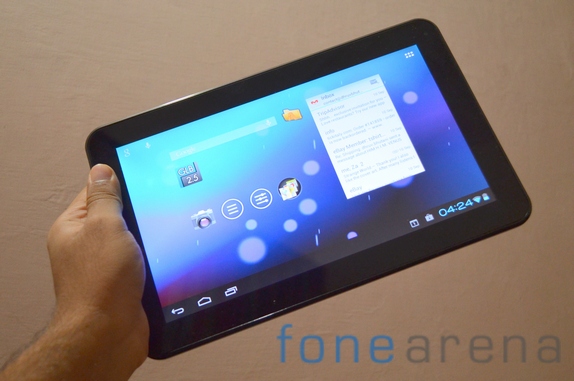 Take a look at the Funbook Pro if you want something for casual web browsing and watching movies from time to time. If tablet gaming is your aim then you'll be served better by something with more potent hardware.
Pros
1. Improved screen
2.  Port selection
Cons
1. Speaker quality
2. Average performance
3. Feels plasticky