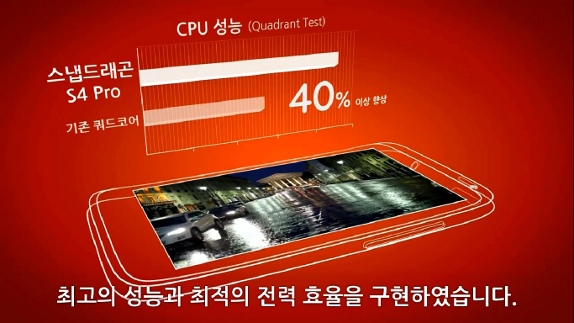 LG Korea has posted a new video and a new teaser site for their upcoming quad-core smartphone with Snapdragon S4 Pro processor. Qualcomm announced yesterday that they would supply Snapdragon S4 Pro to LG for a new quad-core smartphone. This video doesn't explain much, other than the CPU and GPU. From the blank spaces in the site, we can expect 5 more videos in coming weeks that might reveal details about the Camera, Display and Battery of the device.
httpv://www.youtube.com/watch?v=q8wmoZrBoQA
It would use Snapdragon S4 Pro APQ8064 processor with Adreno 320 GPU that would offer superior performance than the current quad-core phones. According to the earlier rumors, it is expected to come with a 13MP camera and 2GB RAM.
LG's quad-core phone is expected to launch in Korea in September with the global roll out followed by that.