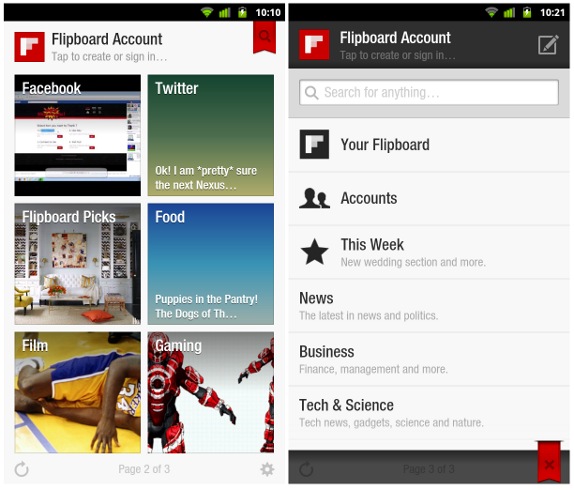 Flipboard has finally released the beta version of their Android app. It was previewed on Samsung S3 earlier this month and the app was leaked from the Galaxy S3 ROM later. Flipboard for iPhone was launched at the end of last year that recently got updated to v1.9 that brought audio support.
You can add different news sources ranging from News, Business, Technology and Science, Entertainment and more. You can also add your personal networks such as Facebook, Twitter, LinkedIn, Tumblr, Instagram, Google Reader, Flickr and 500px. Sadly there is no SoundCloud support yet.
There are Flipboard widgets you can add to the home screen, which is available in medium and small sizes. You can change update period to hourly or daily from the settings. It has also has Instapaper, Pocket and Readability support.
You can sign up to get the Android beta Download link through mail on the Flipboard site. Better hit the download link below to get it directly if you don't want to wait. If you have installed the leaked apk, remove it before installing this version.