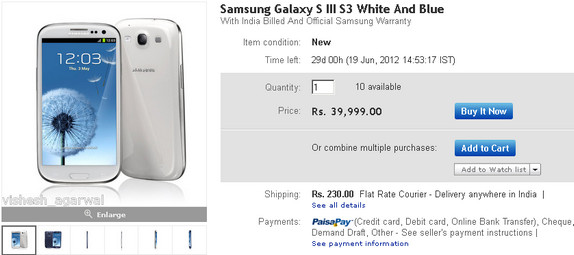 The India launch of the Samsung Galaxy S3 is round the corner , May 31 being the date and Samsung has even started taking Pre-Orders for it's biggest handset launch of the year. But Samsung has not revealed the price of it's flagship Android device. The Galaxy S3 has landed on eBay India with a price tag of Rs.39,999 Rs.44770 and the seller says that the phone will be delivered after 1st June 2012. The Samsung Galaxy S2 was a big hit for Samsung and the company is looking to repeat history with the Galaxy S3. It might won some carrier confidence already as reports indicate over 9 million pre-orders for the device.  The device is yet to reach consumers and goes on sale in many markets on May 31st and would be interesting to see the consumer response.
FoneArena managed to get hands on the device once at the launch event at London and at CTIA.Check out our exclusive Photo Gallery of the Galaxy S3 and the Video Overview
Thanks to @jainsudeep for the heads up
Update : The seller has increased the price from Rs.39,999 to Rs.44770. But according to market sources , the S3 will be priced well under Rs.40000.