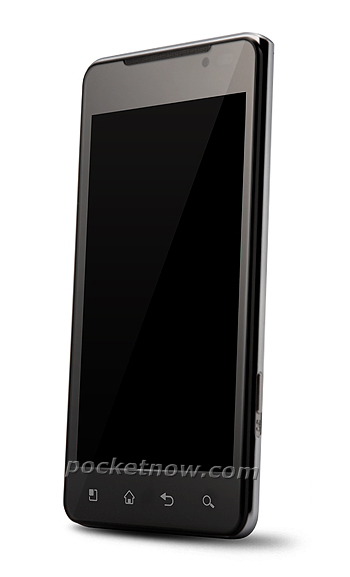 Last week, LG officially announced their new Android powered tablet which is known as the LG Optimus Pad LTE, featuring a 8.9 Inch True HD IPS display and many other goodies. We also had a little sneak peak of LG Optimus 2 and now it seems LG is planning to launch the successor to their famous device known as LG Optimus 3D. Our friends over at PocketNow managed to get their hands on the leaked shot of a LG phone codenamed as "CX2", and it's possible that this phone is successor to Optimus 3D. What we know right now is that the device will be officially announced next month at Mobile World Congress in Barcelona, where a lot of other mobile phone manufacturers will be showing their masterpieces.
About the specs, it's rumored that this device will be featuring a 1.2 GHz Dual-Core Texas Instruments processor, LG's Nova Display with 3D capability, a 5-megapixel camera(also capable of taking 3D photos), 8GB of storage, Bluetooth 3.0, NFC and support for 21Mbps HSPA+ networks. Now the sad news, the device will be running on Android 2.3 rather than the Ice Cream Sandwich, but as it's a rumor, so just take it with a grain of salt.
Well, MWC will be bringing a lot of good things and this device is one of them. Are you excited about the MWC next month? And share your thoughts with us about this leaked device.
Source: PocketNow