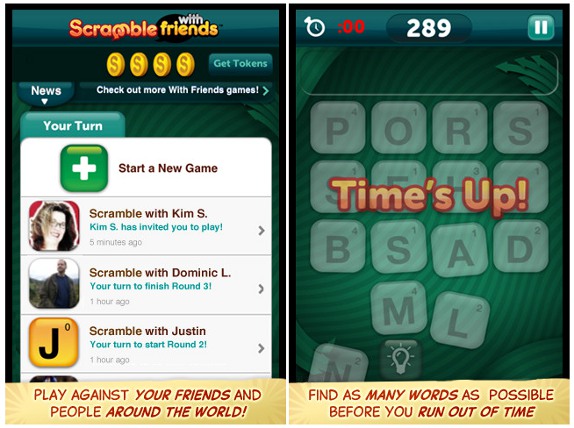 Zynga has launched Scramble With Friends, a fun, social, fast-paced game in their 'With Friends' franchise. This would let players compete against opponents to beat the clock and find as many words as possible on the game board. Each match consists of three rounds of two-minutes, and the player with the highest point total at the end wins. The game is social, simple, fast, and bonus-packed.
Features in Scramble with Friends
Improved the classic Word Scramble game with a whole new look and feel!
Challenge your friends in 3, two-minute rounds…the player with the highest score wins.
Power-Ups! Use Freeze Time, Inspire, and Scramble to gain an edge on your friends!
Login with your Facebook account to play against your friends, or challenge a random opponent across the world
Turn-based, allowing players to play at their own pace.
Similar scoring and the same dictionary and match-making engine as Words With Friends.
In-game chat included – great for trash talking, or whispering sweet nothings into each other's phones.
Connect with friends – players can connect Scramble With Friends with their existing 'With Friends' account or utilize Facebook Connect to easily find new friends to challenge.
 Players start each match with tokens that are replenished over a period of 20-minutes. Each players can choose to spend a token for an additional Power-Up. Additional tokens are available through In-App purchase.
Download Scramble With Friends for iPhone (iOS 4 and later) from the
Apple iTunes Store
for free.