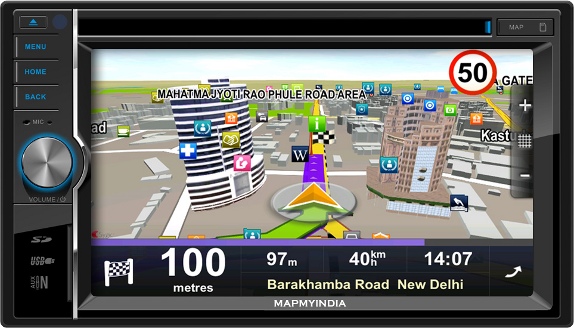 MapmyIndia has launched Android-based in-dash GPS navigation and entertainment systems at Auto Expo 2012 as they announced earlier. These offer access to Android Market, live television in the car, Aura – MapmyIndia's latest full 3D navigation sustem, connected navigation software with house-level search.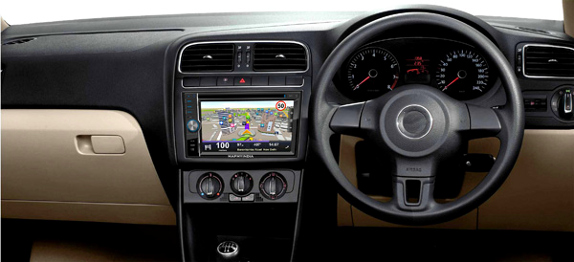 These come with touch screen display, DVD player, iPod connectivity, USB and SD card support for movies and music, Aux-in and AV-in for connecting other audio and video sources, Bluetooth for hands-free calling, AV-in for reverse camera support, Steering Wheel Controls, AV-out to connect to rear-seat or roof-mounted monitors and built in FM radio player.
These Aura, MapmyIndia's latest full-featured 3D navigation software lets you view 3D landmarks, 3D buildings and 3D elevation across hills and mountains, besides house-level search, built-in city and travel guides, detailed trip computer and turn-by-turn voice instructions. You can also discover people and friends nearby, share their location and message with others connecting users to everyone and everything around them.
MapmyIndia Maps v7.0 with Premium Content offers unprecedented map details covering all 5,76,000 towns and villages at national level, 4000+ cities at street level, 36 cities with house-level details, 20 cities in full 3D, and 6.3 million points of interest.
The MapyIndia products are being showcased at stall No. 23 during the Auto Expo 2012 at Pragati Maidan, New Delhi. The price of the Navigation system have not been announced yet.