Currents is the latest application out of Google for Android devices, iPads and iPhones that lets you explore online magazines and other content with the swipe of a finger.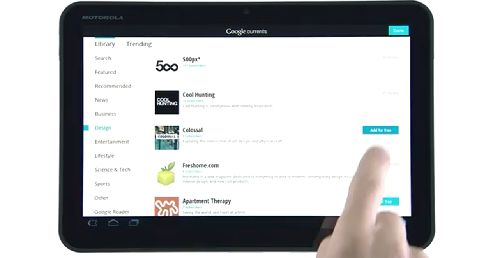 Google has worked with more than 150 publishing partners to offer full-length articles from more than 180 editions including CNET, AllThingsD, Forbes, Saveur, PBS, Huffington Post, Fast Company and more.
httpv://www.youtube.com/watch?v=5LOcUkm8m9w&t=10s
Content is optimized for smartphones and tablets, allowing users to intuitively navigate between words, pictures and video on large and small screens alike, even when offline.
To get started, simply download the app and choose the publications you want to subscribe to for free. You can also add RSS, video and photo feeds, public Google+ streams and Google Reader subscriptions you're already following. In addition to consuming your favorite media, you can also use the trending tab to discover related content that matches your tastes.