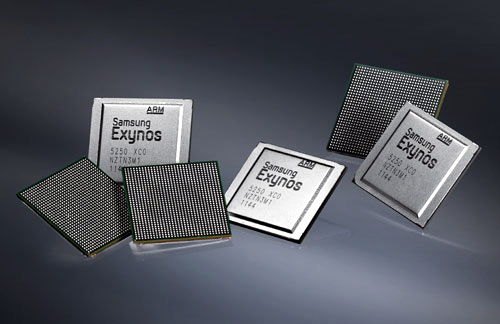 Samsung Electronics has announced their next-generation Cortex-A15 processor equipped with 2.0GHz, high-performance dual-core Exynos 5250 SoC (System on Chip) that would use less power while offering 2x better performance than existing CPUs. It is created using a 32nm-low power HKMG process and could process 2 instructions per second to 14 billion (14,000 DMIPS) while the existing 1.5GHz dual-core Cortex-A9-based products process 2 instructions per second to 7.5 billion (7,500 DMIPS ).This was already rumored back in April this year.
It also has support of high-resolution WQXGA (2560 x 1600) displays, 4 times better 3D graphics performance than the Cortex-A9 based products. This would also offer better Stereoscopic 3D display that would offer better high-end 3D gaming, fast data processing, 3D graphics, implementation and better memory bandwidth of 12.8GBytes/sec.
This might use the recently unveiled Mali-T658 GPU that would offer 10x graphics performance than Current-Gen GPUs. The Exynos 5250 chip would be used in high-end tablets and would be available in Q2 2012.
via: SammyHub