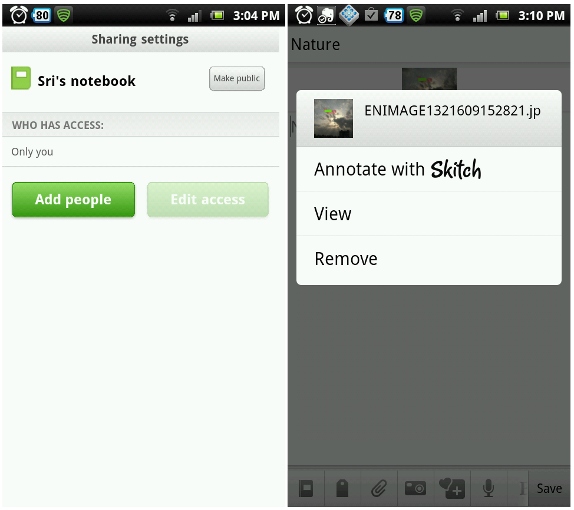 Evernote for Android has been updated to version 3.3. This includes lots of new features such as option to share notebooks with everyone or individuals, better picture editing with Skitch inside the Evernote app, Separate homescreen widget and much more. The previous Evernote version 3.2 brought tighter integration with skitch.
New features in Evernote v3.3 for Android  
You can now share your notebooks easily by select different individuals or with everyone
Now you can tap and hold an image inside the note or tap an image in slideshow view and select edit in Skitch to make your annotations and tap on the elephant icon to go back into Evernote
You can replace or append the image to update the old image with the new or save it as a new image
You can create text, audio and snapshot notes, as well as get to the search screen easily with the new Evernote widget even it the Evernote app is installed in the SD card
Premium users can also let others to edit their notes. Download 
Evernote
and the new
Evernote Widget
for Android from the Android Market for free.