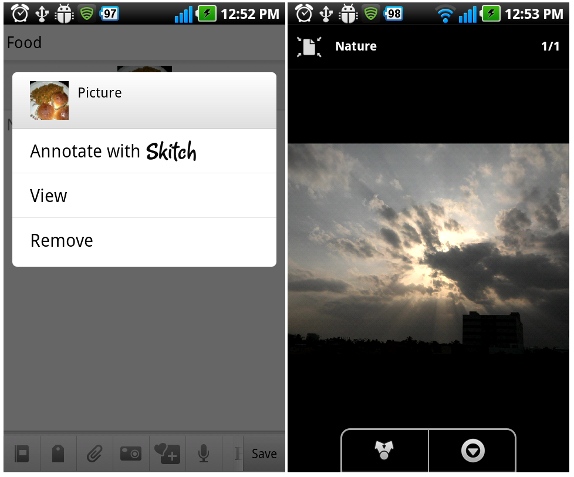 Evernote for Android has been updated to version 3.2 that includes tighter integration with their Skitch app and new features. They acquired Skith and launched the Skitch android app last month that lets you capture, annotate and share images.
Features in Evernote v3.2 for Android
Launch a blank Skitch canvas from inside Evernote by clicking the skitch logo and save your sketch into Evernote
Tap on an image in Evernote, send it into Skitch, annotate it, then save it back into Evernote
Offline Search through notes stored on the device, premium users can search entire notebook
Open the images in slideshow view, edit the title by tapping it
Move notes between notebooks
Tap and hold a note in a list to move between notebooks
The tagging has been redesigned
Save files attached to notes to your SD card from the menu by selecting save attachments
Shared Notebook invitations that arrive in email could now be opened in the Evernote app
Download Evernote version 3.2 for Android from the Android Market for free.