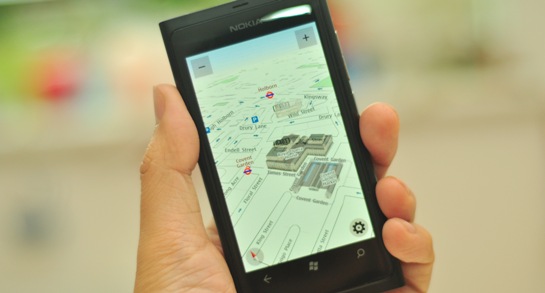 Much has been written about how Nokia would attempt to differentiate their Windows Phone 7 smartphones to other Microsoft OEM licensees. Well now that we have our hands on the new Lumia 800, we can just see how much, if at all, Nokia has customised the UI in their quest to set themselves apart.
As you can see from the video embedded below, the core Windows Phone 7 experience has been left untouched. The love it or hate it Metro UI is fast, sleek and benefits from Microsoft's rigid chassis 1 specifications. The first generation Windows Phone 7 devices all contains the same single core 1 GHz Qualcomm Snapdragon processor, and nobody complained about the performance.
httpv://www.youtube.com/watch?v=zg2fyJY50-s
The one found in the Lumia 800 is clocked at 1.4 GHz which is quite a speed bump. Some has mentioned that the Lumia 800 would benefit more from a dual core processor. Perhaps when Apollo or Tango arrives with 720p display support, but right now Windows Phone 7 is so well optimised it just does not need one.
Many people have asked and I can confirm that Nokia Pure is no where to be seen. In fact there is still no way of changing the default typeface on Windows Phone 7. I doubt many people will mind. Segoe is a modern and clean sanserif typeface that works really well with the Metro interface. So much so I have even used it in my previous Nokia N8. Still it would be nice to see font changing as an option in future Windows Phone updates.
There is one small consolations for those seeking for a more "Nokia experience". Under the theme settings you will find a new accent called 'Nokia Blue'. This is the same hue of Nokia's famous blue logo, and it looks great on the Lumia 800's AMOLED screen.
The Lumia 800 ships with two Nokia-exclusive applications, Nokia Music and Nokia Drive. There is an icon for Nokia Maps, but this takes us to a Nokia Maps app-holder page on the Marketplace, plus it isn't a Nokia exclusive application. Nokia has also announced an 'exclusive' ESPN application, but this was no where to be seen on my Lumia 800. Besides, an ESPN app isn't exactly that exciting.
Nokia Drive is a free voice navigation application. It works exactly like Nokia Maps on Symbian, complete with 3D landmarks, 2D/3D and satellite mode, and access to a huge database of POIs. Nokia Drive has an advantage over competing maps applications in that you will have access to maps from over 100 countries and these maps are available in offline as well.
httpv://www.youtube.com/watch?v=BP2DFfzR7mc
Maps are available to download in regions or whole countries. For example the entire UK maps is available as a 231MB download, but you can also download the maps for Wales separately. Map downloads is fast. It took the device ten minutes to download the entire UK map via WiFi. Unfortunately it is not possible to queue downloads.
Voice guided navigation aren't unique, but at least with Nokia Drive you will know you get this for free with guaranteed access to the latest maps and POIs during the entire lifetime of your device.
The second exclusive application that Nokia has provided is Nokia Music. We all know about Spotify, and that Spotify requires subscription to listen to streaming music on mobiles. It also isn't available in many countries. Well Nokia Music is similar (in a stripped down sort of way), but instead of paying US$10 a month, you get the streaming bit for free. The application is integrated into the Zune music app.
What Nokia Music provides is a easy interface to prepackaged radio stations that has already been customised for different regions and genres. Nokia has announced that stations can be downloaded for offline listening, though I have found no way of doing so. As the Lumia 800 I have is a prototype device running on none-finished software, this may be possible on the retail version.
httpv://www.youtube.com/watch?v=5udaGe6t84Y
In any case, the app makes music discovery a rather easy process and most customers will find being able to get music right out of the box with a new phone to be a compelling experience. Once you start listening to a music you can control the jukebox from anywhere within the OS, even on the lock screen. Pressing the volume button will toggle a pop up control.
As Nokia Music is also a music store, you can easily purchase and download music directly from the phone. Tracks costs from £0.79 and you can buy them individually or the album as a whole (which tends to work out cheaper). Album prices are also competitive. Nirvana's Nevermind for example costs £4.99 on the Nokia Music store, a full 50p cheaper than if bought via Amazon UK's MP3 store. Track previews are available for each tracks.
Before I sign off. I have received questions regarding Internet Sharing function on the Lumia 800, or the lack of it. I can confirm that there is no Internet Sharing feature on my Nokia Lumia 800, but Nokia has also confirmed that they are working on making this feature available.