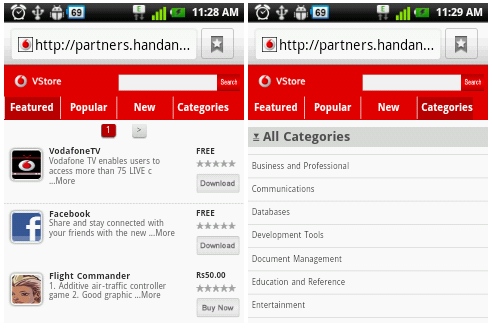 Vodafone has launched Vodafone Mobile Application Store, Powered by Appia that has vast selection of over 10,000 free and paid applications for different mobile platforms such as Android, Java, Symbian and Blackberry. It shows Featured, Popular and New apps. The popular App categories includes games, entertainment, social networking and local culture. There are also Apps from the local providers, including Hungama, India Games and Nazara, Spice, and Vodafone-branded apps like Portfolio Tracker, Vodafone TV, and Chhota Comics. You can also search for the apps manually.
Vodafone customers can sms <VStore> or <Apps> to 111 (toll-free) from their GPRS-enabled handsets and click on the URL in the response message to enter the app store. They can also log-in to live.vodafone.in from the mobile and click the Vstore link on the Vodafone Live homepage. Only the apps compatible with your device are shown and your handset model is automatically detected while you get to the app store via GPRS.
The store currently supports over 3,500 different devices that is optimized to match applications to the specific device. The applications are available in the range from free to Rs 20, while the games are priced up to Rs 150. It is available for Vodafone Prepaid & Postpaid Customers on both 2G / 3G.