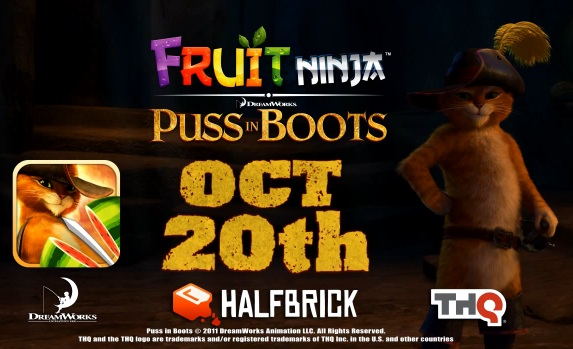 Halfbrick studios have announced a new game Fruit Ninja: Puss in Boots for iPhone in partnership with DreamWorks Studios. This game has all-new Bandito mode with exciting challenges that would let you become the greatest Fruit Ninja warrior ever. The Desperado mode will have even more fruits, unique waves and Puss in Boots' elusive Magic Beans from the DreamWorks Animation feature film.
Puss in Boots' own exclusive ninja Stash features customizable content, including new backgrounds and blades with elements from both the film and Fruit Ninja. The scoring is based on the number of fruit sliced, ninja reflexes and slicing efficiency and you can upload the best scores to Global Leaderboards to compare against friends and the best players online.
Checkout the Fruit Ninja: Puss in Boots – Debut Trailer from the Halfbrick studios:
httpv://www.youtube.com/watch?v=YG6Zd_htZv0
This game looks interesting and the Puss in Boots animation movie is also coming this year. The Fruit Ninja: Puss in Boots game would be available for iPhone on October 20th, and we are going it for sure. Hope they release the game on other platforms like Android and Windows Phone too. Are you going to get this game?