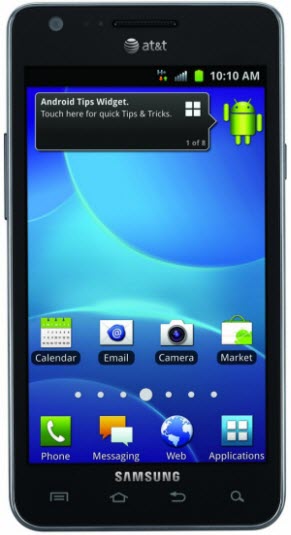 Samsung Galaxy S II is the company's most popular Android smartphone. This handset was launched in South Korea during April, followed by other European and Asian countries in May. After waiting for nearly 3 months, Samsung finally announced the Galaxy S II in 3 variants for AT&T, Sprint and T-Mobile customers in the US. Sprint has already released the smartphone for its subscribers, but AT&T and T-Mobile customers were left behind. Today, AT&T has finally announced the price and release date of this powerful smartphone.
AT&T Galaxy S II features a 4.3 Super AMOLED Plus display with 480 x 800 pixels resolution, 1.2 Ghz dual core processor, Android 2.3.4 (Gingerbread) OS, 8 megapixel auto-focus camera with LED flash, Full HD (1080p) video recording, 2 megapixel front-facing camera, HDMI Out, Wi-Fi 802.11 a/b/g/n, Bluetooth 3.0, 4G Connectivity, 1 GB RAM, 16GB internal storage, microSD card slot, 32GB expandable memory, 8 GB microSD card bundled, Motion UX, 6-axis gyroscope, Proximity sensor and a 1650 mAh battery.
AT&T recently tweeted that, the much-awaited Galaxy S II smartphone will be available for its customers from October 2. You can get this device for $199.99 with a 2 year service agreement. You will also need to subscribe to a $15 monthly data plan. We hope that, T-Mobile will soon announce the price and release date of this handset.