A device with the model number Samsung GT-I9250 just passed through Wi-Fi certification today, and as reported by droid-life it could have been the Samsung Nexus Prime receiving a certification. There is not much detail about the device other than the model number, but now we are sure that there exists a secret device inside Samsung's base camp.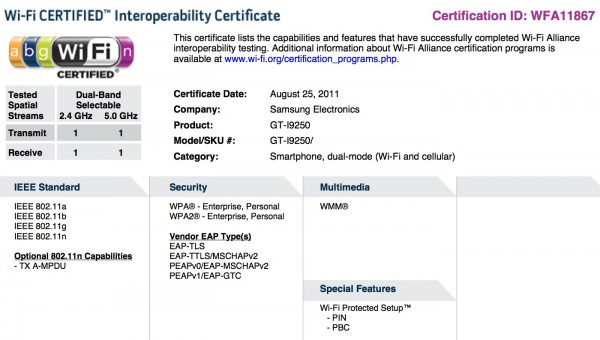 The Nexus branded come without any bloatwares or third party UI, they run pure android, they also come with an easily unlockable bootloader which makes it an instant favorite among the developers. The rumored Nexus Prime is to have a 4.5″ screen with 1280 x 720 p resolution display which is known as Super AMOLED HD display with pentile technology.
The Samsung Nexus Prime is also rumored to have a 1.5 GHz dual core processor with 1 GB RAM and a 5 MP rear camera. It will also be running on Ice Cream Sandwich which will be the next version of Android with features combined from both tablets and phones. This device sure looks tasty, but all these are just rumors, soon we will come to know the truth.
Source: Droid-life