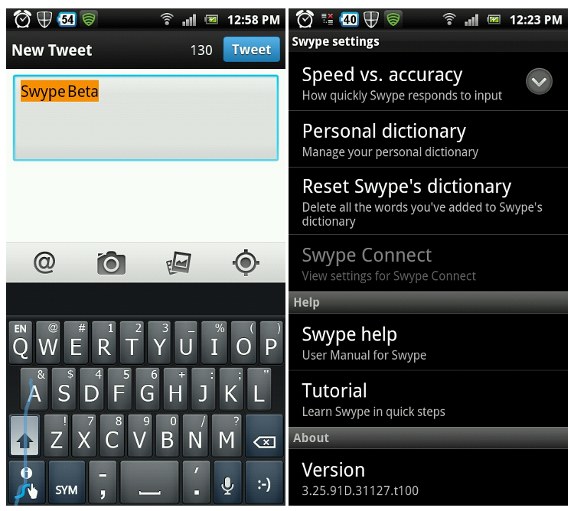 Swype keyboard for Android has been updated to version 3.25 that bring new features like editing and application gestures,  Dictionary  management and Swype connect. Previous update was version 3.0 Beta that was released in June.
New Features in Swype 3.25 Beta
Swype from the Swype key to the X key to Cut, C key to Copy, V key to Paste and A key to Select all
Highlight any text, anywhere, then send it directly to an application (currently supported for Twitter (Swype key to T-W) , Google Maps(Swype key to G-M) , and Facebook (Swype key to F-B) )
View, add, remove, and edit words from the personal dictionary option in Swype Settings
Swype connect will automatically connect to Swype servers and send the basic information about the device and will also send data to identify errors and areas that need improvement
Lots of application-specific improvements and fixes.
Check out the demo that shows the new features in the Swype 3.25 Beta
httpv://www.youtube.com/watch?v=DngXwUoyqCA
If you are new to Swype, register with your e-mail id and the download link would be sent to you by e-mail. Open the link from your phone and download the Swype installer, install it and log into it with your details. Select the language and download Swype.
If you already use Swype, uninstall the current version of Swype (not the installer) and use the installer to download the new version.