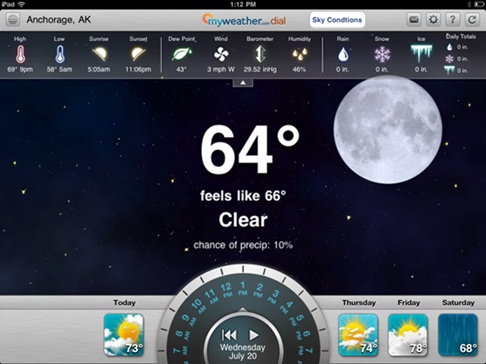 MyWeather.com, which is known for its weather products, has launched MyWeather Dial app for iPad2 that shows animated forecasts. They have already launched MyWeather Mobile app for iPhone and the Android apps this May. This app also syncs your MyWeather.com account settings like saved locations and preferences.
Features of MyWeather Dial for iPad 2
Hourly forecasts for the next 7 days with real-to-life sky conditions
More than 100 videos of the weather conditions based on the location
Shows precise hourly data like Hi/Low temperature for the day, Precipitation totals (rain, snow, sleet), Humidity, Dew Point, Barometer, Sunrise/sunset and Wind speed & direction
The MyWeather Dial's uses leading global data that is six times more precise in providing location-specific weather conditions and it provides advanced overlays, animations, and seamless user experience that are made optimized for the iPad 2.
Download the MyWeather Dial app for iPad 2 for $0.99 (Introductory offer) from the Apple iTunes store.