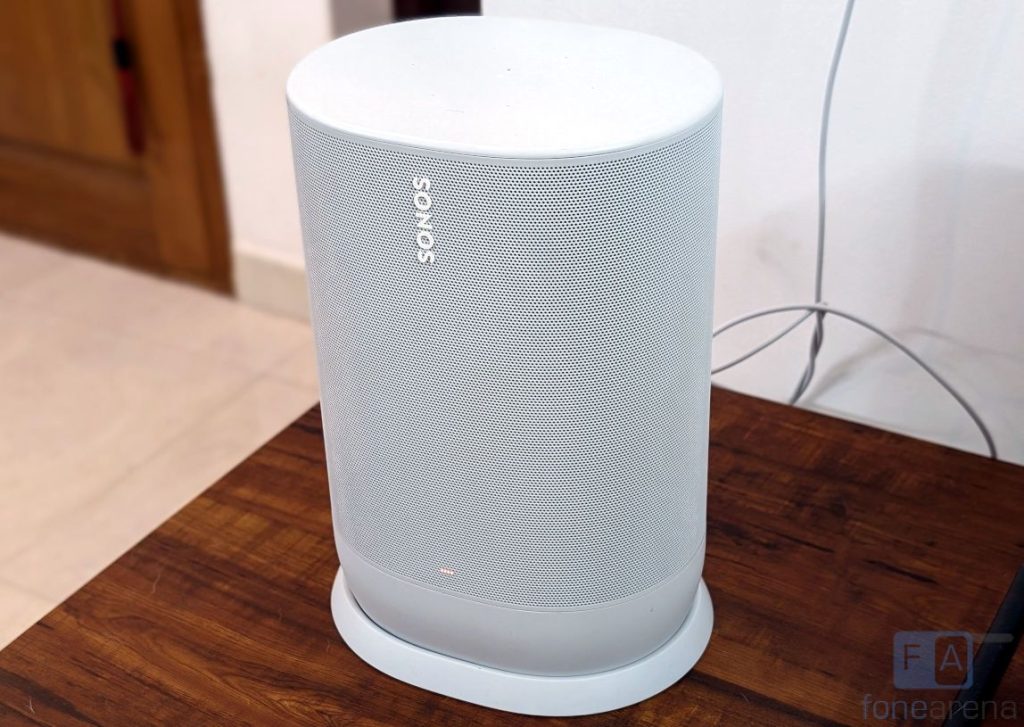 Sonos, a California-based developer and manufacturer of audio products known for its multi-room audio products, established itself in the Bluetooth speaker department with its first-ever (not-so) portable device — Sonos Move.
Move is the company's first model with a rechargeable battery and support for Bluetooth audio, which means it's the first Sonos speaker you can take wherever you want! Sonos Move goes beyond just a Bluetooth speaker and offers Wi-Fi support through the Sonos app.
Design and Build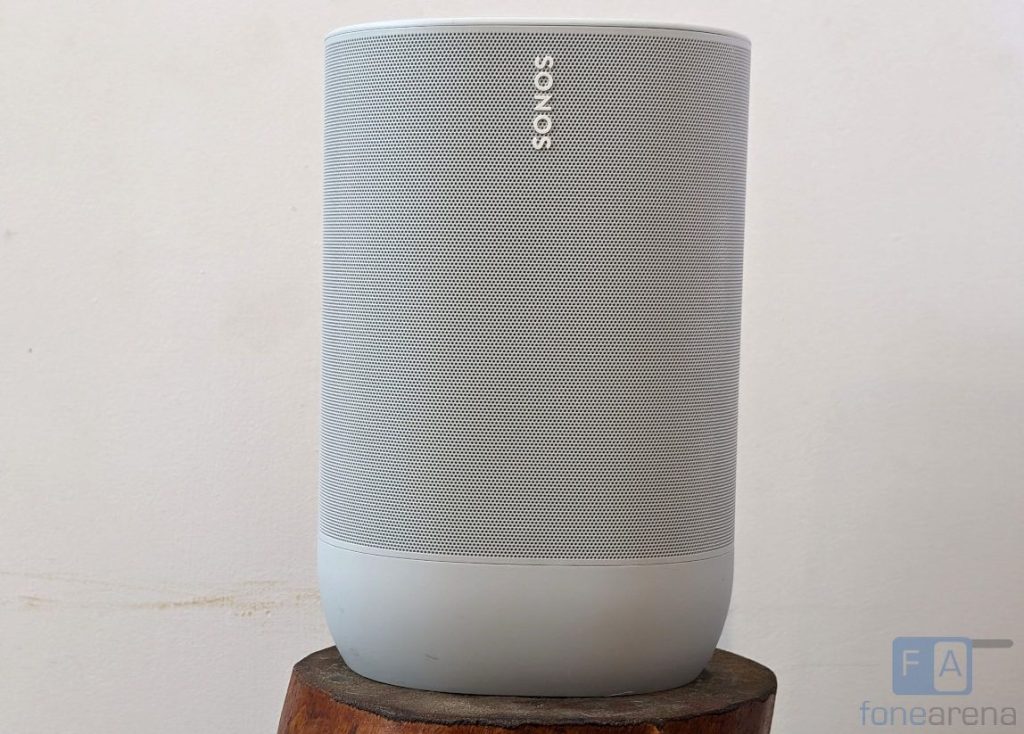 The Sonos Move boasts a minimal yet classy design that can seamlessly integrate into any environment.
For a Bluetooth speaker billed as portable, it is hefty and not the one you'll be taking out of the house or on a day trip in the car. The speaker is cylindrical, measuring 9.44 inches in height and 6.29 inches in diameter.
The speaker weighs 3 kg, which is relatively heavy for a portable speaker. It features a recessed area that functions as a handle, making it easy to carry from one room to another or indoors to outdoors.
While it may be cumbersome for long hikes, it's perfect for moving around the house or backyard.
Its eggshell-like finish in black or white gives it a sophisticated look, while its IP56 rating ensures protection against dust and water. It makes it suitable for outdoor use, withstanding splashes and rain.
However, it's important to note that the Move is not waterproof and should not be submerged.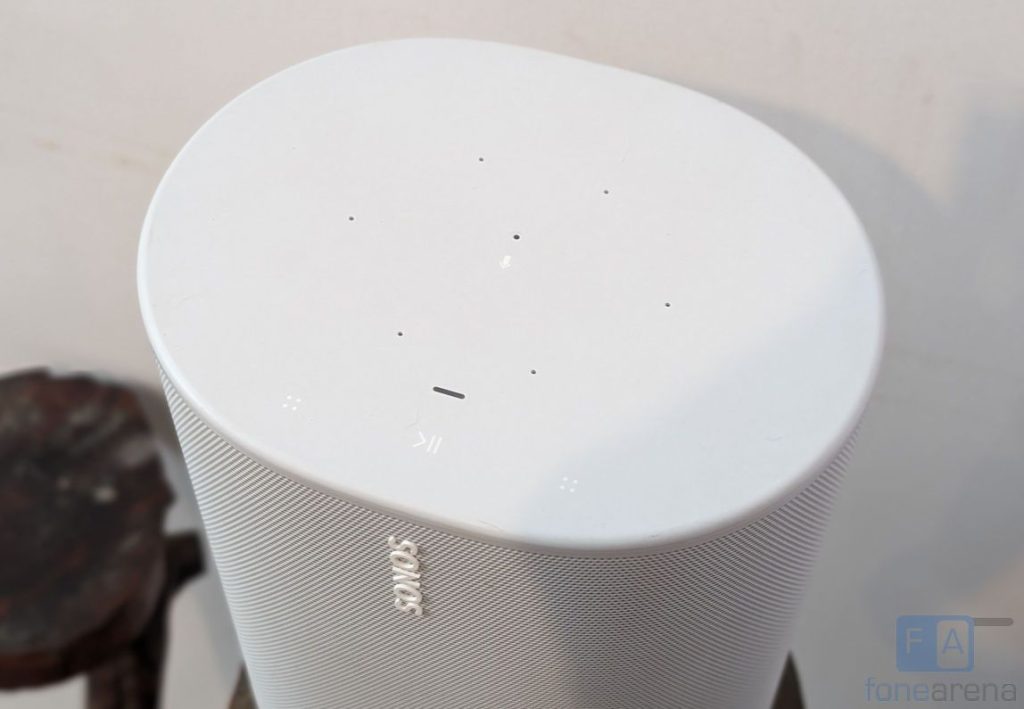 The top panel of the speaker features touch-sensitive controls, including play/pause and volume buttons. Additionally, there is a mic/mic mute button for voice control and a far-field mic array for clear voice commands.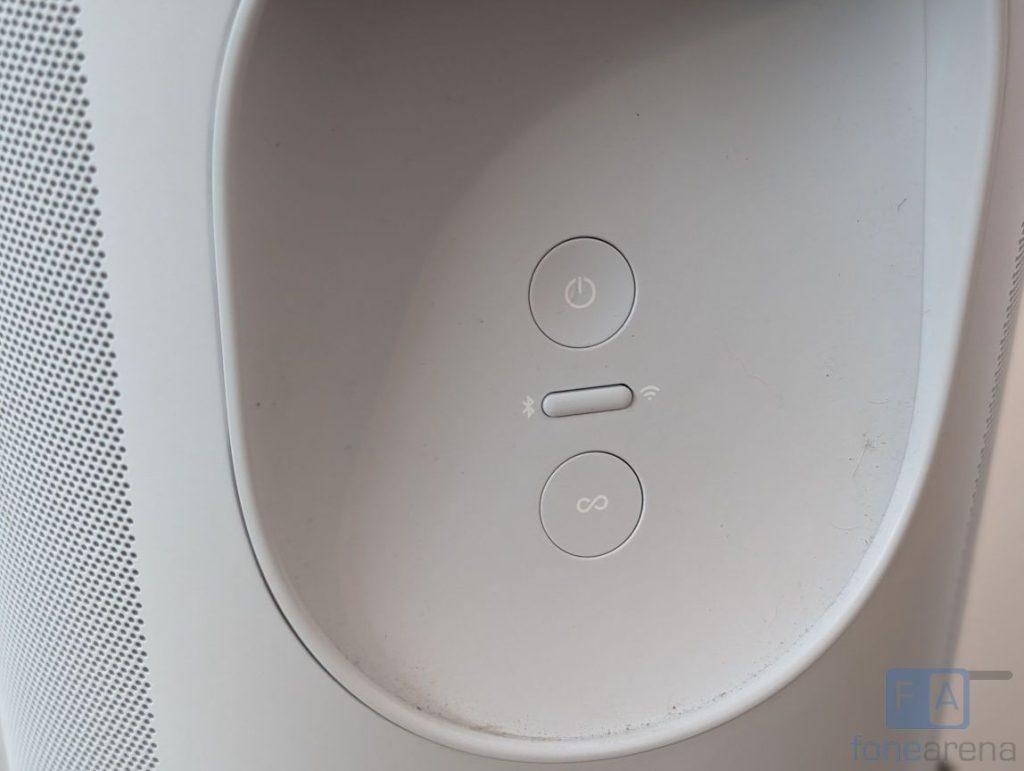 On the back, you'll find power, Bluetooth/Wi-Fi, Join buttons, and a USB-C port for charging.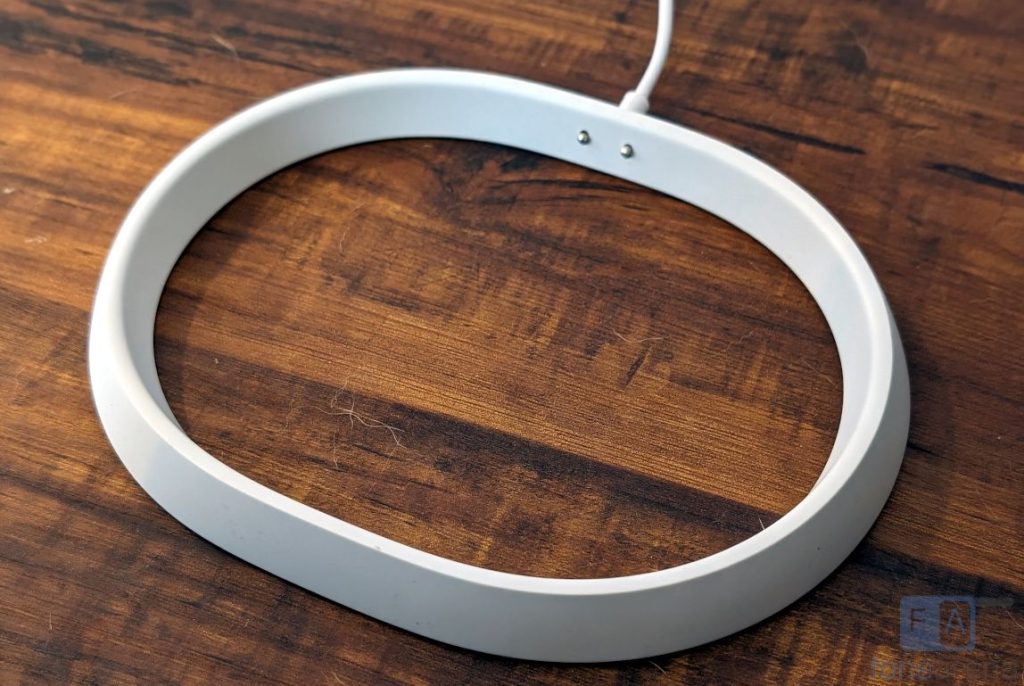 The Move has a charging base/stand and a protective pouch for convenience.
Connectivity and Features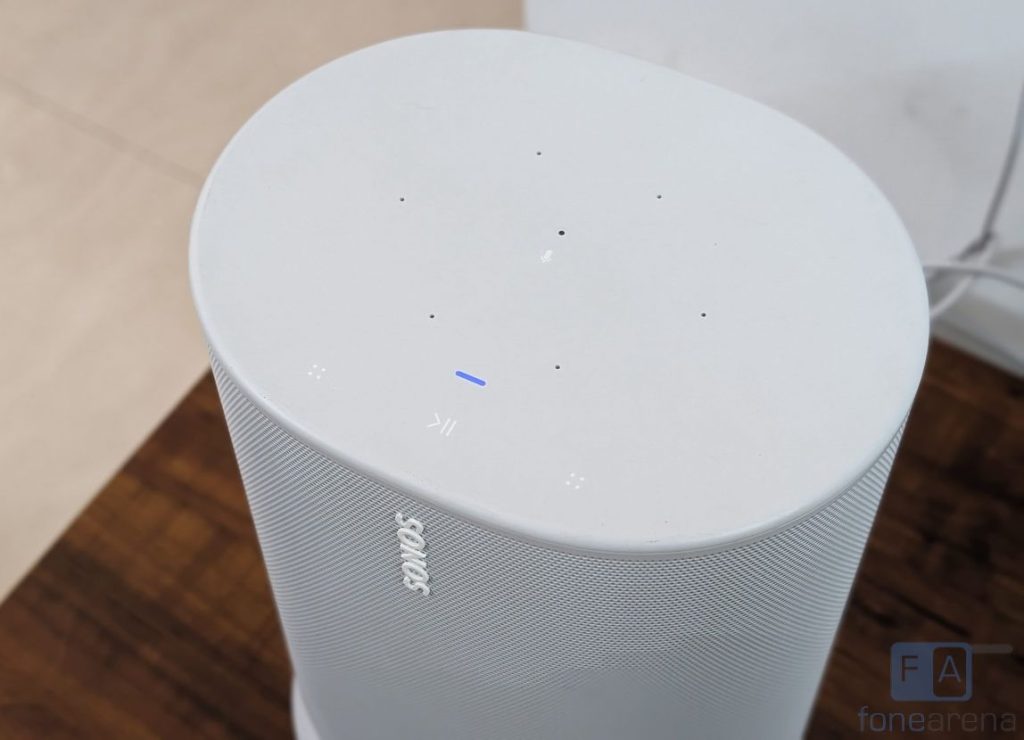 The Sonos Move offers multiple connectivity options to suit different needs. It can connect via Bluetooth for on-the-go use, allowing you to stream music even when you're away from your home internet. Pairing with Bluetooth devices is seamless; you can switch between Bluetooth and Wi-Fi effortlessly.
When connected to Wi-Fi, the Move integrates seamlessly with the Sonos app for Android and iOS. The app provides a user-friendly interface for controlling the speaker, accessing internet radio, and streaming music from your phone's library. It also features over 30 music services, including Apple Music, Amazon Music, Spotify, JioSaavn, YouTube Music and more. However, an internet connection is needed to unlock these features.
TruePlay is a feature that tunes the speaker to its surroundings, ensuring optimal sound quality.
The Move supports voice control with Amazon Alexa and Google Assistant, making it a versatile smart speaker. Notably, this feature was previously limited to iOS devices. However, Android users can now access it via the Sonos app.
The Sonos app lets you easily enable your preferred voice assistant and control the speaker with voice commands. The far-field mic array picks up voice commands clearly, even when the speaker plays music at high volumes.
Performance and Sound Quality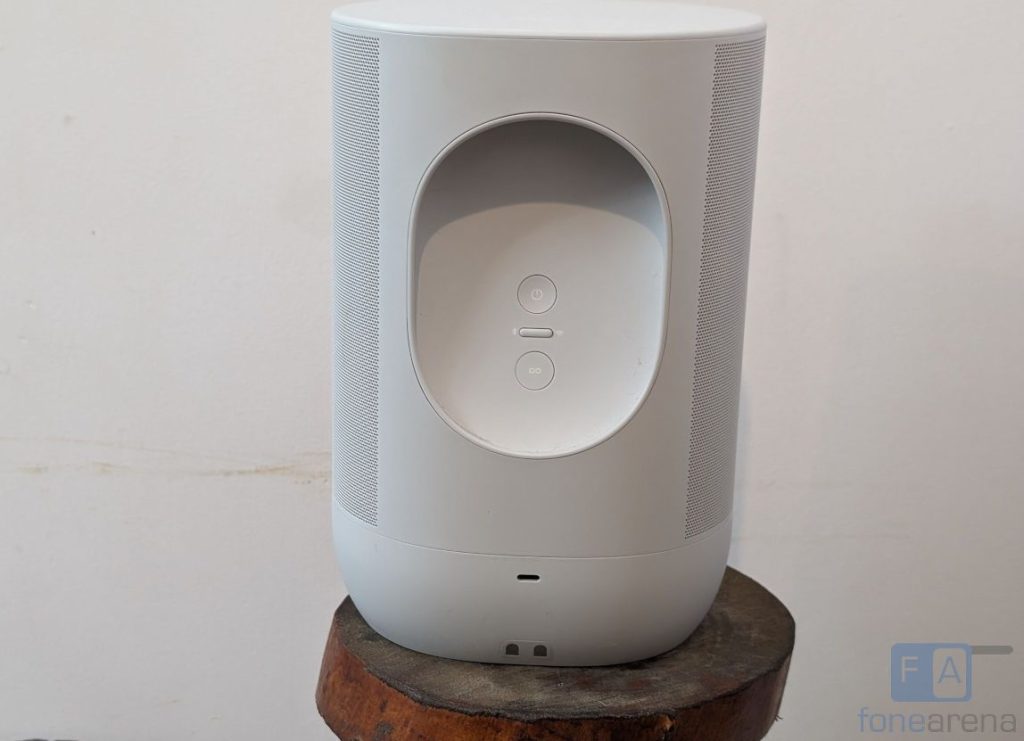 Sonos has built a reputation for delivering exceptional audio quality, and the Move is no exception. The speaker supports the standard AAC and SBC Bluetooth codecs. However, it lacks aptX or aptX HD support.
The speaker features two Class-D digital amplifiers, a mid-woofer, and a downward-firing tweeter, collectively producing a rich and immersive soundstage.
The Automatic Trueplay tuning technology further refines the audio output by adapting to the speaker's surroundings, ensuring optimal performance in any environment.
The bass response is robust without being overwhelming, providing a satisfying low-end that complements various musical genres.
The balanced midrange provides exceptional clarity for both vocals and instruments to stand out.
The high frequencies are crisp and detailed, adding a layer of precision to the overall audio experience. The speaker also maintains clarity at high volume levels with minimal distortion.
One standout feature is the ability to pair the Sonos Move with other Sonos speakers to create a multi-room audio system. This integration enhances the listening experience, allowing users to enjoy synchronized music at home.
Battery Life
One of the standout features of the Sonos Move is its battery-powered design. The Move has a built-in battery that provides up to 11 hours of continuous playback, depending on the volume levels.
During our testing period, we found the claim to be fairly accurate. However, it's worth noting that listening at higher volumes will result in quicker battery depletion.
The Move has a charging base/stand that keeps the speaker charged when not in use. The base has a hardwired adapter and a long cable for convenience.
Additionally, the Move can be charged via a USB-C cable, providing charging flexibility.
Conclusion
With Move, Sonos aims to deliver premium audio experiences in the portable Bluetooth speakers market, and it has almost succeeded except for the portability part.
At a price tag of Rs. 43,999 (MRP), its solid design, portability, and robust feature set make it a versatile companion for music enthusiasts on the go.
The impressive audio performance, smart integration, and durable build position the Move as a standout choice in the competitive landscape of portable speakers.
While the Move's price may be a consideration for some, its performance and features justify the investment for those who prioritize audio quality and portability.
You can get the Sonos Move for as low as Rs. 32,998 from Amazon.in. It is also available from Sonos website and other retailers online and offline.