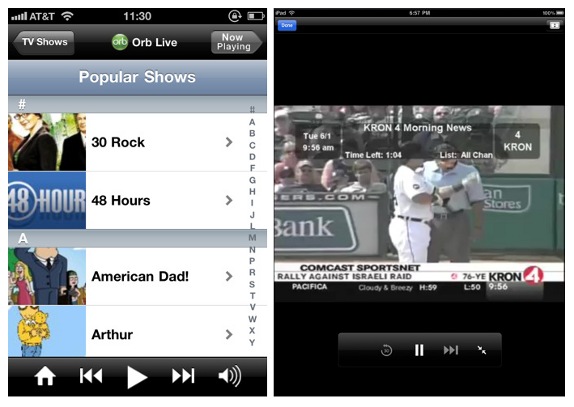 OrbLive app for the iPhone has been updated to v3.6.0 that supports live streaming of TV shows. This lets you watch TV shows from Hulu, ABC, CBS, Fox, ESPN and more. There are also TV show search feature, TV out capability and more. The TV show streaming is available in U.S only.
The video quality is automatically adjusted while streaming, based on the connection, so that you can watch the videos instantly without any buffering. You could also watch sports and movies via services such as Netflix and Amazon. You could also stream music (Pandora, Sirius, etc) , movies (DivX/XviD files) and photos from your PC to mobile phone.
Features of OrbLive version 3.6.0 for iPhone
Watch full episodes of TV shows directly on your iPhone or iPad
Search for the show by its name and watch it instantly
TV Out feature lets you connect your iPhone or iPad to a TV
Improved streaming
The new version also comes with new some stability improvements. OrbLive app costs $9.99 as a one time fee and there is no subscription fees for watching the TV shows. Download the OrbLive app for iOS devices that run iOS 3.0 or later from the Apple iTunes store.
The OrbLive needs Edge, 3G, 4G or Wi-Fi network to stream the content. The new OrbLive app for Android with the TV show streaming would be available in mid August.