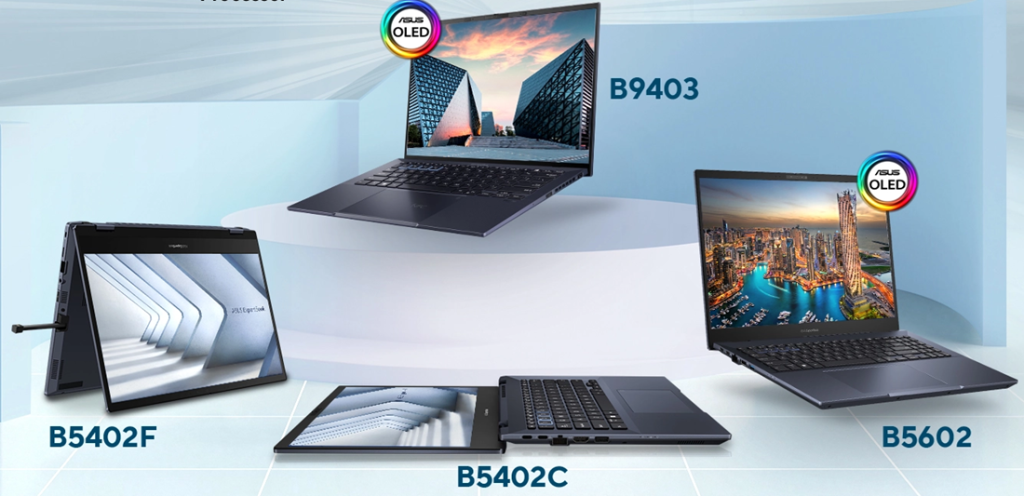 ASUS has introduced its latest ExpertBook laptops in India, designed to cater to the needs of the modern workforce. These laptops are equipped with 13th Generation Intel Core processors, offering a perfect combination of performance and functionality.
ASUS ExpertBook B9 OLED (B9403)
The ASUS ExpertBook B9 OLED (B9403) stands out with its lightweight yet robust design, crafted from a premium magnesium-lithium alloy. It offers remarkable durability, weighing just 990g.
With up to 13th Generation Intel Core vPro processors, dual-fan cooling, a 16:10 OLED 14″ display, and AI-powered noise cancellation, this laptop delivers exceptional performance.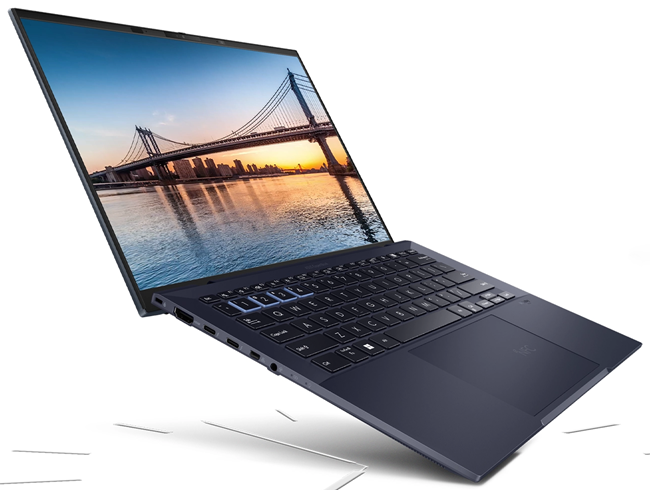 The laptop also features a stunning 90Hz OLED display with Pantone validation for color accuracy and premium sound quality with Dolby Atmos. Additionally, it comes with a 63Wh battery and incorporates strong environmental sustainability features.
Quick specifications: ASUS ExpertBook B9 OLED (B9403)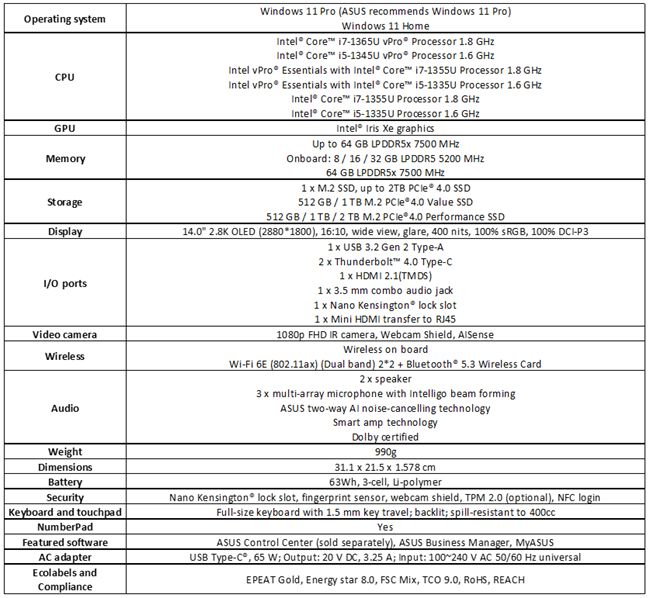 ASUS ExpertBook B5602CVA
The ASUS ExpertBook B5602CVA boasts a 16-inch 4K OLED display with HDR support, making it ideal for maximizing productivity. It offers top-notch performance with up to 13th Gen Intel Core i7 processors and the option for an Intel Arc A350M discrete GPU.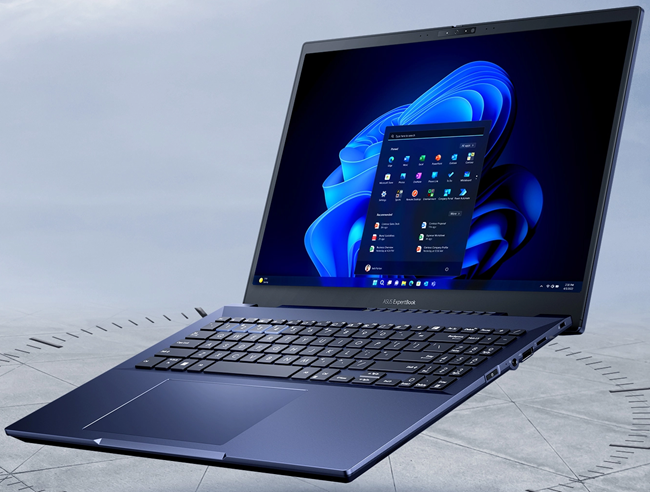 With up to 40 GB of upgradable RAM, Wi-Fi 6E, and BT 5.3, it ensures a seamless and efficient work experience. Security measures, such as Intel vPro support, TPM 2.0, fingerprint login, IR HD camera, and webcam shield, provide peace of mind.
All of this is packaged in a sleek and lightweight Magnesium-Aluminum construction, certified for military-grade durability.
Quick specifications: ASUS ExpertBook B5602CVA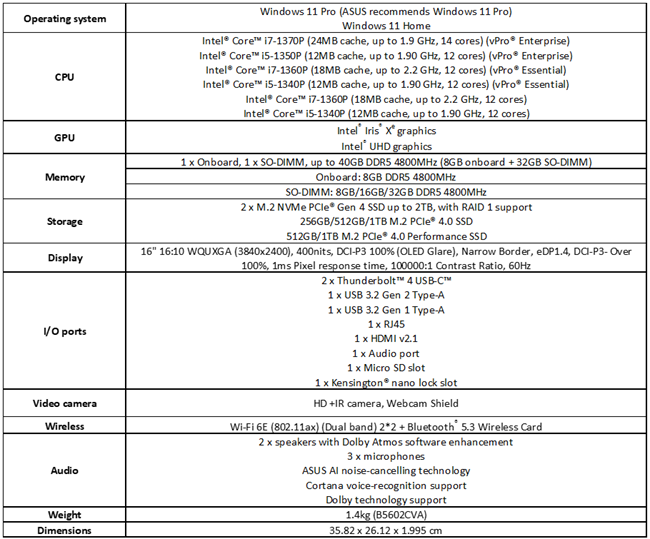 ASUS ExpertBook B5402C and B5402F
The ASUS ExpertBook B5402C and B5402F offer ultraportable versatility. They come in two variants: one with a minimalist clamshell chassis and another with a flip touchscreen and garaged stylus. Both are incredibly light and thin, making them perfect for on-the-go professionals.
These laptops boasts 14″ FHD displays and are powered by up to 13th Gen Intel Core i7 vPro P-series processors with Iris Xe graphics, upgradable RAM, and strong connectivity features, including dual USB-C with Thunderbolt 4 & USB4 support.
Security is not compromised, with features like TPM 2.0, IR and fingerprint login, webcam shield, AI noise cancellation, and NumberPad. These laptops are built to endure extreme conditions and meet US military standards, ensuring reliability and durability.
Quick specifications: ASUS ExpertBook B5402C and B5402F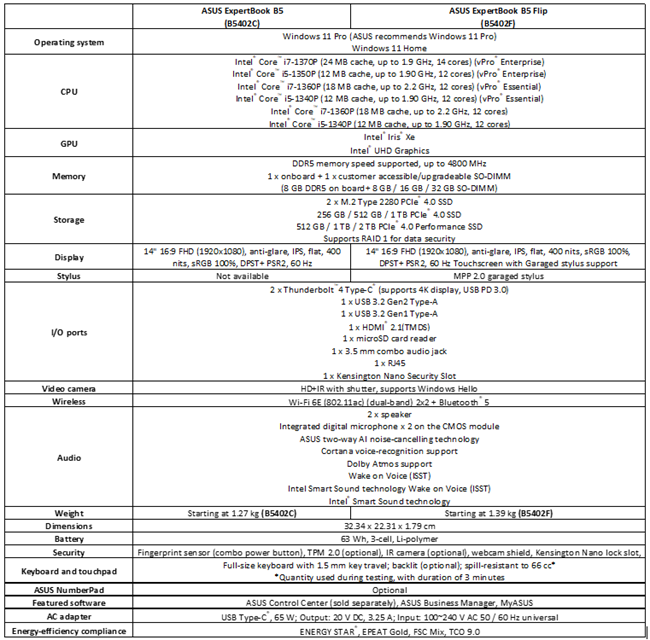 Pricing and Availability
ASUS ExpertBook (B9403CVA) starts at Rs. 2,17,990.
ASUS ExpertBook (B5602CVA) starts at Rs. 1,88,990.
ASUS ExpertBook (B5402CVA) starts at Rs. 1,57,490.
ASUS ExpertBook (B5402FVA) starts at Rs. 1,70,490.
All these ASUS ExpertBook models will be available starting from November 7, 2023, and can be purchased from leading Asus Enterprise Channel Partners.
Commenting on the launch, Dinesh Sharma, Vice President, Commercial PC, System Business Group, ASUS India said:
Our latest ExpertBook series, powered by 13th Gen Intel Core vPro processors and featuring cutting-edge advancements in display, thermal management, and audio technology, offers an ideal fusion of performance, security, durability, and style. These laptops are meticulously crafted to be exceptionally thin and lightweight, making them the perfect choice for professionals on the move.

Our deep commitment to sustainability shines through as our latest offerings are sustainably designed and manufactured with up to 90% post-industrial recycled materials, underscoring our dedication to a greener future. With enterprise-grade security and long-lasting battery life, these laptops are tailor-made to meet the demands of modern users. We are thrilled to introduce this innovative technology, empowering business leaders and their organizations to unleash their full potential and realize their vision.