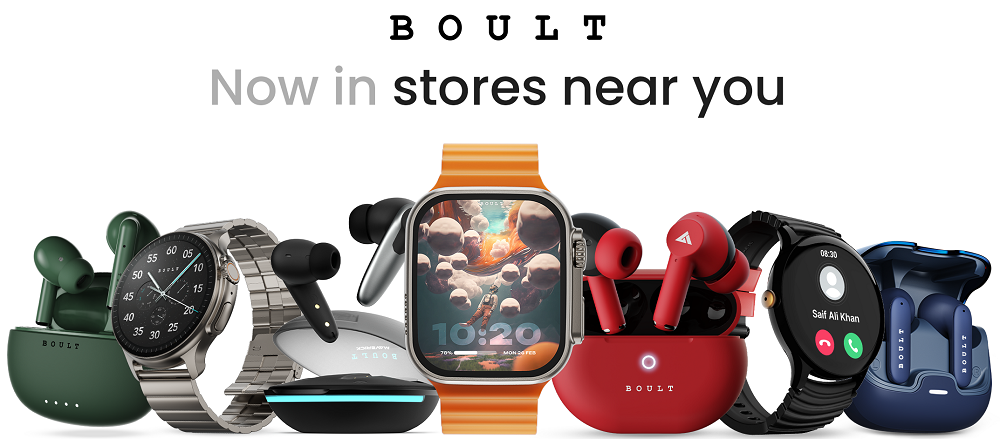 Boult, a growing brand for wearables, has announced its plans to expand into physical stores in 13 Indian states. The brand initially focused on online sales starting in 2017, but it now wants to serve a wider range of customers in India.
This decision is in line with Boult's efforts to grow and succeed. They want to make their audio and wearable products more accessible to customers, especially those interested in technology and fitness.
Strategic Expansion Across 13 States
Boult's expansion into physical retail stores will cover states like Gujarat, Tamil Nadu, Karnataka, Maharashtra, Madhya Pradesh, Telangana, Bihar, Kolkata, Jodhpur, Jalandhar, Kashmir, and Jammu. This strategy allows them to reach customers in different parts of India.

In the first stage of expansion, Boult will establish a network of over 2500 offline stores, including well-known national retailers like Reliance Digital and regional ones like SS Mobile, Poojara Phonewale, Poorvika, Chennai Mobiles, Supreme, Big C, Happy, and others. In the future, they plan to add even more stores.
These retail locations will not only display Boult's various products like neckbands, smartwatches, and earbuds but also give customers the chance to see the quality and innovation of Boult up close in their nearby stores.
Speaking at the expansion, Varun Gupta, Co-Founder of Boult, said:
We're excited to make Boult's innovative audio and wearable products more accessible to people across India. Our passion for delivering outstanding audio experiences drives us forward. This expansion marks a significant milestone in our journey, and the overwhelming response from our customers motivates us to strive even harder to cater to their needs. Now, consumers can conveniently visit stores where Boult products are available to try them out in person. We're eager to reach more such milestones in the near future.