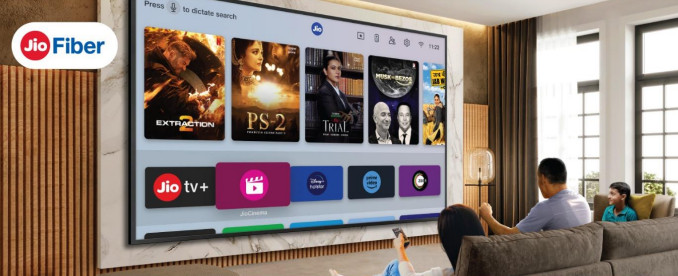 Reliance Jio launched its new JioAirFiber service today, and also announced its plans. Alongside, the company also listed the JioFiber plans and JioFiber Max plans. Even though most of the plans were already available, and Jio mentioned that existing JioFiber tariff plans continue as is and there is no change in existing user tariffs.
JioFiber Entertainment Bonanza plans, which were introduced that lets you pay additional Rs. 100 or Rs. 200 a month to access entertainment content of their choice via a collection of up to 14 OTT apps are mentioned.
However, this includes a new 100Mbps plan at Rs. 1199 that offers access to 14 OTT apps + Netflix, 1 year of Amazon Prime and JioCinema Premium. The 150Mbps plan at Rs. 999 is still available, but this doesn't offer Netflix and JioCinema Premium.
New JioFiber plans
JioCinema Premium now inclucded with JioFiber Max plans
Jio launched the JioCinema Premium priced at Rs. 999 per year, but this was not available as a bundled plan for JioFiber users at the launch. Now, Jio has confirmed that the JioFiber Max plans will get JioCinema Premium subscription.
JioCinema Premium subscription is also included with the JioAirFiber Rs. 1199 and above plans, said the company. This is a good move since this comes at no additional cost.
The new plan and details about JioCinema Premium bundled  is not reflected on the Jio website or the app yet, but we can expect it to go live soon.