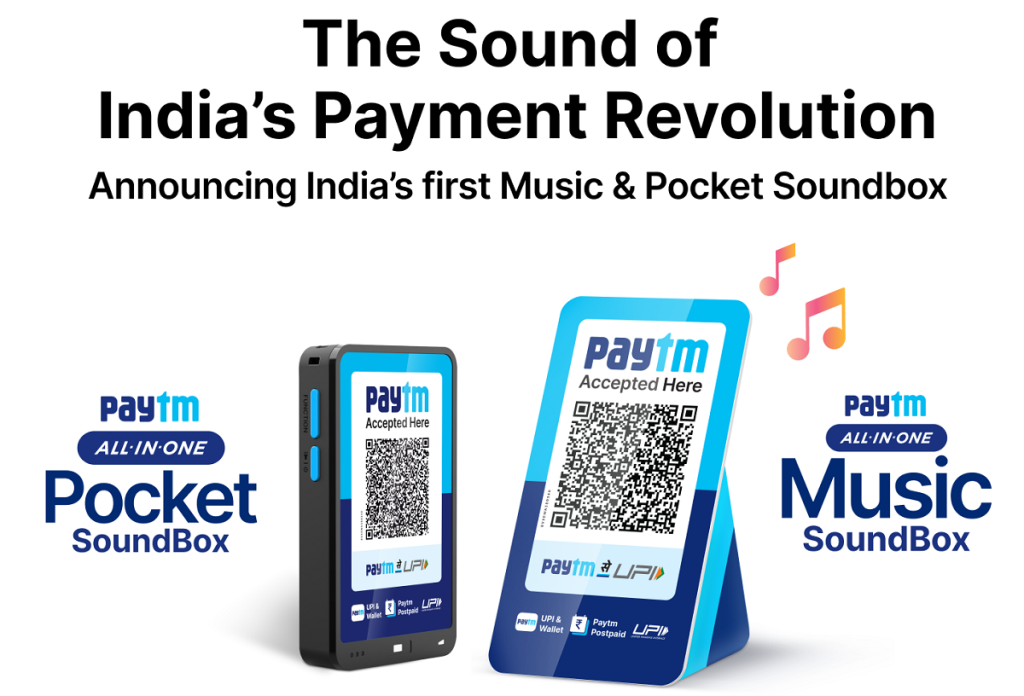 One97 Communications Limited (OCL), the parent company of Paytm, India's prominent payments and financial services company, is proud to announce the launch of two payment devices – Paytm Pocket Soundbox and Paytm Music Soundbox. These devices are designed to provide enhanced payment experiences for merchants while being non-promotional.
Paytm Pocket Soundbox
The Paytm Pocket Soundbox is a first-of-its-kind portable device, as small as a debit card, that conveniently fits in the pocket of merchants on the move. With 4G connectivity, this device empowers merchants with instant audio payment alerts, making transactions more efficient.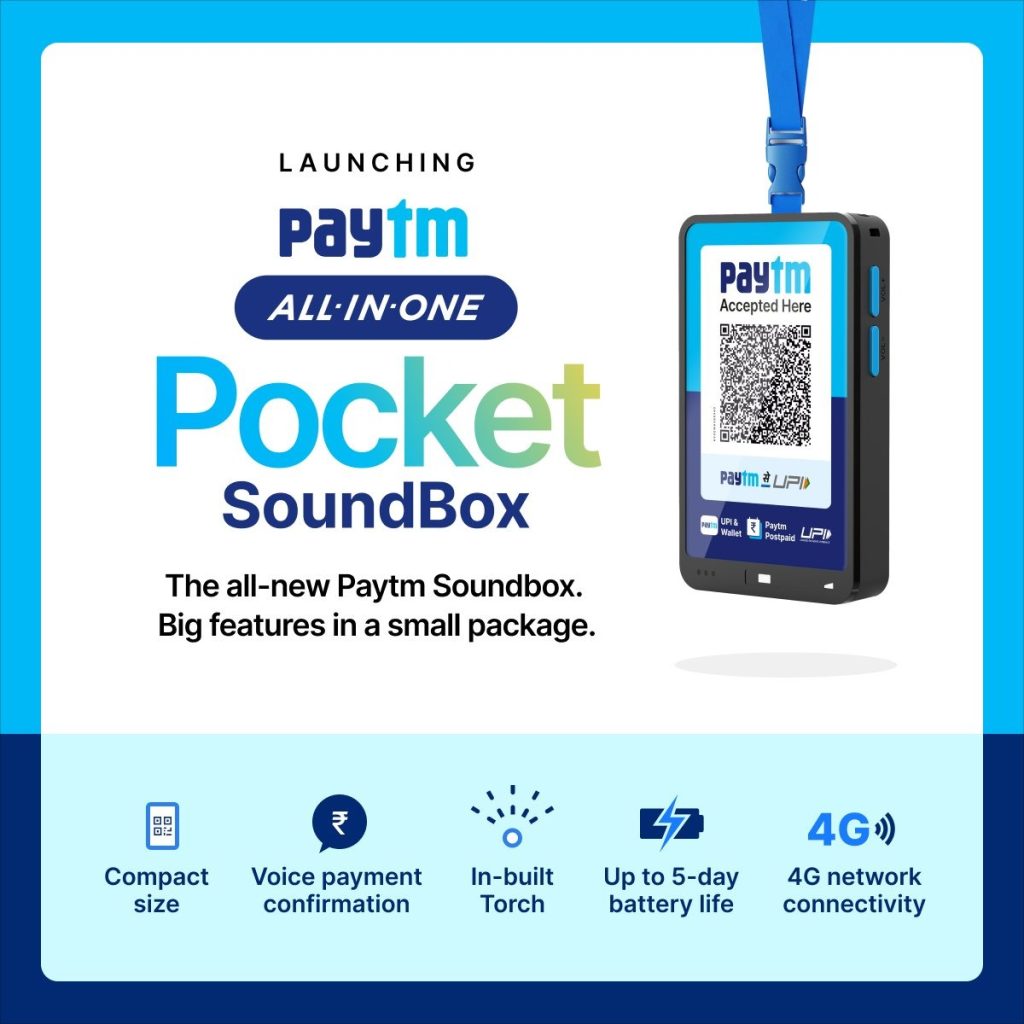 The 'Made in India' device offers a 5-day battery life and a built-in torch for seamless usage even in low-light conditions. It caters to various mobile merchants, such as cab and auto drivers, electricians, delivery agents, parking fee collectors, and cart vendors.
Paytm Music Soundbox
Paytm introduces the Paytm Music Soundbox, a unique device enabling merchants to manage payment transactions while enjoying music from their mobile phones via Bluetooth.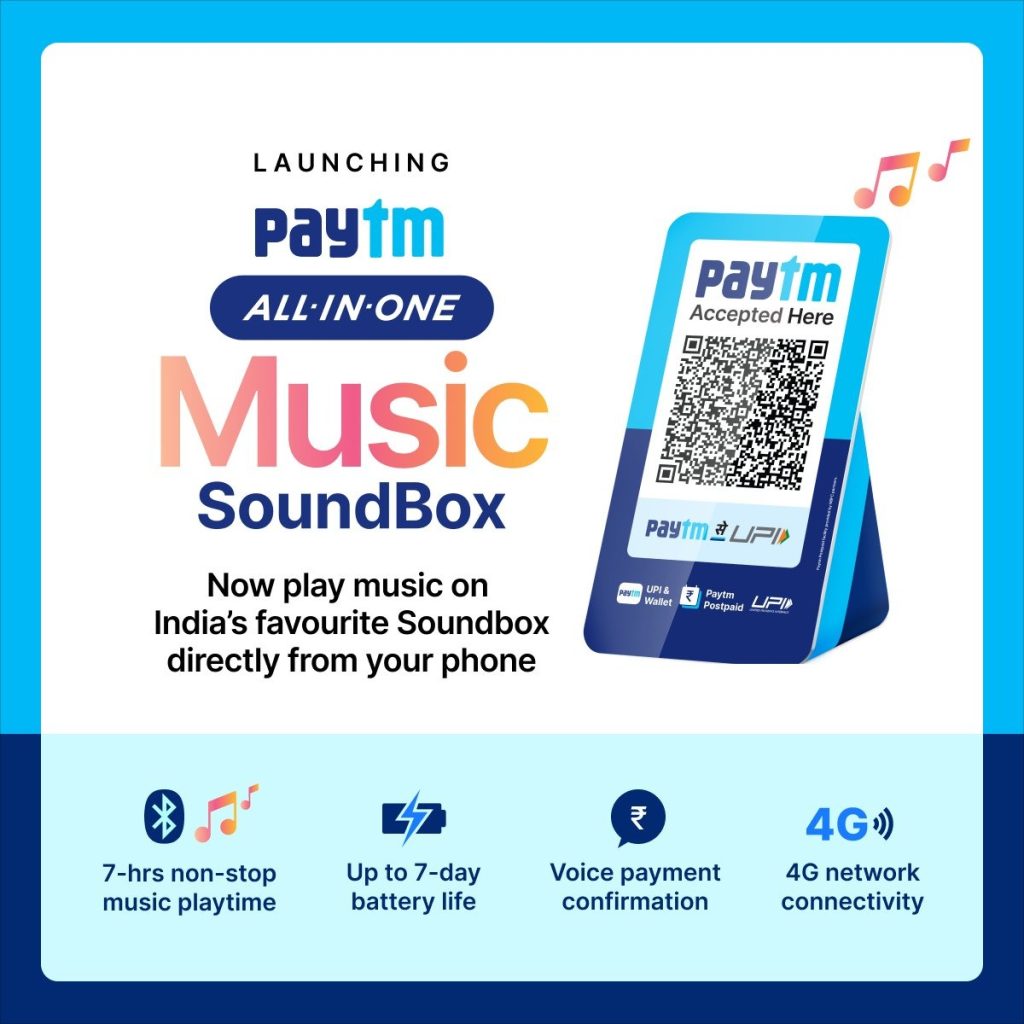 This device is equipped with a robust 4W speaker, 4G connectivity, and an impressive 10-day battery life. Its unique voice overlay function ensures that merchants can receive payment notifications even when music is playing in the background.
Pioneering In-Store Payments with Paytm
Paytm's commitment to innovation remains evident with the introduction of these devices. It follows the success of Paytm Soundbox, which revolutionized in-store payments by introducing audio-based confirmations in the country.
The Paytm Pocket Soundbox, equipped with all the powerful features of its predecessor, aims to enhance convenience for mobile merchants.
Market Leadership
As of June 30, 2023, more than 79 lakh merchants have subscribed to Paytm's payment devices, including Soundbox and Paytm Card Machines. This market leadership demonstrates Paytm's continued dominance in in-store payments.
Commenting on the launch, Vijay Shekhar Sharma, Founder & CEO, Paytm said,
We revolutionized in-store payments with the Paytm Soundbox as pioneers of mobile payments and QR technology. Now, we're driving innovation further with our two new devices, the Paytm Pocket Soundbox and the Paytm Music Soundbox.

Designed for convenience, the Paytm Pocket Soundbox is a gamechanger for merchants on the go, while the Paytm Music Soundbox not only announces payment alerts but also provides a lifestyle experience. With these new devices, we continue to lead technology for small shops in India.