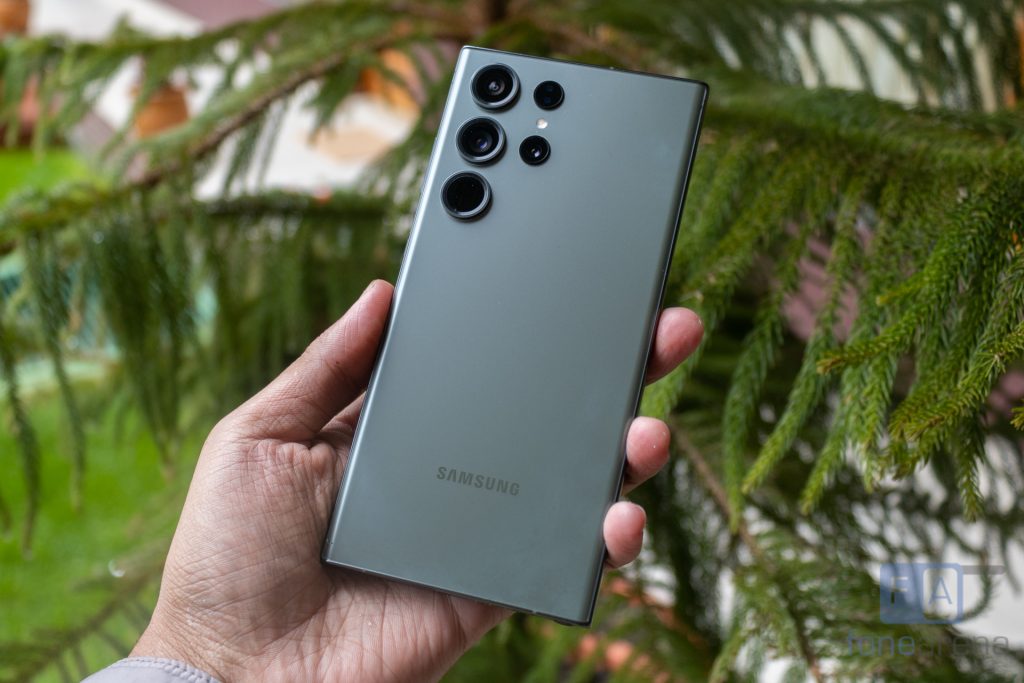 According to the most recent bill of materials (BoM) analysis performed by Counterpoint's component research service, the cost for Samsung to manufacture an 8GB+256GB Galaxy S23 Ultra (Sub-6GHz) model is approximately $469 (Rs. 38,650 approx.).
The report suggests that the major components driving cost in the smartphone are the SoC, display and camera subsystem. Qualcomm takes the top spot in terms of cost contribution, accounting for over 34% of the model's BoM cost.
Samsung S23 Ultra component suppliers
It's not surprising that custom tuned Snapdragon 8 Gen 2 for Galaxy chipset, manufactured on TSMC's 4nm process node, takes the huge chunk of the smartphone costs.
Qualcomm is said to have designed the fingerprint sensor IC, crucial power management ICs, audio codec, RF power amplifiers, Wi-Fi + Bluetooth, GPS, and sub-6 GHz transceiver, giving the business a record-high percentage of the S23 Ultra's BoM cost.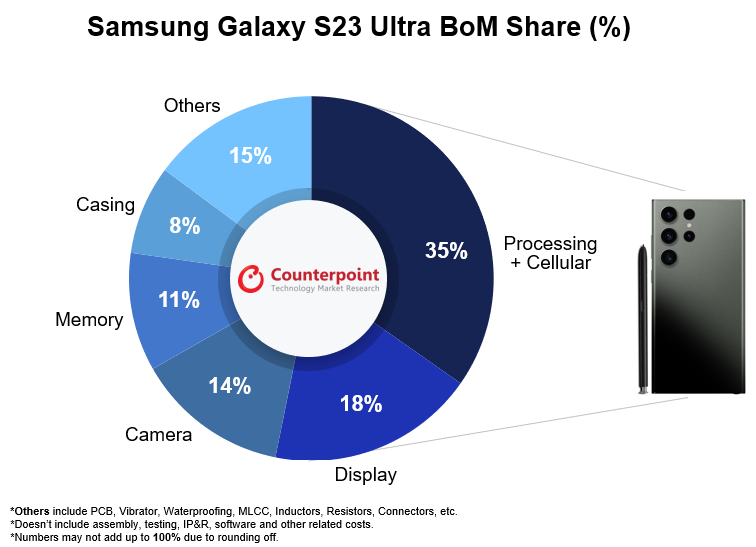 Samsung is the sole provider of the 256GB NAND flash and the 6.8-inch Quad HD+ 120Hz Dynamic AMOLED display with LTPO technology, making it the S23 Ultra's second-largest beneficiary.
Samsung (SEMCO) and Sony share design wins in the camera subsystem. Sony offers the 12MP Ultrawide (IMX564), 10MP Telephoto, and Periscope Telephoto (IMX754) sensors, while Samsung offers the 200MP wide-angle camera (S5KHP2) and the 12MP selfie camera (S5K3LU).
To regulate power for crucial components, Samsung uses power management ICs from Silicon Mitus and Maxim. STM was instrumental in the development of several sensing components, including as laser autofocus sensors, gyroscopes, barometers, and touch panel controllers, all of which were successfully integrated into the Samsung Galaxy S23 Ultra.
ATL provides the cell, while Samsung packages it. NXP provides the 45W quick charging IC, while Convenient Power provides the 15W wireless charging IC. It has been stated that using this manner of procurement of components provides Samsung with the ability to keep a cost-effective competitive advantage.