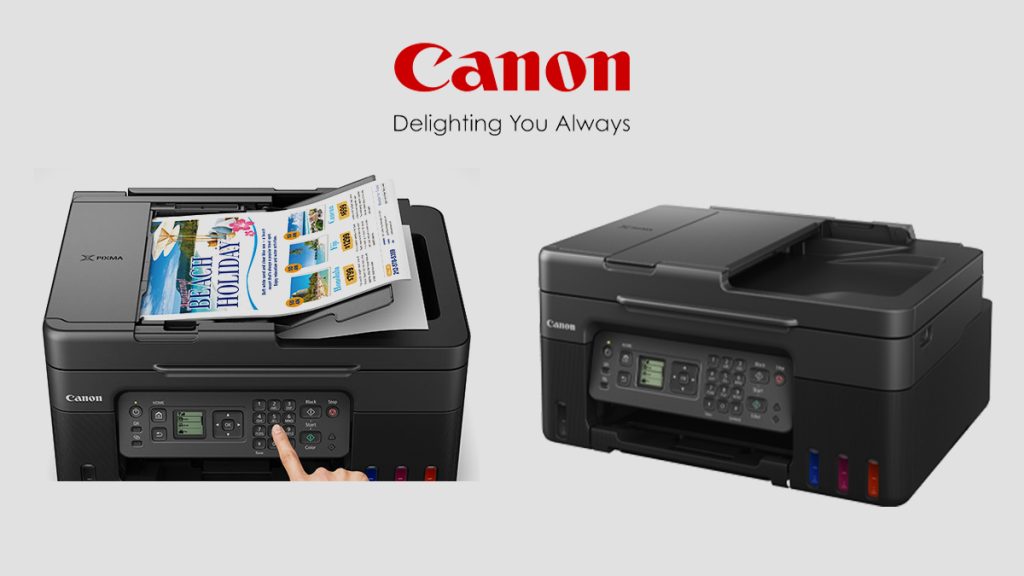 Canon has just released 16 new printers in India, expanding their already extensive range of PIXMA, MAXIFY, and imageCLASS models. According to the company, these innovative printers allow users to breathe life into their digital creations, inspiring creativity like never before.
PIXMA G1730, G1770, G2770, G2730, G3770, G3730, G4770
The PIXMA printers are designed to boost productivity while keeping printing costs low. With easy ink refilling and large ink reservoirs, these printers are perfect for home and small offices.
All-new "S" mini-ink bottles for the PIXMA G1730, G2730, and G3730 printers
These printers now come with the latest GI 71s ink bottles, offering an affordable solution for moderate print volumes. With up to 3,900 pages for black-and-white and 4,600 pages for color documents, users can save money and reduce the need for frequent ink tank refills. For high print volumes, standard ink bottles are also available, providing up to 7,600 pages for black-and-white and 8,100 pages for color documents.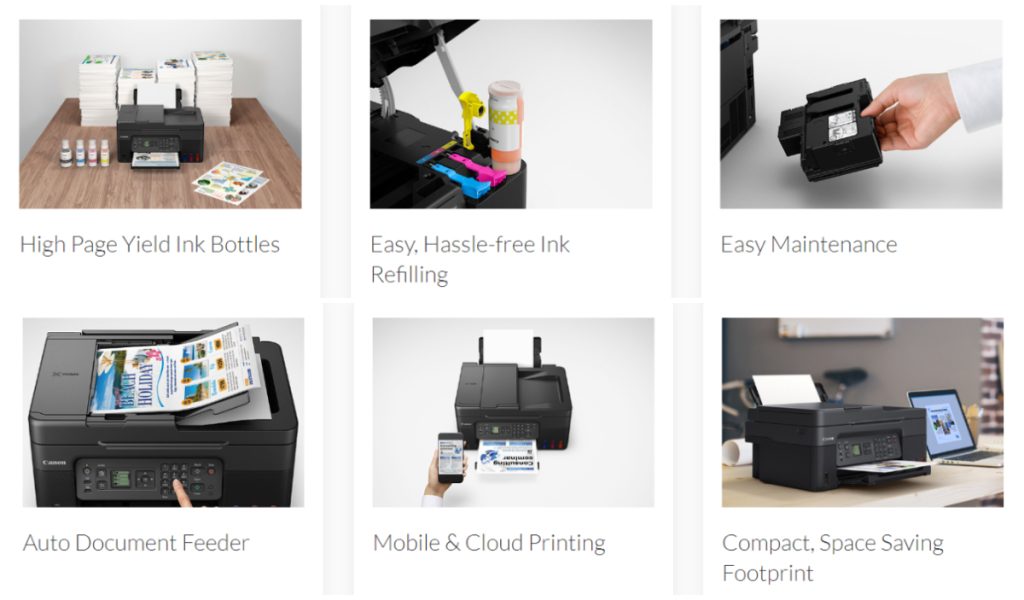 MAXIFY GX3070, GX3072, GX4070
The MAXIFY GX printers offer cost-effective printing and waterproof output, thanks to their refillable ink tanks. They're perfect for small and medium-sized businesses looking to boost productivity.
imageCLASS LBP121dn, LBP122dw, MF271dn, MF272dw, MF274dn, MF275dw
Canon's new imageCLASS laser printers boost productivity with rapid 29 ppm printing, auto-duplexing, and a compact footprint. They utilize an all-in-one cartridge for effortless replacement and minimal downtime.
Easy Maintenance
The Canon G series printers make maintenance a breeze with user-replaceable cartridges available for purchase. No need for complicated steps or a visit to the service center, simply swap out the cartridge and keep printing.
Canon PRINT Inkjet/SELPHY app
This intuitive app enables wireless printing, copying, and scanning from your mobile device. You can easily monitor your printer's status and ink levels, and access cloud services for more flexibility.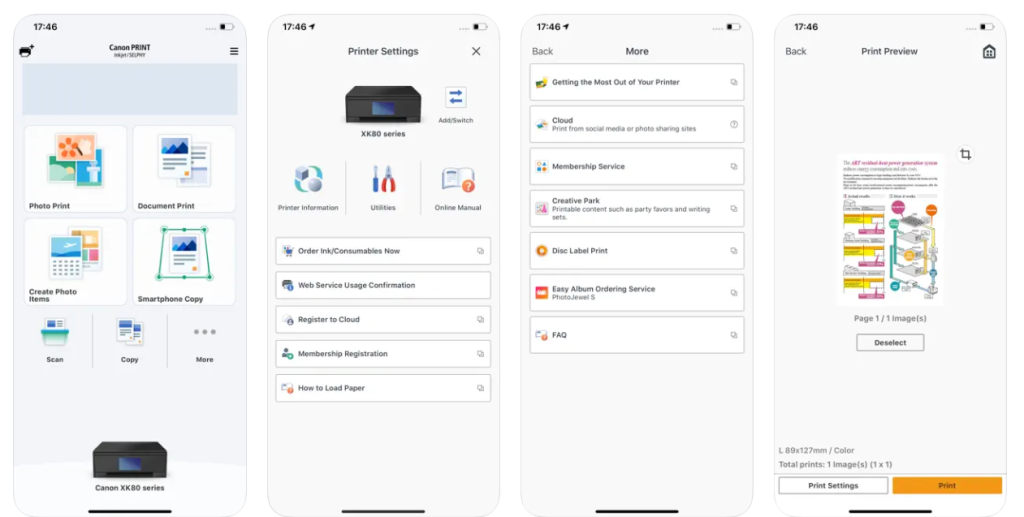 For hassle-free printing, check out the Easy-PhotoPrint Editor app. It provides customizable templates for various printing needs, such as postcards, collages, calendars, and business cards. You can use it on iOS, Android OS, Windows, and macOS platforms.
If you're a Windows OS user, you'll love the Easy-Layout Editor app. It supports editing and content layout for different file types, including documents and web pages. With the Collation Print feature, you can combine files with different formats into a single document for printing. And the free layout option lets you arrange and print content however you like.
Create Custom Posters and Flyers with PosterArtist Web App
An easy-to-use and free tool for designing top-notch promotional materials. Accessible from anywhere, this application is perfect for both home and business users. With a wide array of templates, fonts, clipart, and icons, you can easily make unique flyers and posters to meet your business needs. Get started now!
Pricing and availability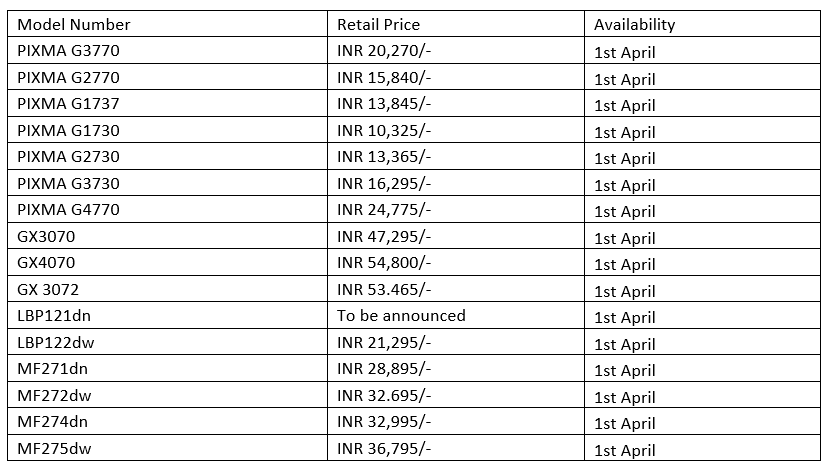 Canon's all new 16 new in their PIXMA, MAXIFY, and imageCLASS series which will be sold online and in stores starting on April 1st, 2023.
Sharing his thoughts on the big announcement, Manabu Yamazaki, President & CEO, Canon India said,
The fast-changing hybrid landscape across sectors have led to significant infrastructural transformations, fueled by advancements in technology. Taking cognizance of these evolving market requirements, we are excited to introduce 16 new state-of-the-art printers; which offer a perfect blend of modern technology and cost-efficiency for users, building on Canon's long standing legacy of innovation and customer delight.

With this portfolio expansion, we want to fortify the printing culture amongst users by providing them with solutions that add value to their work in this current hybrid working environment, hence giving them more reasons to print. We are confident that our new products will empower our customers in their business journey and thereby help us in clocking a 30% market share in the industry.
Speaking about the new line-up, C Sukumaran, Senior Director, Product & Communication, Canon India said,
Canon India is committed to innovation and quality-first approach, and the new line-up of printers is no exception to this mission. Adapting to the culture of hybrid and digital workforce in today's time, professionals across SOHO, SMEs, Government, Home segment and Corporates are seeking infrastructure that improves functionality and productivity while providing maximum ROI.

The new range of printers have been developed with a focus on providing users with the most cost-effective workflows and ergonomically advanced solutions that improve operational efficiency. Moreover, the new laser printers come with advanced high level data security & encryption features, making them an ideal choice for small businesses and enterprise customers. With the launch of these printers, we aim to create new avenues for printing, along with maximizing the reach and accessibility across user segments.