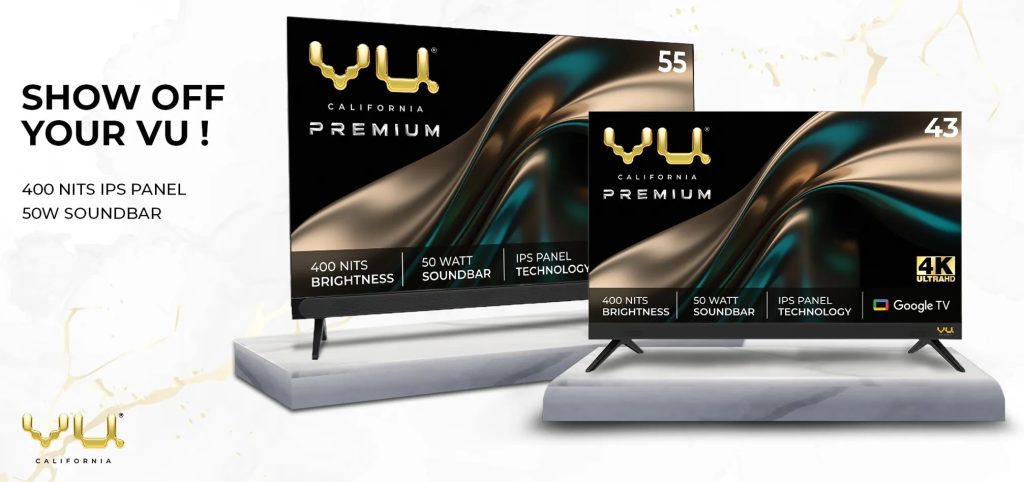 Vu Televisions, a leading innovative TV brand in India, has launched the Vu Premium TV 2023 Edition. It is the latest product from Vu after the Vu GloLED TVs.
The new TVs have several advanced features, a bright screen and great sound that make viewing enjoyable, says the company.
Vu Premium TV 2023 Edition
The 2023 Vu Premium TV is available in 43″ and 55″ sizes and can fit into any room effortlessly. It boasts an A+ grade 400 Nits brightness panels and a 50W Soundbar with Dolby Audio. The TV features a 3-side frameless design with a front firing soundbar at the bottom. It runs on Google TV OS and comes with a voice remote that ensures easy and smooth operation.
The Vu Activoice remote control has a built-in microphone that supports Google assistance. The remote also includes hotkeys for Picture and Sound, making it easy to select your preferred mode. This Vu TV has a 64-bit Quad-Core Processor and 2 GB RAM for seamless performance. The new generation 4-core CPU, powerful GPU, and 16 GB storage make it perfect for streaming and functioning of your favourite content.
Vu Premium TV uses a micro prism array and LED to enhance brightness and reduce overall power consumption, resulting in reduced energy consumption and increased operating hours of more than 50,000hrs. It supports dual band WiFi, Bluetooth, USB and latest HDMI, providing more bandwidth for you to enjoy amazing contents while connecting more devices.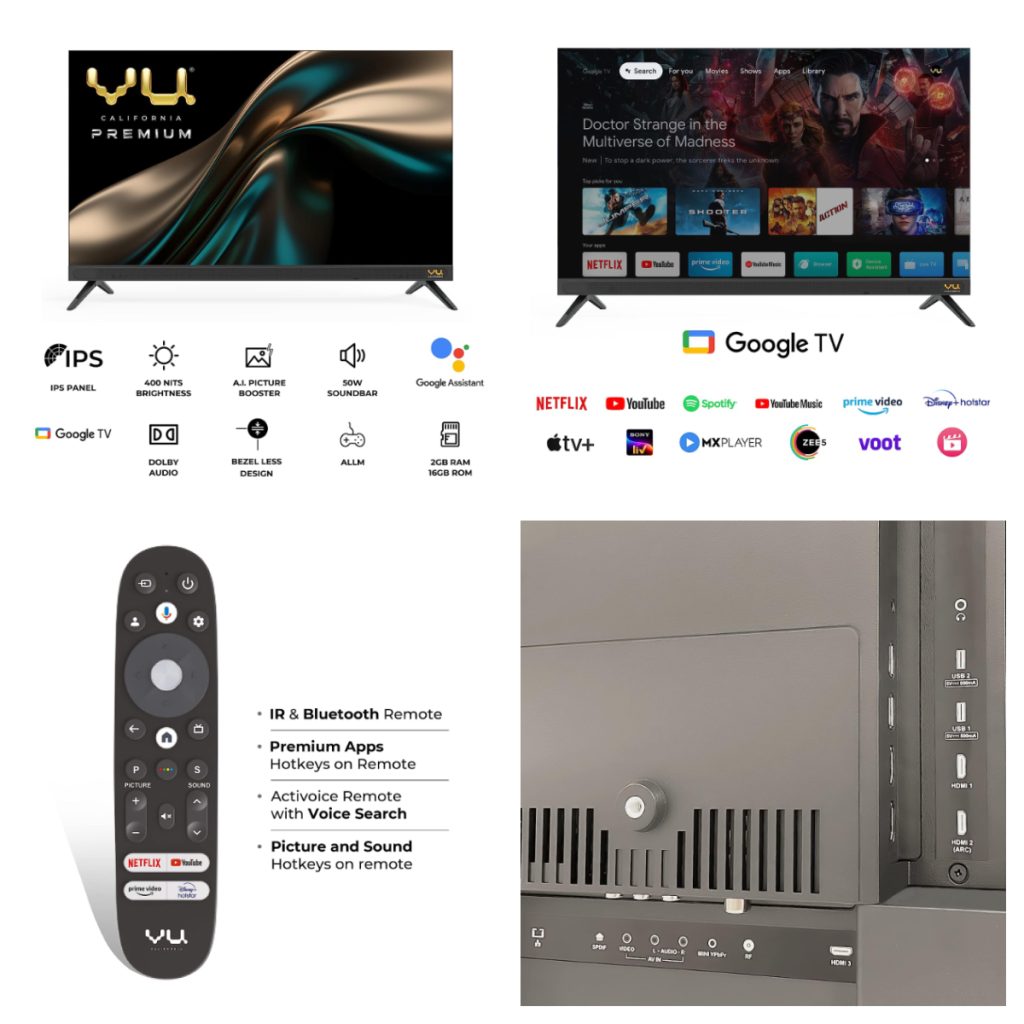 Quick specifications: Vu Premium TV 2023 Edition
3-side frameless design
Size: 43″ and 55″ (3840 × 2160 pixels) 4K LED display, 94% colour gamut, IPS panel with 400 nits brightness, ALLM, AI Picture Booster, WCG, Digital Noise Reduction, Dynamic Contrast, Game Mode
64-bit Quad-core processor
2GB RAM, 16GB storage
Google TV
ActiVoice & Hotkey Remote with Netflix, Prime Video, YouTube and Disney+ Hotstar shortcuts
Wi-Fi 802.11 ac (2.4GHz / 5GHz) (2×2 MIMO), Bluetooth 5.0, 3 x HDMI (1 x ARC), 2 x USB, S/PDIF, AV input, 1 x Ethernet
50W output (2 large size box speakers + 2 tweeter speakers), Dolby Audio
Pricing and availability
The Vu Premium TV 2023 Edition 42″ is priced at Rs. 23,999, while the 55″ is at Rs. 32,999 and is available for purchase on e-commerce sites like Amazon.in and Flipkart, as well as Vutvs.com and other stores across India.
Speaking on the announcement, Devita Saraf, Founder, Chairman and CEO of Vu Televisions, said,
At Vu, we take great pride in our commitment to providing the best customer care and service in the industry. As the only television brand that does its entire customer service, warranty, and repairs in-house from our ISO 9001-certified 24×7 customer support centre, we are able to offer unparalleled levels of support to our customers. With a reach of over 19,000 pin codes across India, we are always available to provide assistance whenever our customers need it, which is why it comes as no surprise that 81%-83% of customers who buy a Vu TV end up buying another one," said

We are thrilled to launch our latest product, the Vu Premium TV 2023 Edition. It has been designed to bring an exquisite viewing experience to a wide audience, and with a sales projection of 30,000 units on launch, we are confident that it will be quite a success. Vu remains committed to providing its customers with the best experience possible, from start to finish. We have earned the trust of millions of users nationwide, with our TVs rated above 4.5 stars across different online and offline channels. Our current range of Vu TVs is highly popular, and we are thrilled to see that they have received the highest positive reviews for their product quality and user experience. Our goal is to continue being the highest-rated TV brand in India, and we are confident that our latest product will help us achieve that goal.