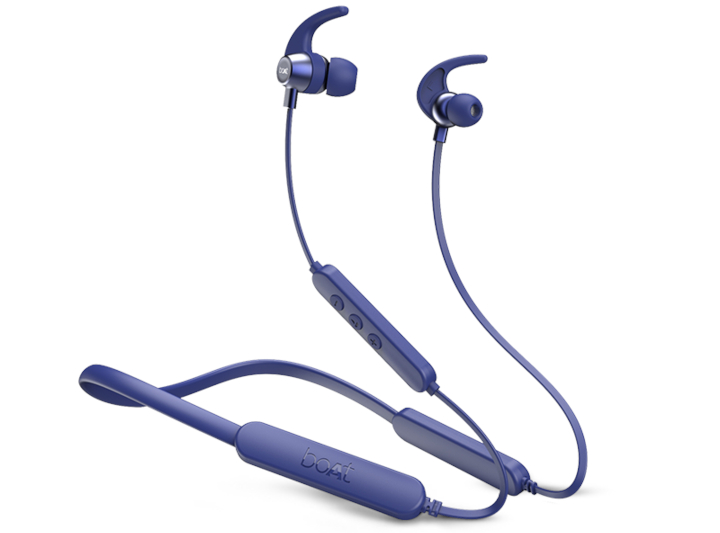 Counterpoint's IoT Service has reported a 9% year-on-year decline in India's neckband market shipments for 2022. In contrast, India's TWS headset shipments have grown by 85% YoY in the same year. Despite the neckband market decline, boAt remains the leader in the neckband and TWS headset market.
Indian Consumers Prefer TWS Devices Over Neckbands, Says Report
The Indian market for hearable devices saw a decline in sales due to seasonality and rising competition. However, the demand for neckbands remains strong as many consumers use them as a secondary device for running, workout, and travel.
Nevertheless, Indian consumers are increasingly turning to Truly Wireless Stereo (TWS) devices over neckbands due to their sleek design, affordable prices, and newly added features.
Homegrown brands dominate India's neckband market in 2022, with boAt taking the top spot. Despite a slight dip in contribution to 62%, local brands still outperformed global brands, which only held a 3% share.
Chinese brand OnePlus started gaining prominence with its Bullets Wireless Z2, becoming the top player in Q4 2022. Sony led the mid-segment with a 37% share.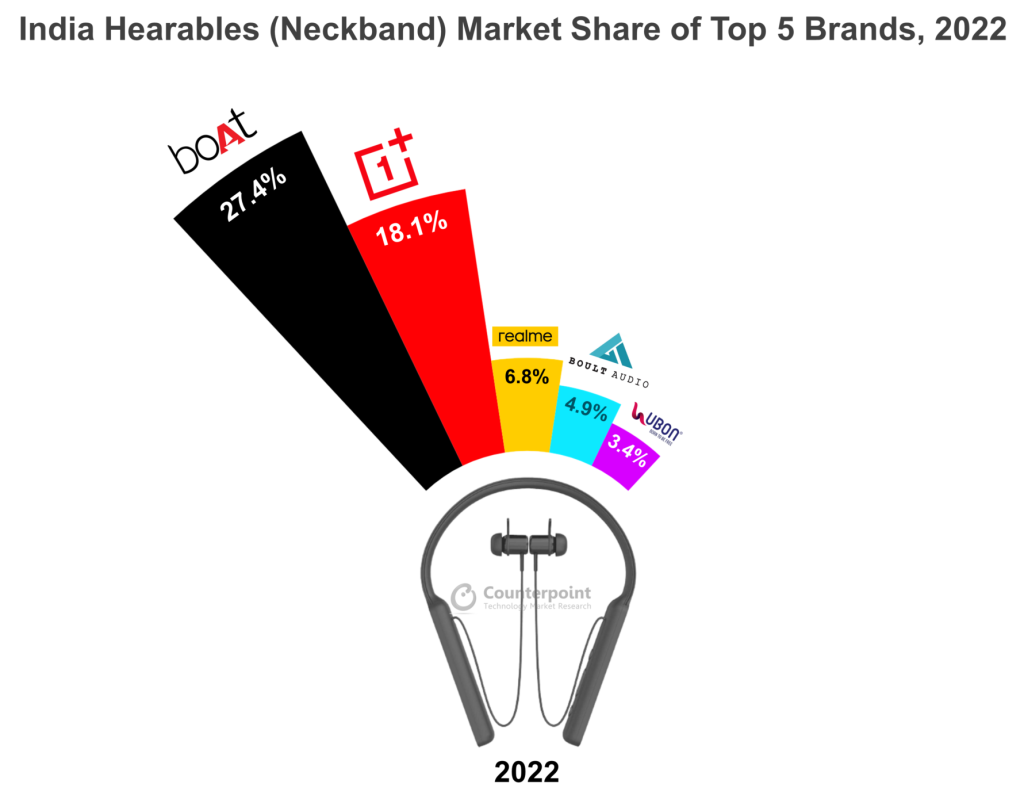 Market Summary 2022
boAt maintained its lead with a 27% market share driven by its budget-friendly products, celebrity endorsements, and festive promotions. boAt's Rockerz 255 Pro Plus captured a 17% share, and five of their neckbands were in the top 10 best-sellers.
OnePlus held onto second place with an 18% market share, thanks to the popularity of the Bullet Wireless Z2 model. The Bullets Wireless Z2 was the best-selling device, contributing 14% of the total neckband volume.
realme ranked third among neckband brands with a 7% market share, driven by Buds Wireless 2 Neo and Buds Wireless 2S.
Boult Audio secured the fourth spot with a 5% share, thanks to its diverse portfolio across price ranges. The Boult Audio Curve model was its bestseller, accounting for 31% of its sales.
Ubon secured the fifth spot with a 3% share by focusing on affordable segment devices. Online channels drove almost two-thirds of its volume.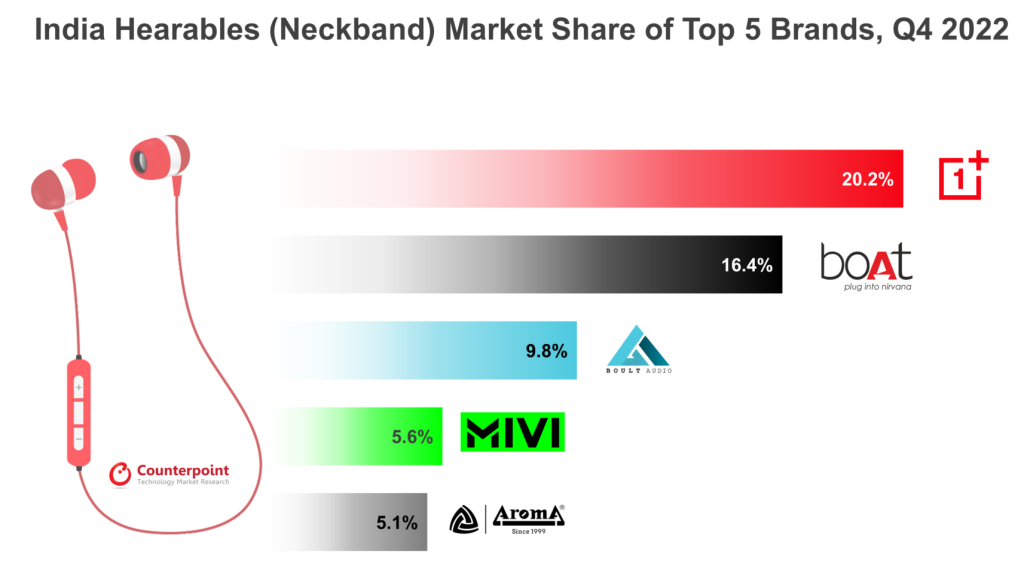 Market summary for Q4 2022
India's neckband shipments declined by 36% YoY in Q4 2022 due to high inventory levels and changing customer preferences.
OnePlus led the neckband market with a 20.2% share, followed by boAt with a 16% share.- OnePlus' Bullets Wireless Z2 was the best-selling neckband for the third consecutive quarter with a 20% share in Q4 2022.
Boult Audio, Mivi, and Aroma were the fastest-growing brands in Q4 2022, thanks to domestic production and budget offerings.
In Q4 2022, INR 1,000 shipment volume grew>15% YoY. Boult Audio led with an 18% share, followed by Aroma, Signature, and boAt.
Domestic manufacturing grew rapidly, contributing 1/4 of total shipments.
Other emerging brands that made a mark in the top-10 list were Noise, Zebronics, pTron, and Signature.
Neckbands vs TWS: Consumer Preferences
A Counterpoint consumer study found that 15% of TWS users plan to purchase other forms of wireless earphones, such as neckbands, in the future. Interestingly, India's neckband market is roughly 1.3 times larger than its TWS market.
It's possible that competition may arise between the two segments, as some users prefer neckbands for their convenience during workouts. However, innovation will continue to drive the TWS category forward.