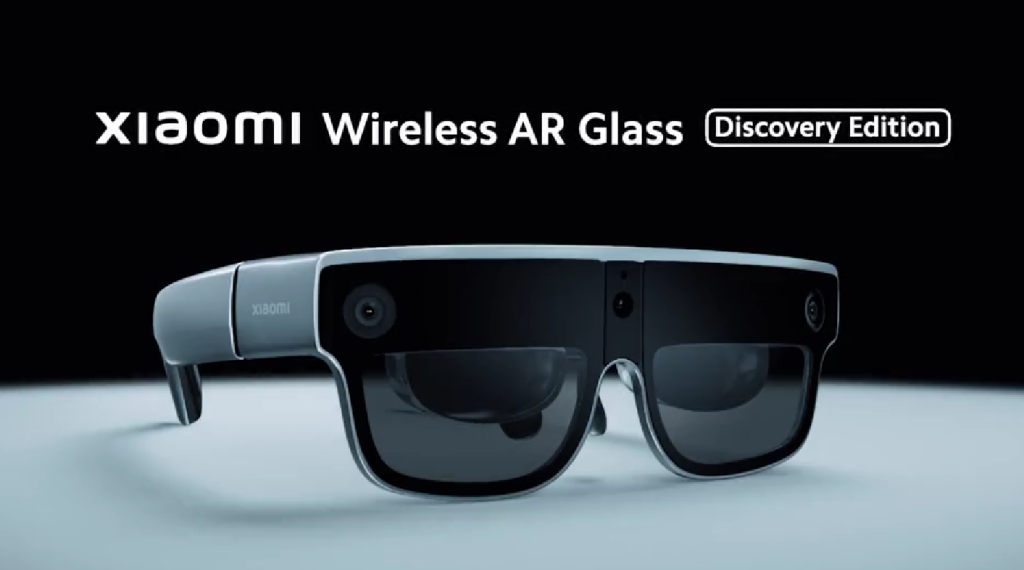 At Mobile World Congress 2023 (MWC 2023), Xiaomi unveiled its latest concept technology achievement, the Xiaomi Wireless AR Glass Discovery Edition. This cutting-edge technology is the firm's first wireless AR glasses, providing a retina-level adaptive display that adjusts to the lighting environment.
Furthermore, it has enhanced connectivity and supports a comprehensive range of applications for larger displays. In addition, Xiaomi also introduced the Xiaomi 13 and Xiaomi 13 Pro with Snapdragon 8 Gen 2 at MWC 2023.
Boasting a retina-level near-eye display for AR glasses, Xiaomi Wireless AR Glass Discovery Edition delivers a truly immersive visual experience. Moreover, our self-developed Xiaomi AR Gesture Control empowers effortless control between virtual and real space. pic.twitter.com/EipqBWxkpW

— Lei Jun (@leijun) February 27, 2023
Xiaomi Wireless AR Glass Discovery Edition
This device, designed at just 126g, adopts Xiaomi-developed high-speed interconnection buses to offer a wireless latency of as low as 3ms and a wireless connection with full link latency as low as 50ms.
Built on Snapdragon XR2 Gen 1 Platform and featuring Xiaomi's proprietary low-latency communication link, these glasses offer a cord-free design comparable to wired solutions.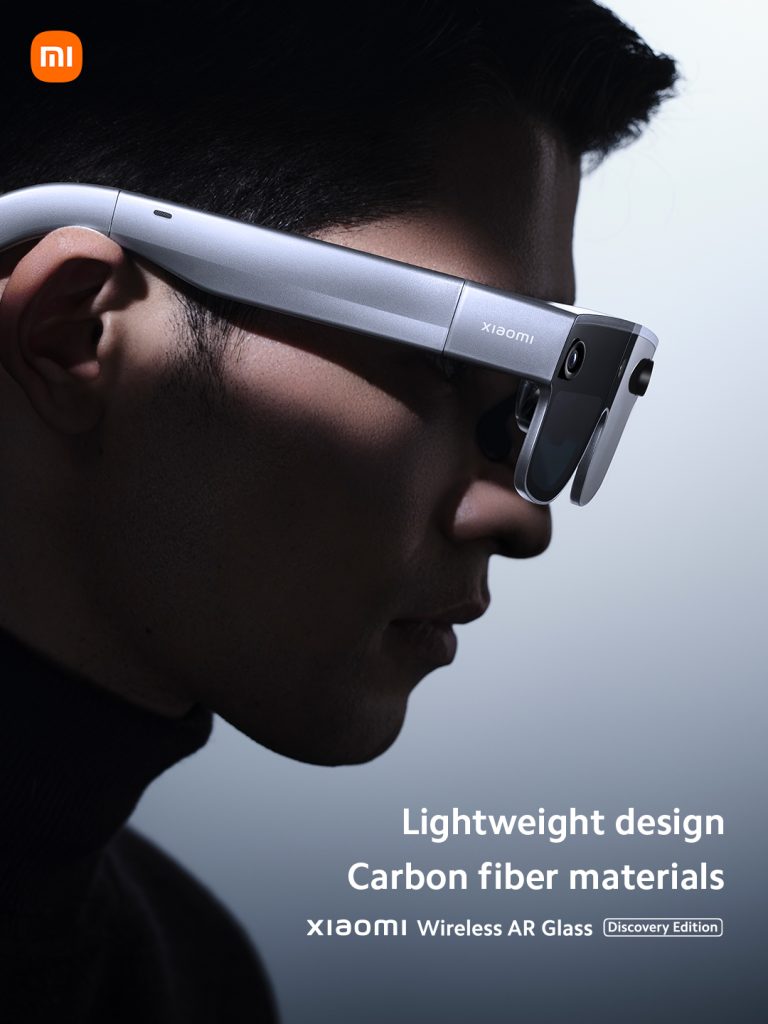 Lightweight Design: The AR glasses feature a lightweight design made of materials such as magnesium-lithium alloy, carbon fiber parts, and a self-developed silicon-oxygen anode battery. At only 126g, the glasses are designed to reduce any physical strain on the user.
Precision Calibration: The glasses have been calibrated with precision, taking into account factors such as center of gravity, leg spacing, angle, nose rest and more, based on analyzing tens of thousands of head tracking data samples.
Achieving Seamless Digital and Real-World Integration
At Xiaomi, our engineers believe that achieving the seamless integration of the digital and real-world requires users to perceive virtual objects as vividly and clearly as physical objects. To meet this need, the device must offer display quality of the highest caliber.
Retina-Level Near-Eye Display
Xiaomi Wireless AR Glasses are amongst the industry's first to achieve a "retina-level" display. As with high-end display concepts, there exists a "critical value" quality threshold for AR glasses. When angular resolution or PPD (pixels per degree) approaches 60, the human eye cannot distinguish granularity. The PPD of the Xiaomi Wireless AR Glasses is 58, which is the industry-leading closest to meeting this quality specification.
The AR glasses have a free-form optical module featuring a pair of MicroOLED screens and light-guiding prisms to achieve a clear picture display. These prisms are able to refract light within a limited volume, reflecting content on three surfaces before it reaches the user's eyes.
The glasses offer up to 1200nit to-eye brightness for a strong foundation for AR applications. Plus, they're equipped with electrochromic lenses that can adapt to different lighting conditions. These lenses offer a blackout mode for an immersive experience, and a transparent mode that combines reality and virtual elements.
Xiaomi AR Gesture Control
Xiaomi Wireless AR Glass features an innovative self-researched micro gesture interaction, allowing for one-handed, highly-precise interaction. This form of interaction is the direction Xiaomi believes human-computer interaction will take in the future. Xiaomi utilizes the joints of the user's inner fingers as a gesture recognition area for their glasses.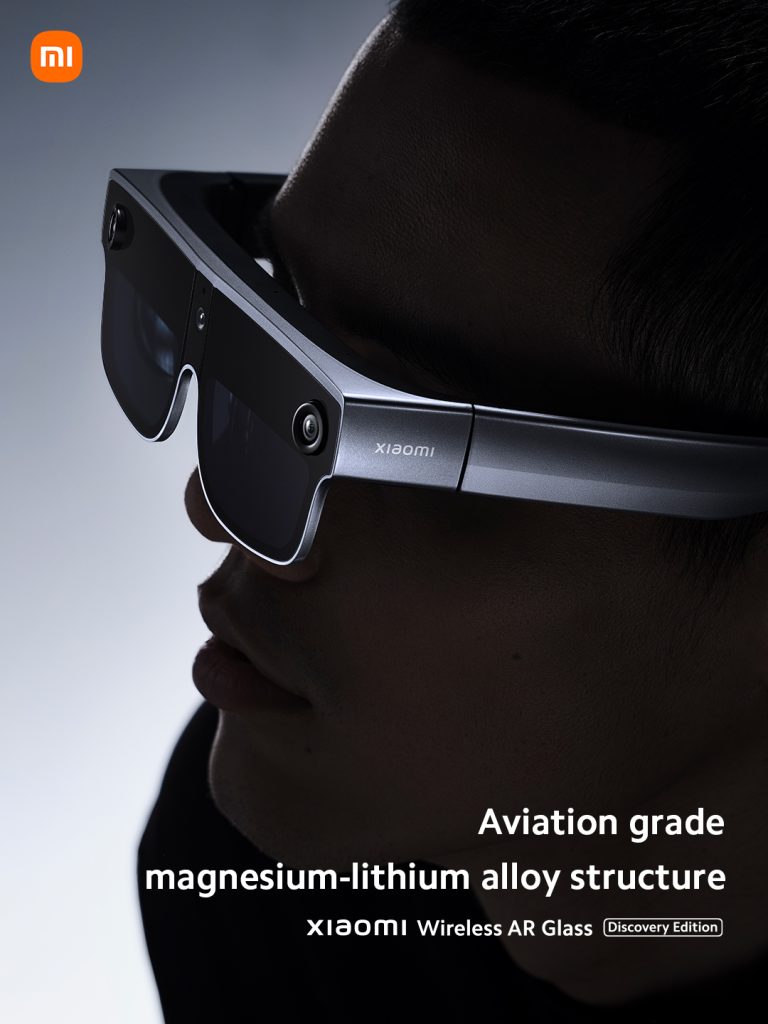 This directional is oriented from the second joint of the middle finger, with the second joint of the index finger representing the upward direction. Through thumb tapping in the finger area, users can also input text. Sliding and tapping operations can be performed through the random movement of the thumb in the palm.
Micro gestures on these glasses enable users to perform daily app usage operations such as selecting and opening apps, swiping through pages, and exiting apps to return to the start page, all without using a smartphone for controls. Furthermore, users can also opt for conventional smartphone controls, which can be paired and used as a gesture or touchpad control.
Xiaomi Unveils New Connected Experience with Wireless AR Glasses Discovery Edition
Xiaomi brings a new and more connected experience to AR glasses with its extensive experience in cross-device interconnection, incorporating numerous innovative interconnection experiences.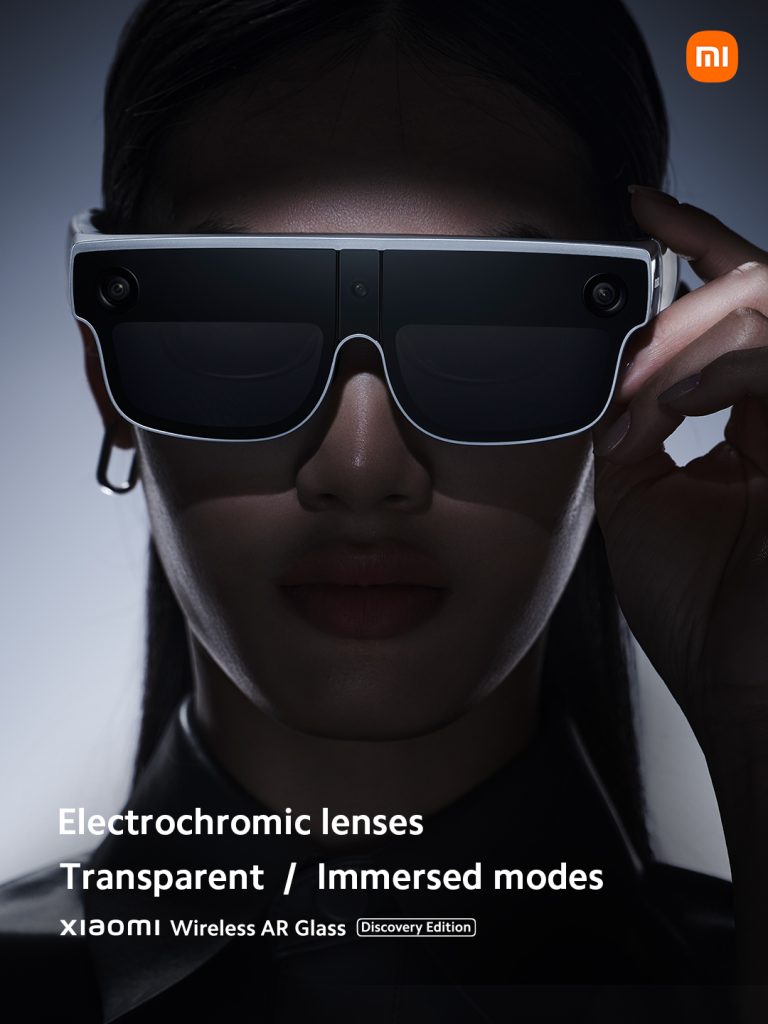 The glasses allow users to "grab" the screen from a typical television screencast and continue watching it on the glasses, as well as operate devices through AR scenes with spatial gestures. It is available in a titanium-colored design, compatible with Qualcomm Snapdragon Spaces, OpenXR, and Microsoft MRTK development framework.
Features
Optimizes display area usage of the glasses, essentially turning them into a portable large screen.
Places familiar apps anywhere in the viewing space and adjust their interface size via spatial gestures.
Extracts common operations of smart devices, enabling users to operate devices through AR scenes.
Integrated a spatial audio experience, allowing virtual speakers to be linked with the real environment.
Attachable myopic clip available for nearsighted users.