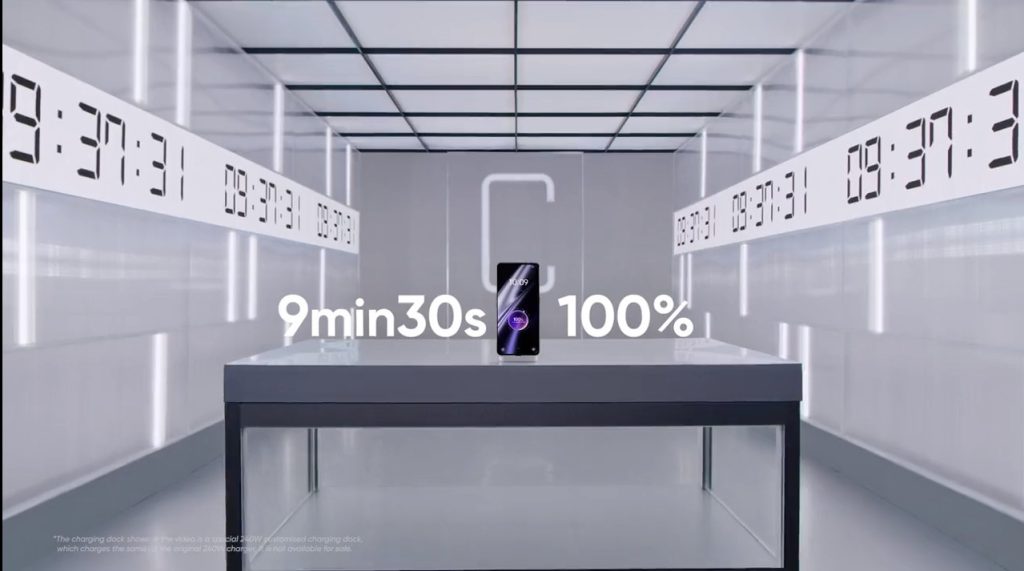 realme said that it leads the smartphone industry with 240W fast charging technology that will be introduced in the global markets with the GT3 on the 28th of February at the Mobile World Congress 2023.
Counterpoint's research says that realme is staying true to its "Dare to leap" spirit by pioneering fast-charging technologies. The company also posted a video that shows that the phone with the 4600mAh battery getting charged from 1 to 20% in 80 seconds, 50% in 4 minutes and 100% in 9 minutes and 30 seconds.
We asked you to guess how long it takes the #240Wcharging #realmeGT3 to charge. Watch the video to see the results.

⚠️ Be warned, it's gonna blow you away ⚠️
———————–#SpeedtotheMax pic.twitter.com/3C1cvBMi39

— realme (@realmeIndia) February 20, 2023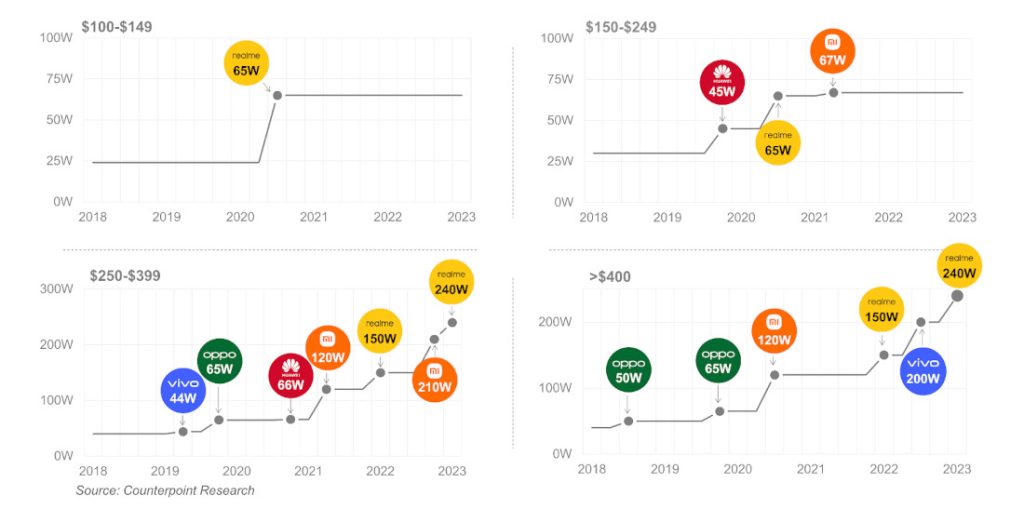 The Counterpoint research said that realme is the only brand to introduce 65W fast charging capabilities in sub-$150 smartphones with the realme Narzo 20 Pro, in 2020 with a wholesale price of under $150.
It adds that the brand was able to grab a market-leading 85% sales penetration of $100-$149 smartphone portfolio and features fast charging capability in 2022.  This continues realme's long history of offering the latest technology at lower price points and encouraging the smartphone industry to embrace it.
During this time, realme was ranked second for 65W capable smartphones in 2022 in the mid-high to entry premium market ($250–$599). This indicates that realme also provides market-leading technologies at higher price points.
240W: Industry's Highest Charging Standard
The 240W figure represents the highest standard of fast charging technology in the industry today.
The increase in power-delivering capabilities has reduced the charging time significantly, with more than 100W capable charging technology that can achieve full charge in 20–25 minutes. realme's latest industry-first 240W power output is taking fast charging to the next level.
Leap From a Popularizer to an Industry Leader
In 2020, realme was able to equip the realme X7 with 65W charging technology. In 2022, realme GT Neo3 was equipped with the world's fastest 150W charging technology, and this year, realme is getting ready to give the market 240W charging technology with the realme GT3 globally.
Our 240W fast charging technology is about to disrupt the industry. Get ready to experience #SpeedtotheMax with #realmeGT3. pic.twitter.com/8i7iHZfJMS

— Madhav Sheth (@MadhavSheth1) February 21, 2023
Commenting on the research Madhav Sheth – CEO realme India, VP, realme, and President, realme International Business Group said:
realme has always been at the forefront of bringing out-of-the-box innovations and leap-forward technology to the users. With the 240W fast charging smartphone, realme proves that we can do more than that by being top player in industry in terms of fast-charging technology and penetration rate in all segments.