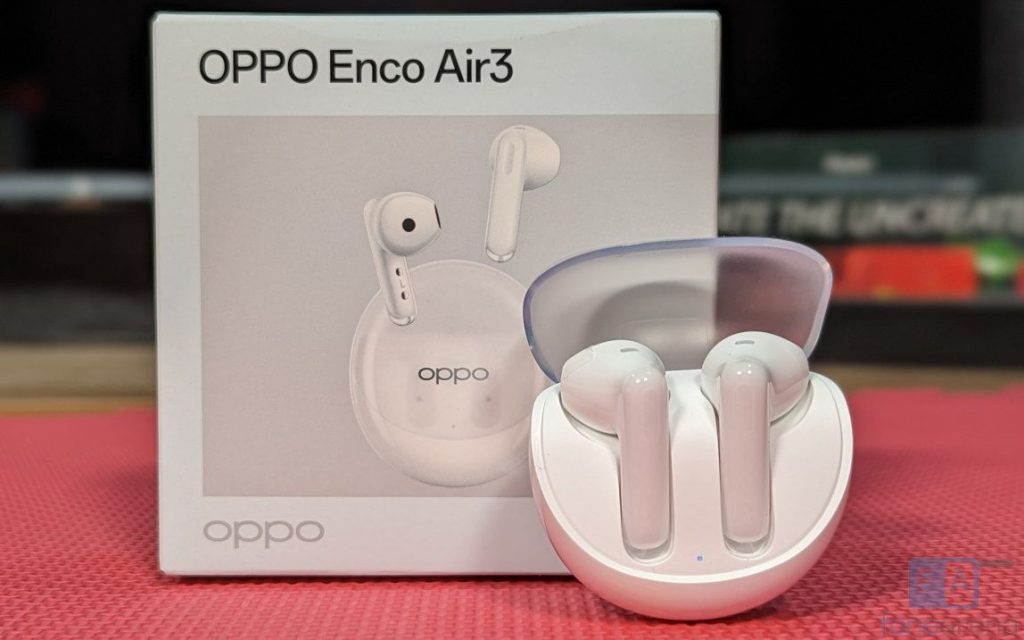 OPPO launched its latest budget true wireless earbuds — the OPPO Enco Air3 in India today. This retains the 13.4mm dynamic drivers from the predecessor, but improves the battery life, has improved 47ms low latency game mode, and comes with Bluetooth 5.3 with AAC audio codec. So, are these good TWS earbuds in range? Let us find out in this review.
Box Contents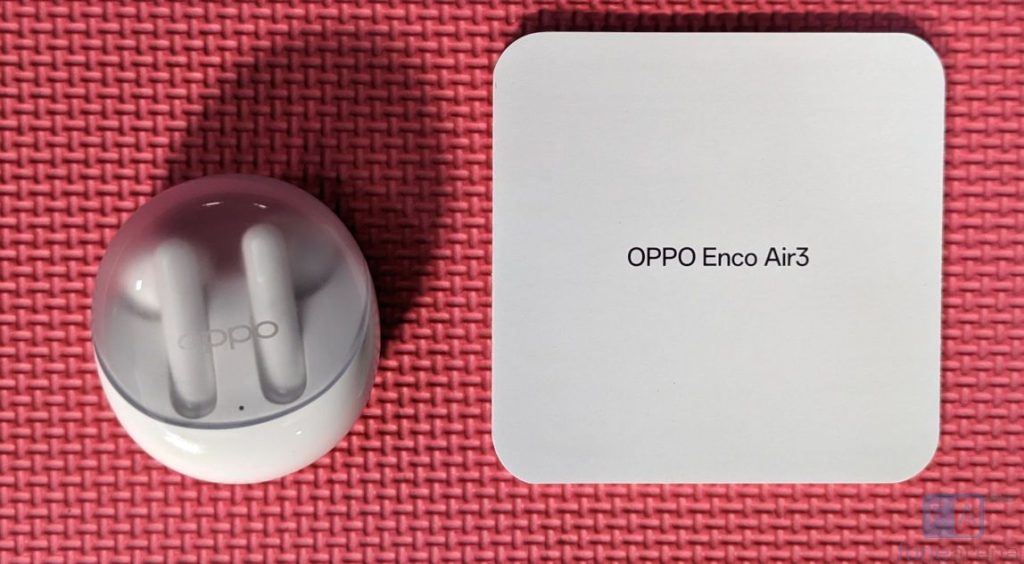 The box includes only the earbuds with the case and a user manual. Since these are half-in ear buds, there are no ear tips, and the box doesn't have a USB Type-C cable.
Design and Build
Starting with the design, the headset comes in an oval-shaped charging case that fits in your pocket. This has a familiar translucent case, but this flips to open fully to reveal the buds, unlike the predecessor which opens only on the top. You can see the whole earbuds even when the case is closed. The case has a glossy finish, so it attracts fingerprints and comes only in white colour, which gets dirty easily.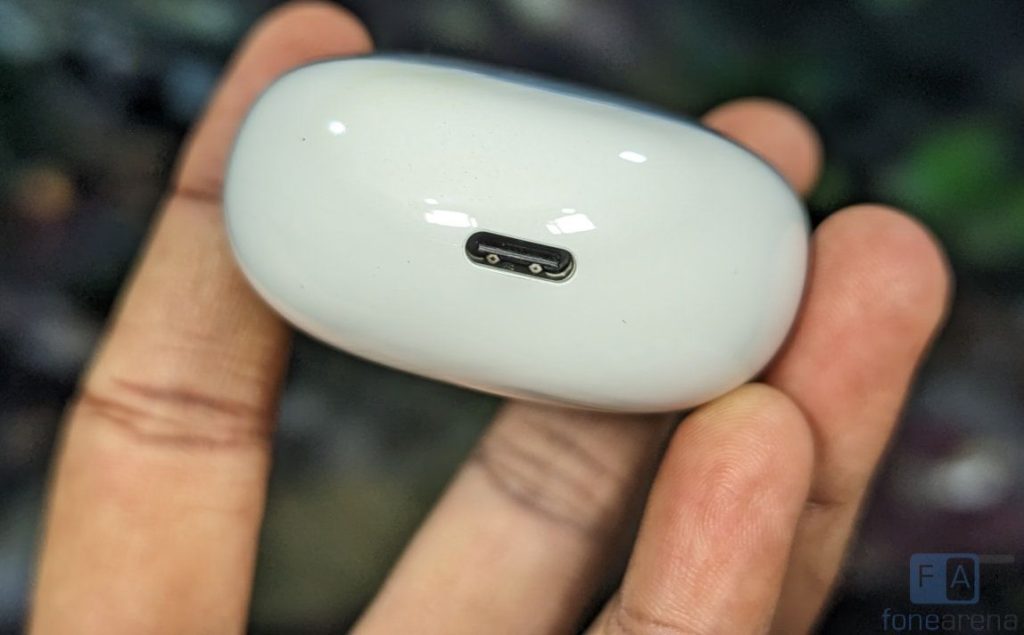 The charging case measures weighs 37.4g (Charging Case+Buds), which makes it compact, so it is easy to carry. You can see the specifications of the case on the other side, and the USB Type-C port is present on the bottom.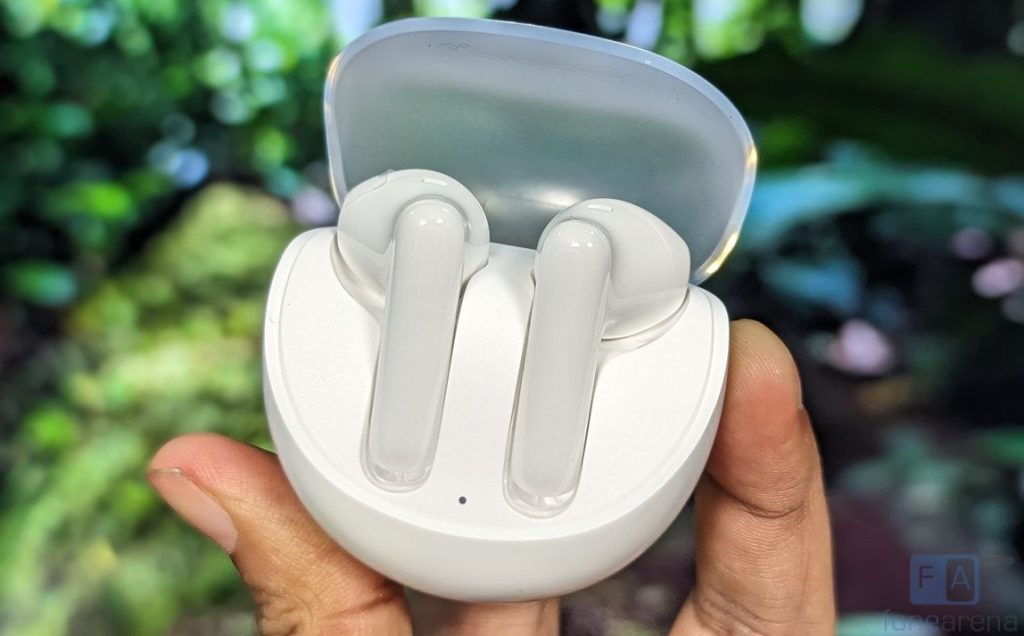 Since the case doesn't have a function key, so you need to pair the buds directly to the phone. There is a single LED indicator on the case.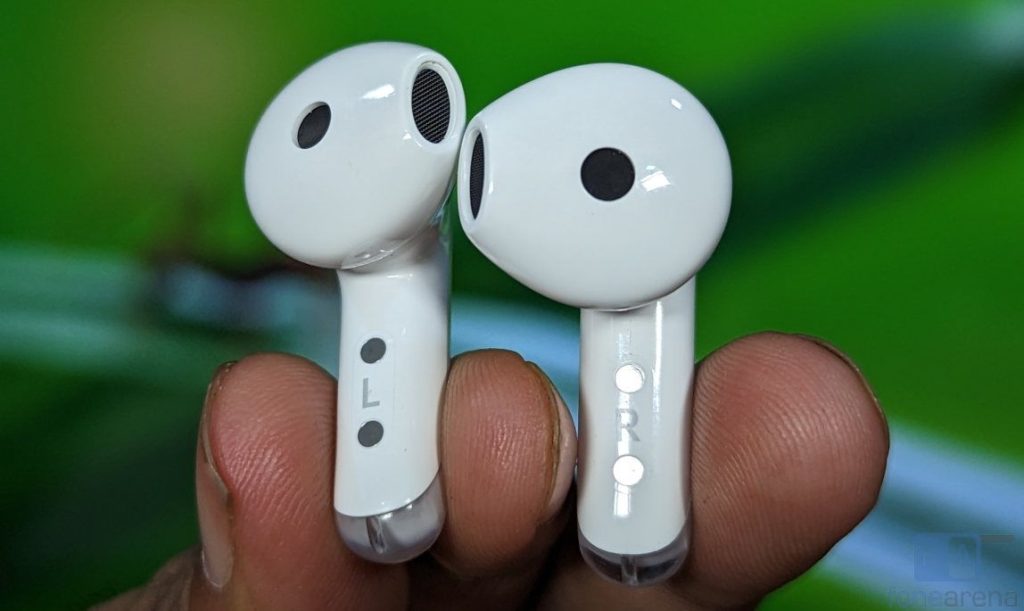 The headset has a plastic build and comes with a glossy finish and resembles the AirPods. The earbuds weigh just 3.75 grams, so you don't feel like you are wearing them.
These feature half in-ear design, but the fit is good, so they don't fall off your ears easily, even when running or cycling.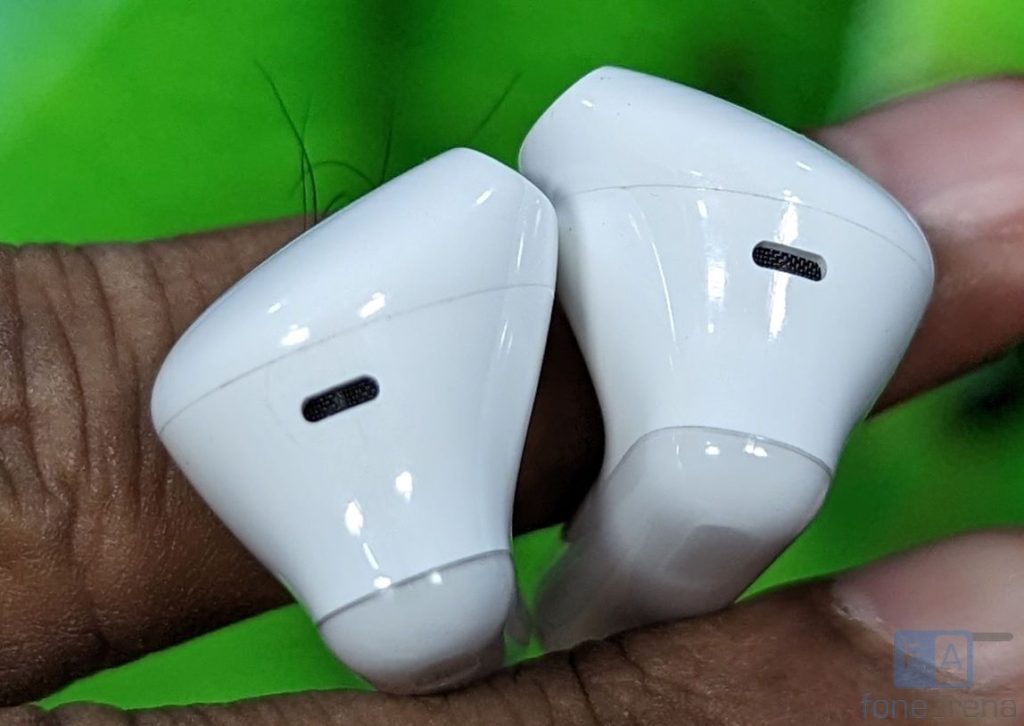 There are microphones on the top. The earbuds also have IP54 dust and water resistance, so these can withstand splashes and sweat in everyday use scenarios, but you can't use them when swimming. To remind you, the Buds Air2 only had IPX4 ratings.
Connectivity, Pairing, and Controls
The OPPO Enco Air2 support Bluetooth 5.3 with AAC high quality audio codec. The connection range is around 10 meters, which is common in most headsets, and the connection quality is good. The pairing process is very easy, simply open the case with the earbuds. Now open the Bluetooth settings on the phone, and it shows up as OPPO Enco Air3, and you can connect to it. There is also Google fast pair option which pairs the headset with the phone instantly.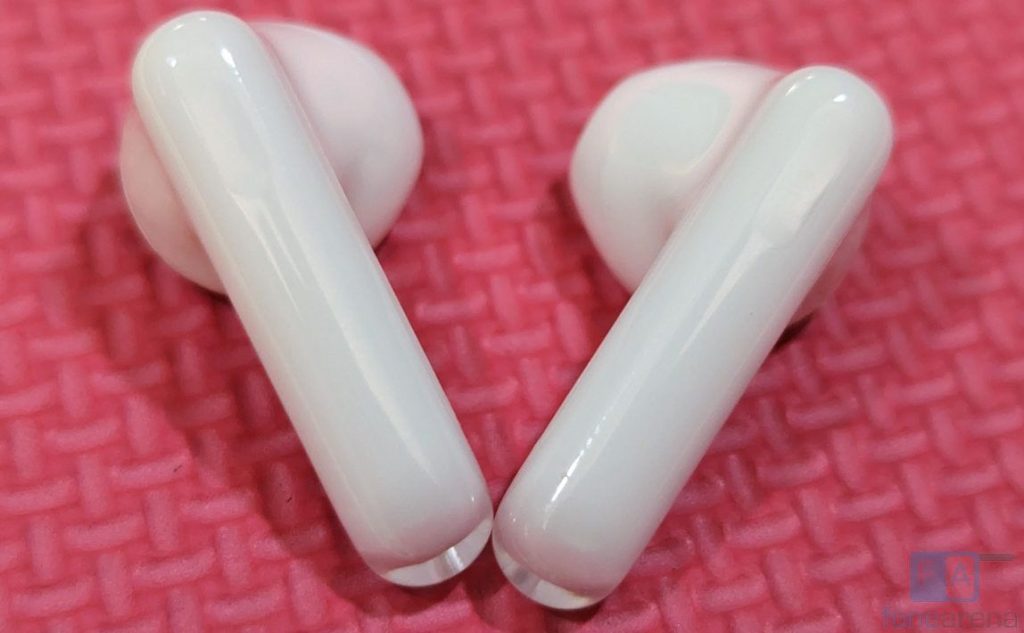 It also adds dual pairing to pair two devices at a time, and switch between them easily. The touch controls are easy to access since the stem of the earbuds is long.
Function
Left earphone (L)
Right earphone (R)
Answer call / Hang calls
Double tap
Play previous or next track
Double tap
Increase volume
Touch and Hold
Decrease volume
Touch and Hold
Volume control is a good addition, and there is also a single tap control for play and pause, which you can't remap, but it is disabled and must be enabled manually from the app.
You can however remap the double tap or triple tap options. You can also double tap any bud to take a photo when you open the camera, but it requires a OPPO phone running ColorOS 11.3+.
There are customization options in the Bluetooth settings for ColorOS devices. You can customize the controls from the settings in the Hey Melody app on Android or iOS for other devices.
Audio and Call Quality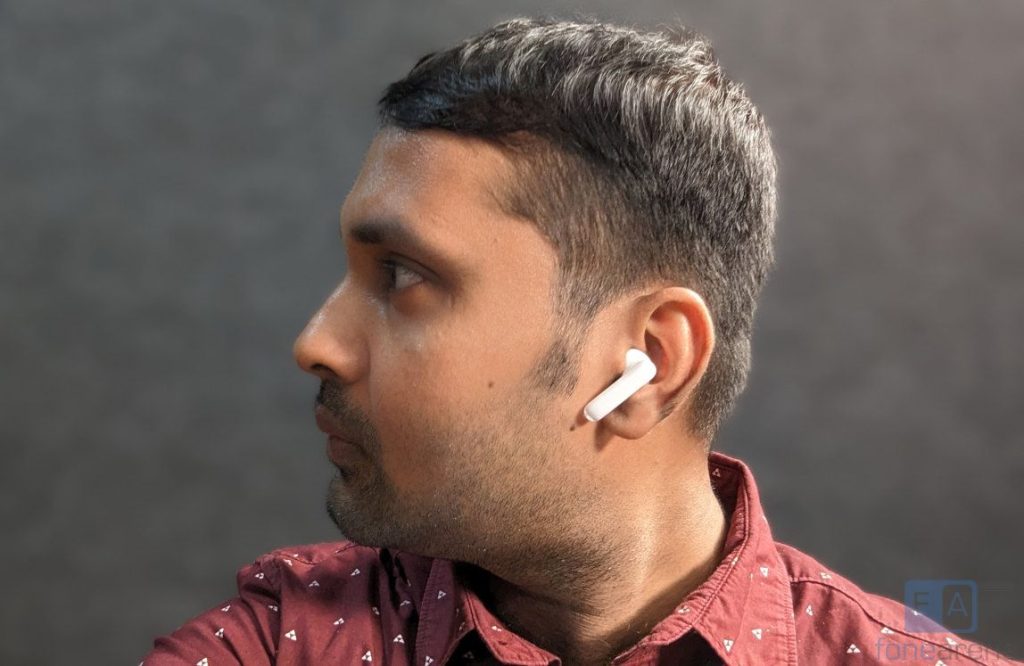 The OPPO Enco Air2 pack a 13.4 mm polymer composite driver, Flagship-grade N48 neodymium magnets and 1.9m of copper-aluminum alloy coils that offers rich, textured bass, but the mids and highs are just average. OPPO says that it has added a brand new high-end digital signal processor and Tensilica Cadence HiFi 5 architecture offering 25 times more processing power, for more accurate performance compared to the predecessor.
Sound from the earbuds are loud. Other than the default settings, there are Bass boost option, if you need more bass for music, or you can select clear vocals option if you are listening to podcasts or talk shows. Since these are not in-ear buds with a tight seal like ear tips, you will clearly hear the outside noise if you are near a crowded environment.
OPPO has also added a spatial audio feature in the earbuds for an immersive sound environment, and the company says that only certain music, video and game apps support the spatial audio feature. This can be experienced in music apps like Spotify,
OPPO says that the Enco Buds feature intelligent DNN model-based noise cancellation, which uses a smart algorithm to distinguish human voices from background noises when you're on a call.  Voice clarity was good for calls indoors, but it doesn't cut out wind noise or traffic noise when you use if for calls outdoors. Overall, these have good audio quality and decent call quality for the price.
Battery Life
The earbuds pack a 27mAh battery that promise about 6 hours of standalone battery life. During my use with AAC, I got over 5 and half hours of battery life in 50 to 60% volume. If you disable AAC, you get a better battery life in SBC. If you make a lot of calls, then the battery life will be less. It takes about one and a half hours to charge the earbuds, and there is also fast charging that promises up to 2 hours of playback with 10 minutes of charging.
With the 300mAh battery in the charging case, which is actually 140mAh smaller than the Air2, it promises up to 25 hours of battery life, an hour more than the predecessor. I got over 3additional charges with AAC enabled. It takes close to 2 hours to charge the case fully with the earbuds over USB Type-C. Even though the case doesn't pair with the phone, you can see the charge left in the case in the app when you place at least one ear buds in the case.
Conclusion
Overall, the OPPO Enco Air3 is a decent budget Bluetooth TWS earbuds for the price that offers loud, bass driven audio, custom sound effect options, and adds several features such as dual pairing, Google fast pair, IP54 ratings, while retaining customizable controls, including volume controls and improves the standalone battery life from the predecessor.
Call quality could still be improved, and since this has a half in-ear design, you don't get passive noise cancellation.
Availability
The OPPO Enco Air3 is priced at Rs. 2,999 and and will be available from Flipkart, Amazon, OPPO Store and offline stores from February 10, 2023, onwards.
Pros
Bluetooth 5.3 with AAC codec, Google Fast pair
Dual Pairing
Good audio quality with a couple of sound effect options
Light-weight design, IP54 ratings
Decent battery life, fast charging
Cons
Call quality could be better
No passive noise cancellation with half in-ear design
Glossy case is prone to scratches