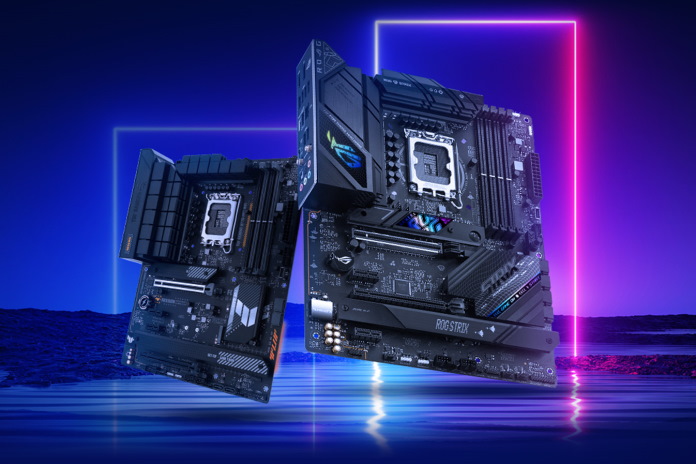 ASUS today announced a slew of new motherboards for Intel's 12th and 13th gen processors. This includes new Z790 models as well as several other options featuring the H770 and B760 chipsets.
ASUS has announced new ROG Strix and ASUS Prime Z790 motherboards, as well as a wide range of H770 and B760 motherboards from the ROG Strix, TUF Gaming, ProArt, and Prime product families.
Along with new motherboard options, ASUS is introducing a BIOS feature that allows users to easily unleash the power of their new 13th Gen Intel CPU while keeping temperatures under control.
With new options to the ASUS MultiCore Enhancement and ASUS Performance Enhancement features, it will remove the limits holding back CPU boosting behaviour, but it will also impose a CPU temperature limit of 90 °C. This would provide users with outstanding multicore performance while keeping thermals to a minimum.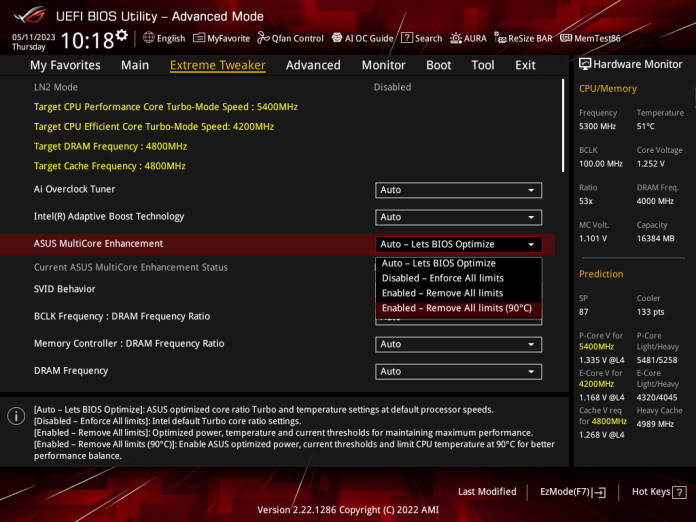 This new ASUS MultiCore Enhancement option will be available to all overclocking-capable ASUS Z790 motherboard users, while a similar ASUS Performance Enhancement option will debut on ASUS H770 and B760 motherboards. Existing owners will be able to use the new feature after installing a BIOS update.
ASUS Z790 motherboards: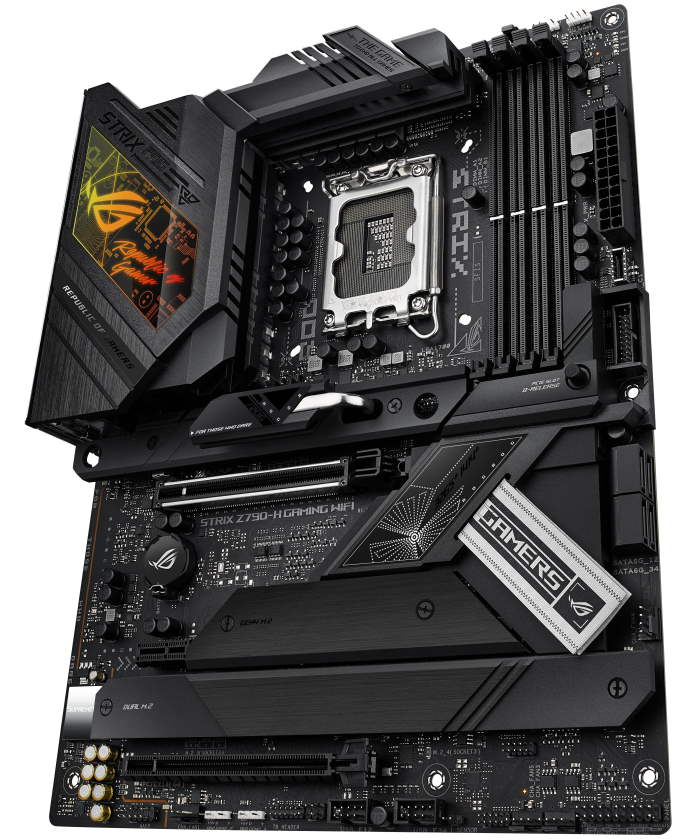 ASUS' high-end boards are designed to overclock K-series CPUs. This series includes two new gaming-focused boards: the ROG Strix Z790-A Gaming WiFi and the ROG Strix Z790-H Gaming WiFi. These support DDR5 RAM and have a PCIe 5.0 x16 slot ready for today's and tomorrow's best graphics cards.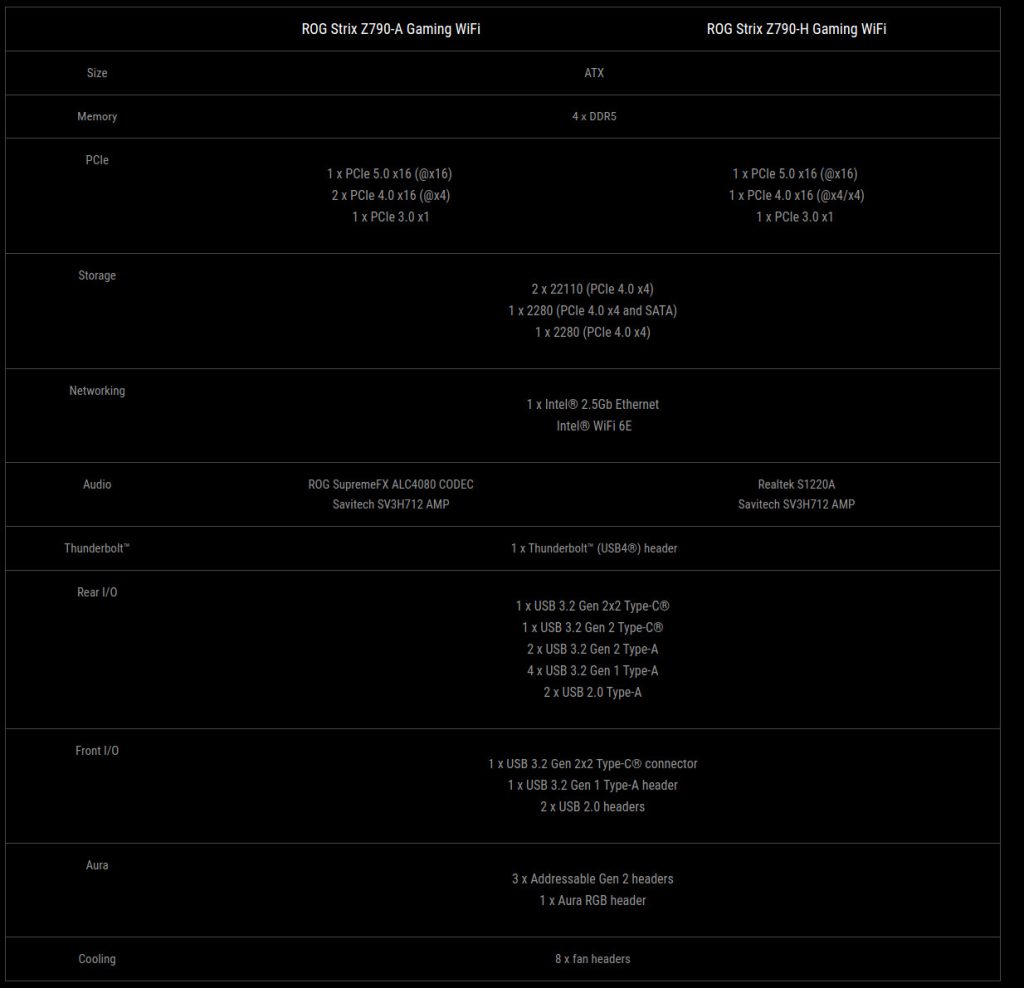 Meanwhile, the Prime Z790M-Plus has a compelling feature set, including a PCIe 5.0 x16 slot, three M.2 slots, and a header primed and ready to provide a front-panel Thunderbolt 4 port in compatible cases. The Prime Z790M-Plus, with its timeless black-and-white aesthetic and space-themed detailing, will blend in with almost any component on the market.
ASUS H770 motherboards:
The new TUF Gaming H770-Pro WiFi and Prime H770-Plus D4 boards are designed to provide high-end features at a mid-tier price. Both provide a plentiful supply of PCIe lanes, comparable to the Z790 motherboard. The TUF Gaming H770-Pro WiFi has a high-bandwidth PCIe 5.0 x16 slot for a next-generation graphics card, four onboard M.2 slots, and a slew of USB ports. An Intel 2.5 Gbps Ethernet port and WiFi 6 connectivity ensure smooth networking.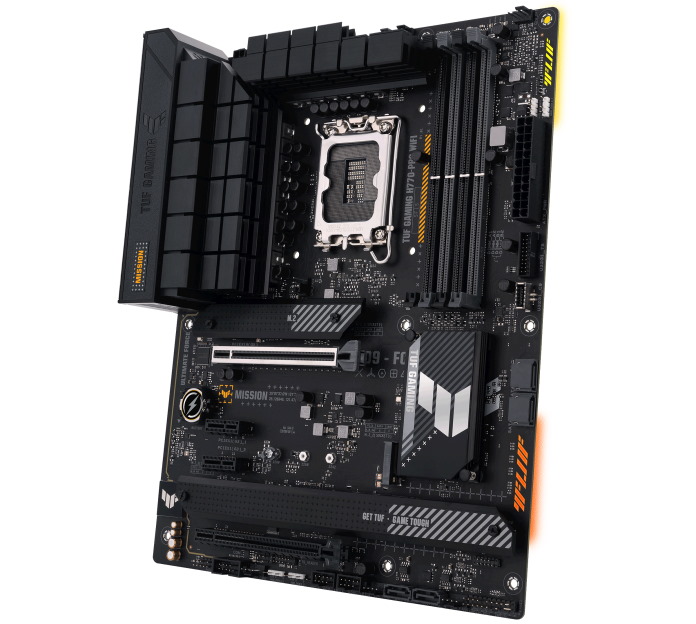 ASUS offers the Prime H770-Plus D4 to users who are drawn to the low prices of DDR4 memory. This motherboard is ready for a variety of expansion cards and storage drives thanks to its numerous PCIe x16 and M.2 slots.ASUS B760 Motherboards: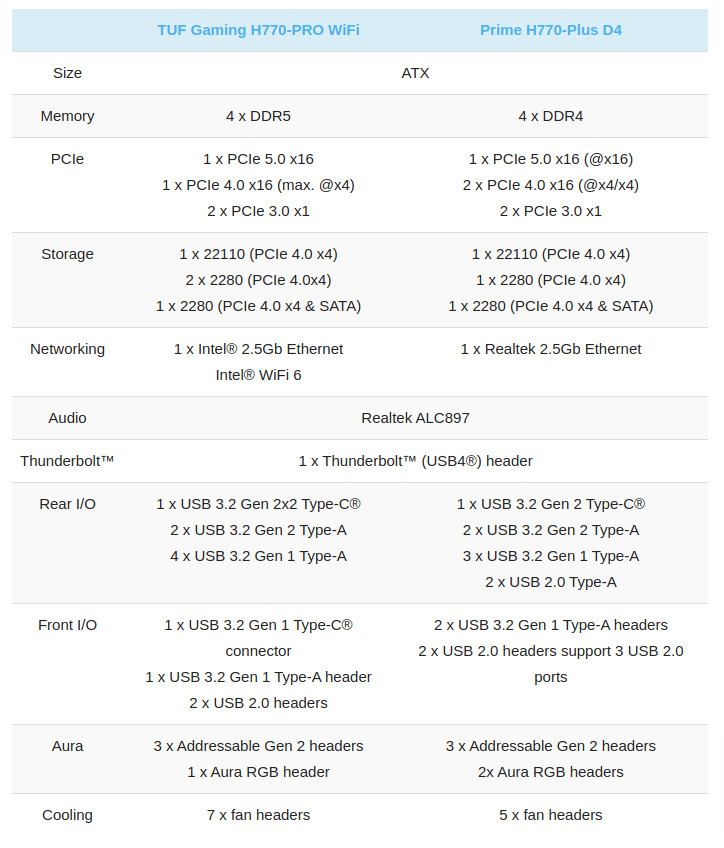 This is the most affordable 700-series motherboard lineup. This series has gaming boards from the ROG Strix or TUF Gaming families, a creator-focused ProArt model, or an all-around ASUS Prime motherboard.
The top-of-the-line ProArt B760-Creator D4 has a PCIe 5.0 x16 slot, plenty of storage options, and extensive connectivity. The ROG Strix B760-F Gaming WiFi board supports DDR5, new Intel 13th Generation CPUs, PCIe 5.0 x16 slots, beefy heatsinks, a pre-mounted I/O shield, and full-coverage M.2 heatsinks.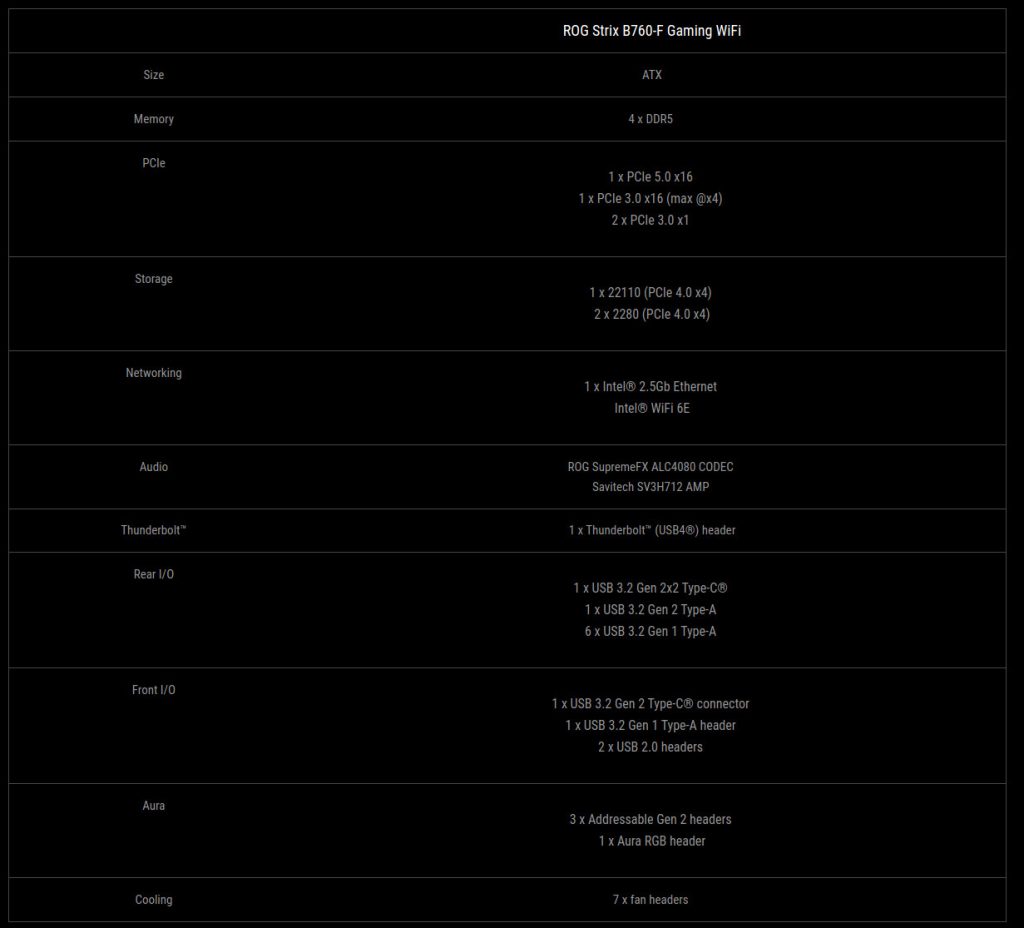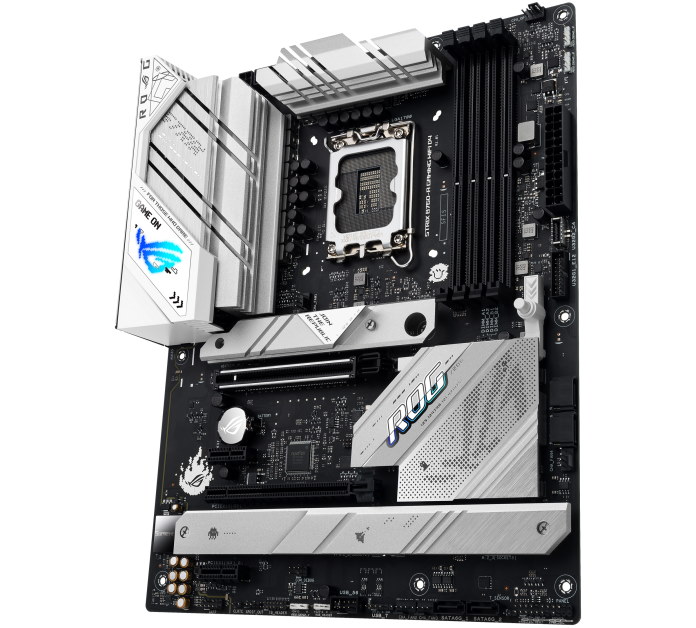 There're also the ROG Strix A-series motherboards, which feature high-end brawn in daring designs that defy the norm. The ROG Strix B760-A Gaming WiFi D4 motherboard is covered in brilliant white and silver surfaces. It has three M.2 slots for PCIe 4.0 SSDs and a PCIe 5.0 x16 slot for a next-generation graphics card to help you achieve high FPS.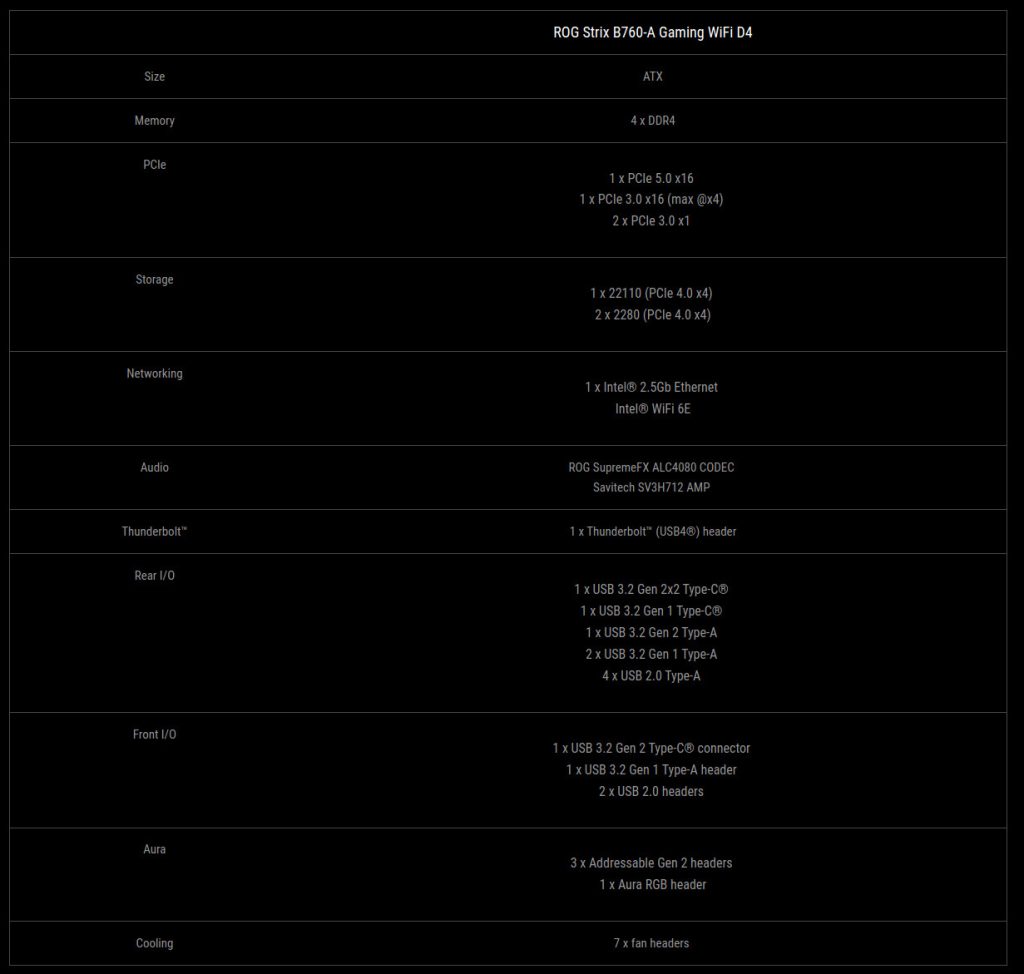 Further, the ROG Strix B760-G Gaming board Wi-Fi D4 is a Micro-ATX board that has a PCIe 5.0 x16 slot and a PCIe 4.0 x16 slot and two PCIe 4.0 M.2 slots. There's also an Intel 2.5Gb Ethernet port provides a high-bandwidth gateway for online gaming and Wi-Fi 6E connectivity.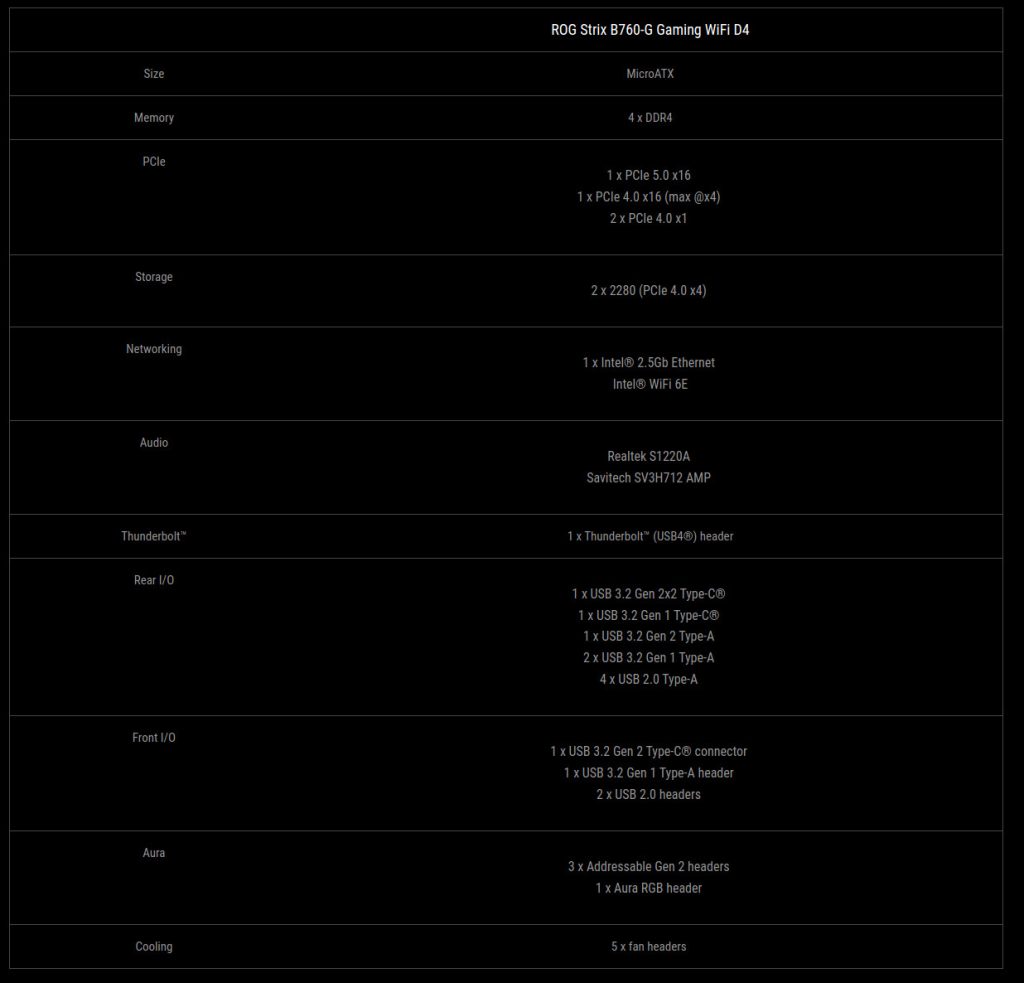 The ROG Strix B760-I Gaming WiFi is another motherboard that adopts Mini-ITX design. This can adopt 13th Gen Intel CPU, a pair of high-bandwidth DDR5 sticks, two PCIe 4.0 SSDs, and a graphics card in its PCIe 5.0 x16 slot.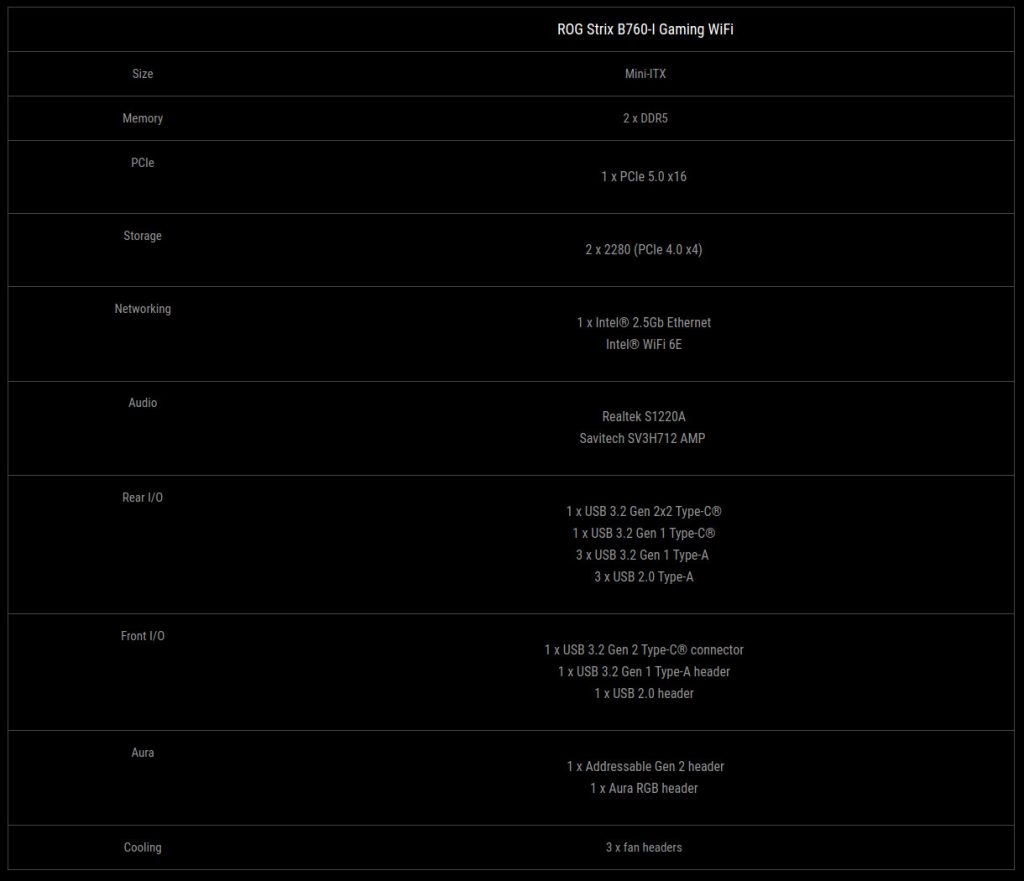 For Creators this series of motherboard has the ProArt B760-Creator D4 that offers a PCIe 5.0 x16 slot, ample storage options, and broad connectivity, this motherboard gives designers, filmmakers, engineers, and artists of all kinds a robust platform for their projects.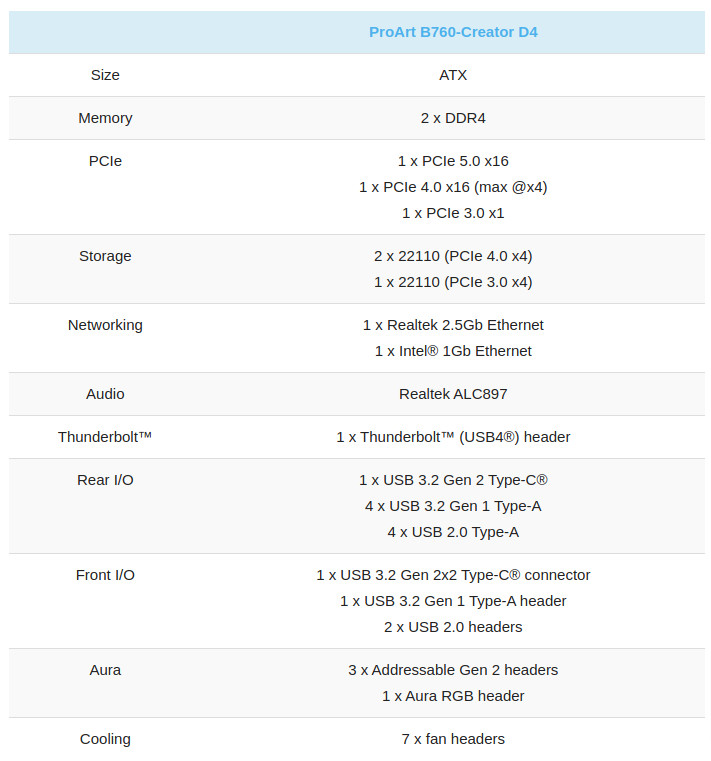 ASUS has also announced some motherboard under its TUF Gaming series that comes with an attractive price point and specifications.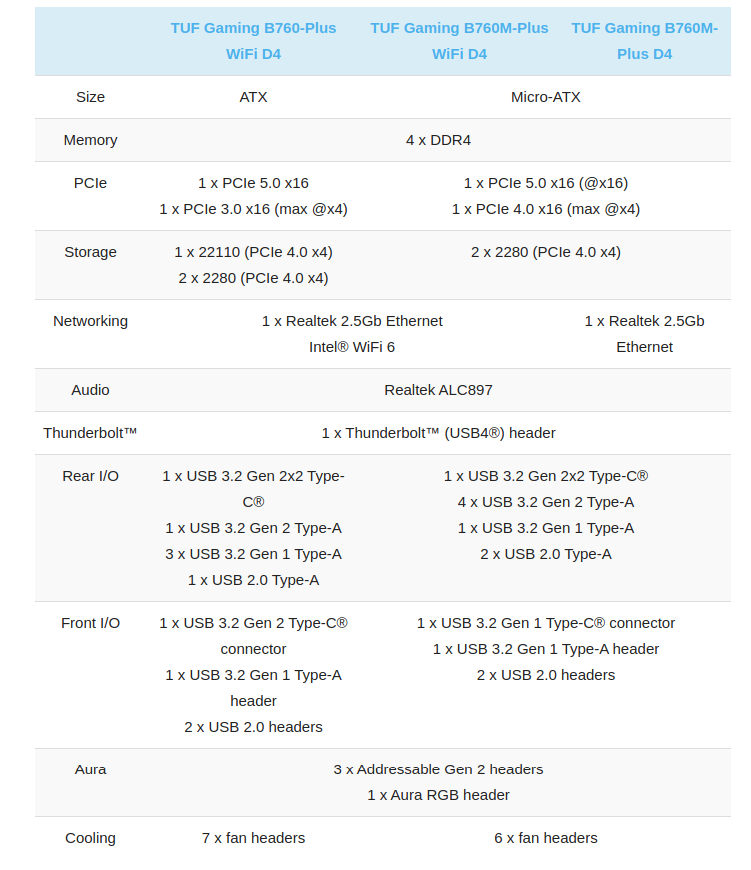 Under the ASUS Prime B760 family, the firm has announced four boards in a variety of configurations. These have ATX and Micro-ATX options.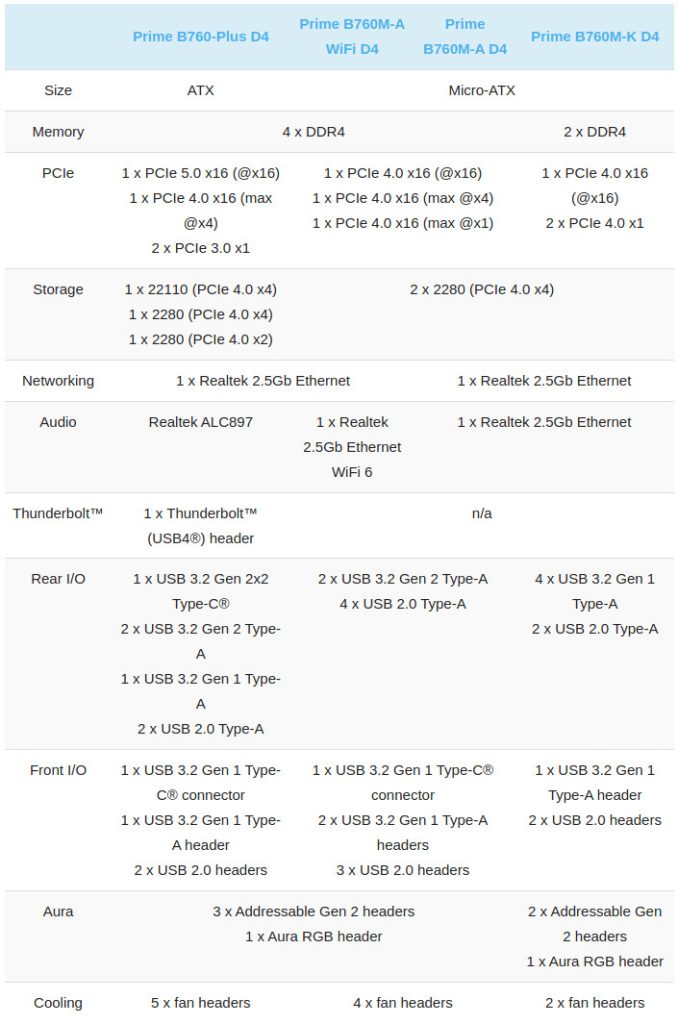 Pricing and Availability:
ASUS Z790, H770, B760 motherboards will be available this January at authorized ASUS stores, partners and major online stores. Pricing will be available closer to the sale date.