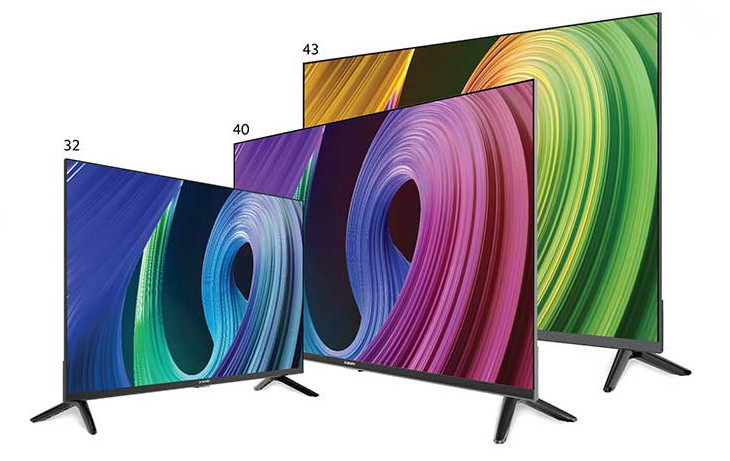 Counterpoint Research has released shipment figures for smart TVs in India for the third quarter of 2022. The research report claims that during that time, the volume of smart TV shipments increased 38% year over year.
The growth was primarily driven by festive season supplies to meet the strong pent-up demand, multiple new launches, discount events, and promotions, says Counterpoint.
With an 11% market share, Xiaomi led the overall smart TV market, followed by Samsung. In Q3 2022, the fastest-growing brands in the smart TV segment were OnePlus, Vu, and TCL. Smart TV penetration of total shipments reached an all-time high of 93% during the quarter, thanks to online platforms, which contributed 35%.
People frequently prefer 32″-42″ display sizes, according to the research, accounting for roughly half of total shipments during the quarter. Furthermore, TVs with advanced technology displays, such as OLED and QLED, are becoming more popular.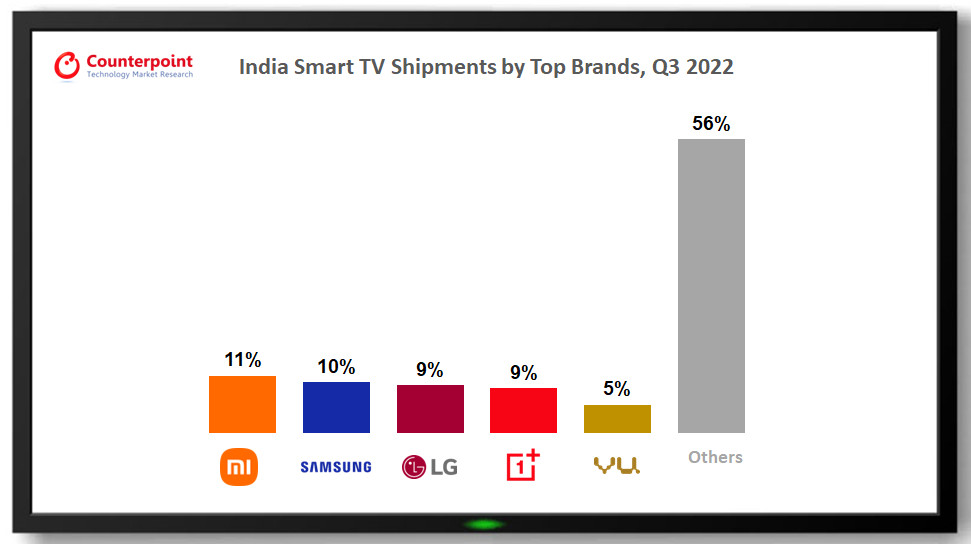 India Smart TV Shipments Q3 2022: Market summary
As previously stated, Xiaomi led the market with 11% of the market. According to the research firm, Xiaomi's major volume drivers were the Mi 4A Horizon Edition, 5A series, and Redmi Smart TV series. Following Xiaomi is Samsung, which has a 10% market share in smart TVs.
LG ranked third with a 9% market share in the third quarter of 2022.
LG OLED TVs are said to be among the most popular products in the premium segment.
OnePlus, on the other hand, increased its revenue by 89% year-on-year during the quarter and held an 8.5% share of the smart TV market. All thanks to the OnePlus Y1, Y1S, and Y1S Pro series, which played a significant role in the phenomenal growth.
Vu finished fifth with a 5% market share. Other emerging brands in the top 10 included realme, Sony and Haier.
Regarding the Smart TV shipments in Q3 2022, Research Analyst Akash Jatwala said,
Dolby Audio is becoming popular. Most of the new TV models have Dolby Audio support. 32" is still the most popular screen size, as it caters to a wide array of consumers and comes with an affordable price range, whereas 43" is gaining popularity in the mid-range.

On the software side, newer models are increasingly coming with Google TV, mainly in the >INR 25,000 ($300) segment. The major benefit of Google TV is its user interface and content recommendations, as it can recommend content across various streaming apps, and YouTube, which is not available on Android TV.

Global brands lead the market with a 40% share, followed by Chinese brands with a 38% share. The share of Indian brands doubled in Q3 2022 to reach 22% of the overall shipments. Many new Indian brands are entering the highly competitive market.