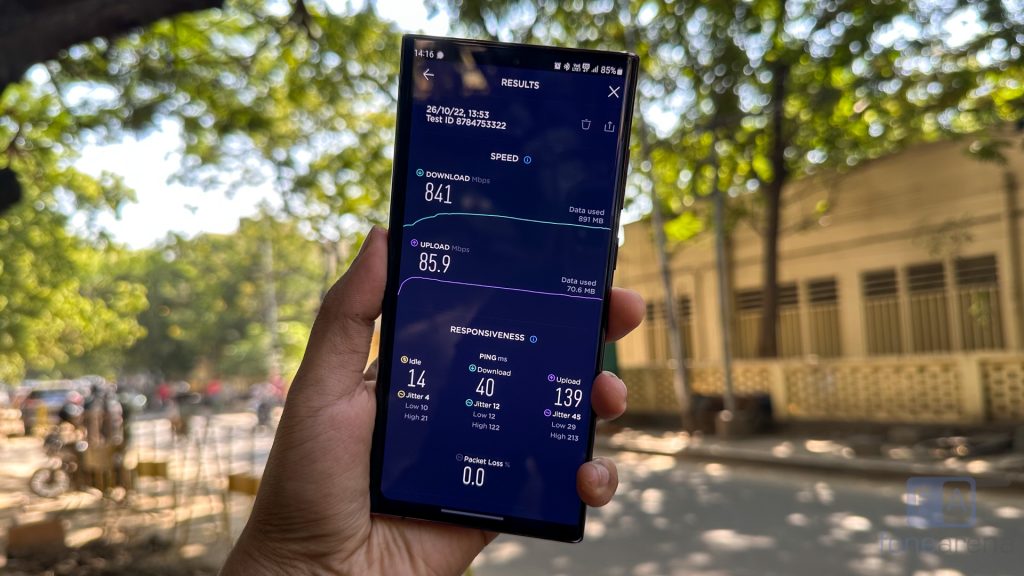 5G services are finally live across several cities in India and it is time to test how it performs on phones in the real world. What better way to test the 5G network than a live network Speed Test right ? Samsung had launched its flagship smartphone, the Galaxy S22 Ultra, earlier this year in India. The Samsung Galaxy S series has supported 5G connectivity for many generations now. With the rollout of 5G networks in India, we tested how well the Galaxy S22 performs on 5G. We have access to Airtel's 5G Plus service in Chennai and tested the S22 Ultra which is compatible with the operator's 5G network.
The Galaxy S22 Ultra is equipped with the Snapdragon 8 Gen 1 chipset inside, which features Qualcomm's Snapdragon X65 5G Modem-RF System. This modem is one of the best available chipsets for 5G connectivity, so we expected excellent speeds in our tests.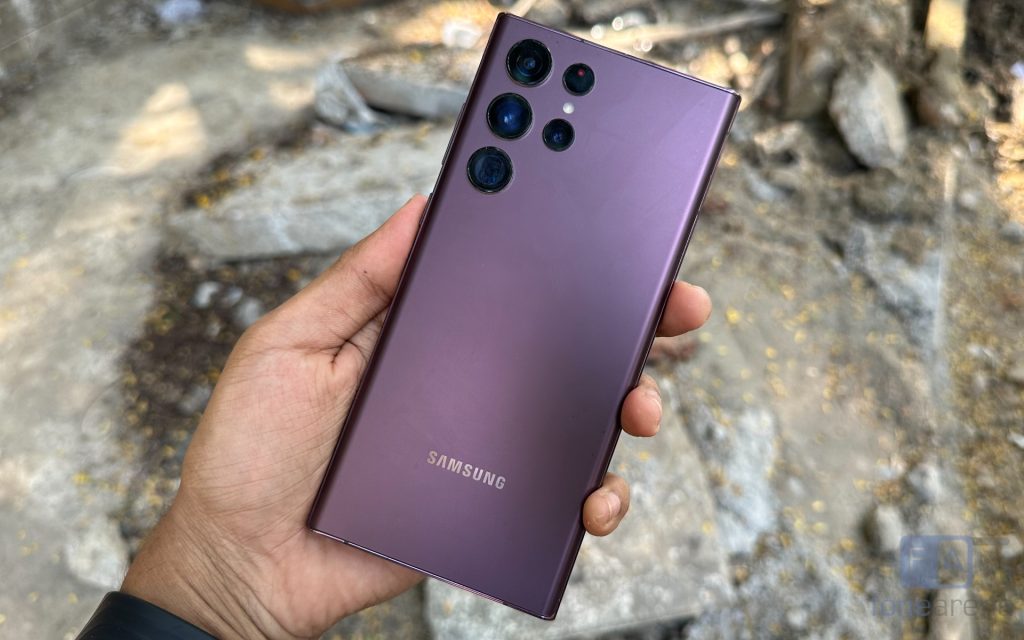 In India, the three main network operators – Airtel, Jio and Vodafone have purchased most amount of 5G spectrum. Airtel and Jio have begun the rollout in a number of cities across India. While Airtel services are commercially live, Jio is live under a private beta to select users.
The 5G service we tested was on n78 band or 3500 MHZ frequency (3.5 GHz) which is one of the most popular bands for 5G deployments around the world. We used the the Service Mode feature to get more technical details about the network.
At the moment, Airtel has rolled out 5G networks in many neighbourhoods around Chennai. Parts of central Chennai have reported 5G connectivity for many days. For our testing, we found a strong 5G signal and tested the S22 Ultra multiple times using the Speedtest by Ookla app. It did not require a software update and supported 5G with the latest software.
Samsung Galaxy S22 Ultra Speed Test on Airtel 5G Plus network
We would like to report that we tested the speeds across various destinations in the city and the overall result was really surprising. The maximum download speeds almost touched 1000Mbps or 1Gbps. This is on par with the fastest broadband connections one can get in India. On a average we saw around 800Mbps down.
Upload speeds seem less fast compared to the downloads but still impressive for a mobile device. We saw a maximum of 150Mbps with an average of around 85Mbps. Latency was minimal and we did not experience any packet loss.
Right now, only Airtel and Reliance Jio have begun the rollout of 5G, and Vi is expected to join them soon. Airtel's rollout has started with 8 cities across India including – Delhi, Mumbai, Chennai, Bengaluru, Hyderabad, Siliguri, Nagpur and Varanasi.
We need to make it clear that a 5G Speed Test does consume your data allowance quite fast.  We ended up consuming almost 1 GB of data for the test above. Have you experienced 5G on your smartphone in India already? Feel free to share your experience in the comments section below. If you want us to test the 5G performance on any particular phone, do let us know.