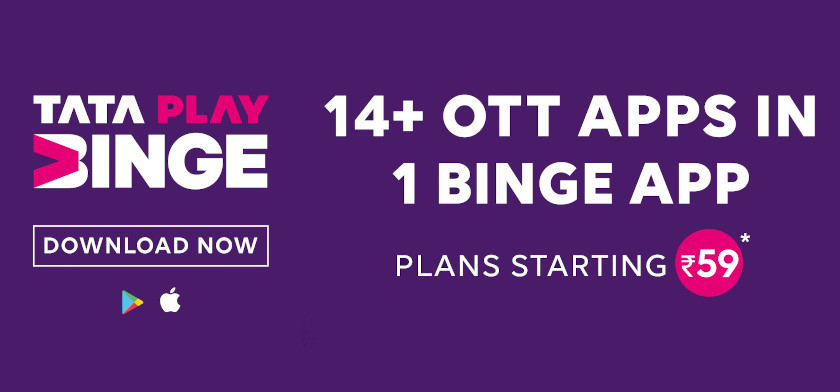 Tata Play (formerly Tata Sky) has announced that the Tata Play Binge, its OTT entertainment app, is available for all smartphone users, with no prerequisite of needing a DTH subscription.
Tata Play Binge aggregates content from across OTT platforms in India and presents in a single screen offering movies, TV series, web originals, and live sports from 17 streaming apps, along with gaming.
The Tata Play Binge now has plans starting from Rs. 59 per month and offers access to premium content across popular national, international and regional apps as per subscribed plans. A single subscription will allow simultaneous viewing on 2+ devices. The company said that it will soon host 25 apps, as eight more apps are slated to get added in the coming months.
Even though several OTT platforms are available for smartphones, Netflix Combo plans are available only for Tata Play DTH subscribers, and Amazon Prime Video can be accessed with an add-on subscription on Binge.
Commenting on the announcement, Harit Nagpal, MD & CEO, Tata Play, said:
In India today, approximately 70+ OTT services cater to 450mn+ consumers with just ~90mn paid subscription. The penetration at a subscriber level drops further as each consumer needs to subscribe to multiple OTT services. The biggest bottlenecks to the growth of OTT subscription are accessibility, availability and affordability. With our aggregated OTT platform Binge, we endeavor to address these pain points.

Content from across 17 OTT providers + Gaming is available today to all subscribers, accessible through a unified interface at a single subscription package starting at INR59 a month. Tata Play Binge makes entertainment easy for consumers, while increasing the subscription footprint for our OTT partners.

India is a value conscious market and value is a derivative of both time and money. Just as Tata Play DTH has connected television viewers across the country to channels from multiple broadcasters, so will Tata Play Binge aggregate content from across OTTs to digital viewers across the country.