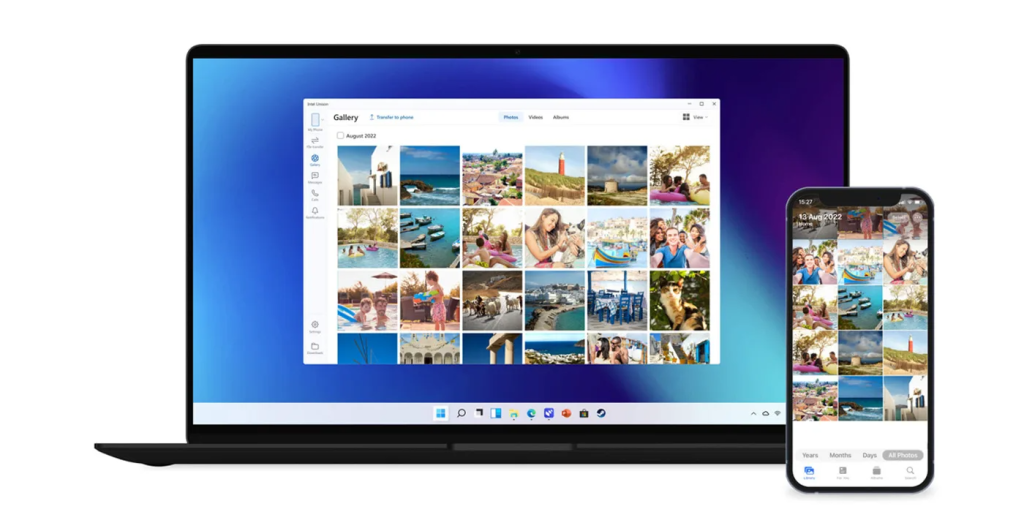 Intel has launched Intel Unison along with Intel 13th Gen desktop CPUs.  The software solution integrates devices, operating systems, and form factors. This real cross-platform experience will give the Windows environment a multi-device experience that doesn't require device sacrifices. It's compatible with both Android and iOS phones.
Based on the technology of Screenovate, a software business Intel bought last year, Intel Unison will roll out on certain 12th Gen Intel Core processor-based Intel Evo designs this Christmas season. Early designs will be offered from Acer, HP, and Lenovo. The distribution will spread to new Intel Evo designs early next year with the release of 13th generation Intel Core devices.
Easy, Intuitive and Fast
Even when several devices and operating systems are involved, Intel Unison makes the various actions quick, simple, and straightforward.
Integrate your devices with a simple, one-time setup.
Take a photo or video on your phone and edit it easily on your PC.
Control the experience with your keyboard, mouse, or touchscreen.
Stay in Your Flow
Intel Unison lets you focus on one screen, be more productive, and stay with the flow when other things happen. Although the PC is a key productivity tool, several devices compete for users' attention every day.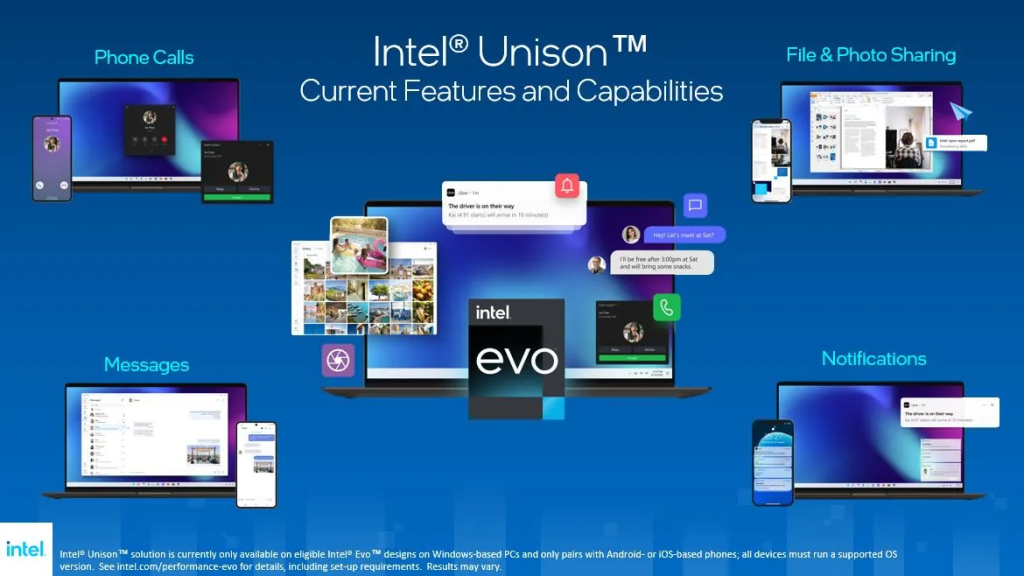 Text messaging: Send and receive texts from your PC to prevent device switching and enjoy a full keyboard and monitor.
Voice calls: Make and receive PC calls. With your phone's full contact list, it's easy to call from your PC.
Notifications: Connect and gain control. PC notifications for phone calls.
File transfers: Transfer files and photographs between PC and Android or iOS devices quickly and easily.
Connectivity and Flexibility
Intel's ability to connect, interact, and transfer data between devices wirelessly makes it possible for strong, flexible experiences across multiple devices. Intel Unison has many ways to connect, such as a local Wi-Fi router or peer-to-peer network, Bluetooth, and Bluetooth Low Energy (BLE).
Availability and roll out
At first, a few 12th Gen Evo PCs will get Intel Unison app and only pairs with Android or iOS-based phones. Starting this fall, it will be accessible on Acer, HP, and Lenovo PCs.
Early next year, 13th Gen Evo systems will join. Since there is no mention of Unison coming to old or new hardware, it is likely that it will only come to new Intel PCs.