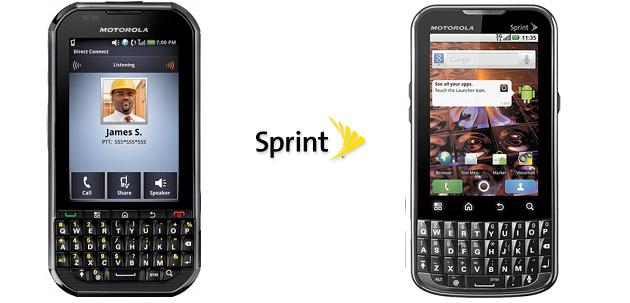 Last year, Motorola and Verizon launched the Droid Pro, which is a good looking Android powered phone. Droid Pro comes with a BlackBerry-ish touch and it's especially made for business professionals and they need a device which is good enough to handle their work. Now Droid Pro is heading towards Sprint as Motorola XPRT along with another handset which is known as Motorola Titanium. Motorola XPRT features enterprise security and it's a worldphone, which makes it even better for businessman because they are always travelling around the world. The device has a 1GHz processor, Android 2.2, 5MP camera and a 3.1 inch display. Well, if you are moving from BlackBerry OS, then getting used to this device will be a little hard, but the portrait keyboard will help you.
Motorola Titanium almost features the same design, but it's little small in size. It also features the same 3.1 inch touchscreen display and 5MP camera. The device is actually successor to Motorola i1 and just like the predecessor; Titanium is also a push-to-talk device. Sprint didn't tell when the Titanium is coming and for how much, but they told people about the XPRT. It will hit stores on June 5th and it will go for $129.99. Learn more about Motorola Titanium and Motorola XPRT at Sprint
So Android fanboy and girls, are you looking forward to this BlackBerry-type Android device? Have a look on press release after the break.
Sprint and Motorola Unveil Two Android Devices for Business: Motorola XPRT and Motorola Titanium

New Android smartphones target professionals with enhanced business-class experiences; Motorola XPRT offers enterprise-grade security and enhanced MOTOBLUR experience on an Android World Phone; and Motorola Titanium pairs best-in-class Nextel Direct Connect with Android

OVERLAND PARK, Kan. (BUSINESS WIRE), May 05, 2011 – To meet the growing demand for mobile devices with industry-leading enterprise features, Sprint (NYSE: S) and Motorola Mobility, Inc. (NYSE: MMI) will launch two new smartphones with enhanced business-ready capabilities, built on the Android™ platform. Motorola XPRT™ is the first Android smartphone from Sprint to deliver enterprise-class security, personal productivity enhancements and international roaming. Motorola Titanium™ leverages Sprint's industry-leading Push-to-Talk capabilities as the first Nextel Direct Connect® smartphone built on Android 2.1.

"We are pleased to extend our portfolio of products directed at business-users with these two powerful and versatile Android devices," said Paget L. Alves, president – Sprint Business. "Motorola XPRT delivers the security features enterprise customers demand without scrimping on the latest in technology, while Motorola Titanium is a rugged Android smartphone with Nextel Direct Connect's sub-second Push-to-Talk."

Motorola XPRT will be available on Sunday, June 5, in Sprint Stores, Business Sales, Web sales (www.sprint.com) and Telesales (1-800-SPRINT1), for $129.99 with a new line or eligible upgrade and two-year service agreement. Pricing and availability for Motorola Titanium will be announced at a later date.

"Motorola XPRT and Motorola Titanium blend feature-packed consumer experiences with an optimal set of productivity and security tools," said Jeff Miller, corporate vice president of sales, Motorola Mobility. "We are pleased to partner with Sprint to deliver each of these unique business-ready devices to their continuously growing enterprise customer base."

Packed with Productivity Tools

Designed for business users, Motorola XPRT offers a sleek, compact design built on Android 2.2, Froyo. This full-feature world phone is equipped with a pinch-to-zoom capable touchscreen, 3.1-inch HVGA display, full QWERTY keyboard and 1GHz processor with Adobe Flash 10 web browsing.

Enterprise managers and workforces across field service, field sales, healthcare, retail, utilities, manufacturing and transportation/distribution industries will benefit from its feature-rich capabilities, enterprise-class security and data encryption. Motorola XPRT delivers business-class security features with 256-bit AES data encryption and controls the IT department will appreciate, including the ability to remotely handle functions like enabling pin or password lock, password recovery and data wipe on both the phone and SD card if lost or stolen.

Motorola XPRT comes loaded with MOTOBLUR™ offering personalized content, including email and social media updates, delivered right to the user's home screen. It enables convenient viewing of news feeds, updates and messages from social media sites from a single screen.

Additional key features of Motorola XPRT include:

Android Market™ for access to more than 150,000 applications, widgets and games available for download
Google™ mobile services, such as Google Maps™ with Navigation, Google Talk™, Gmail™ and YouTube™
Corporate email (Microsoft Exchange ActiveSync®) and personal (POP & IMAP) email
Worldmode – CDMA (EVDO Rev. A), GSM/UMTS (HSPA) – international roaming service available in more than 200 countries
3G Mobile Hotspot capability, supporting up to five Wi-Fi enabled devices simultaneously
5-megapixel camera with camcorder and dual LED flash for low-light performance
microSD slot, with a 2GB memory card included, supporting up to 32GB
Bluetooth® 2.1 + EDR
Wi-Fi® b/g/n
1860 mAh Lithium-ion battery

Motorola XPRT requires activation on one of Sprint's Everything Data plans, plus a required $10 Premium Data add-on charge for smartphones. Sprint's Everything Data plan with Any Mobile, AnytimeSM includes unlimited web, texting and calling to and from any mobile in America while on the Sprint Network, starting at just $69.99 per month plus required $10 Premium Data add-on charge (pricing excludes surcharges and taxes).

Sprint also offers great value with international service add-ons for Motorola XPRT. For just $4.99 per month, the Sprint Worldwide Voice Add on offers discounted rates while traveling in more than 100 countries. For only $2.99 per month, you can make local calls in Canada, call back to the United States and even receive calls in Canada for just $0.20 per minute. That's a savings of $0.39 per minute over standard roaming charges. While roaming in Canada, Mexico, China, and other destinations data rates start as low as $0.002 per KB (on CDMA networks).

To sign up to learn more about Motorola XPRT, please visit www.motorola.com/XPRT.

Leading in Push-to-Talk

As the successor to the popular Motorola i1 launched by Sprint last year, Motorola Titanium is sleek and attractive, yet durable. It is the first iDEN device to combine Sprint's best-in-class Nextel Direct Connect and Android 2.1, Éclair, for a feature rich business-class experience. It features a full QWERTY keyboard and 3.1-inch touchscreen display. Built military-grade tough, Motorola Titanium is certified to Military Specification 810G for dust, shock, vibration, low pressure, solar radiation, high temperature and low temperature.

With more than 17 years of expertise, Sprint is the industry leader in Push-to-Talk, serving the world's largest Push-to-Talk community with millions of Nextel Direct Connect subscribers on the fastest national Push-to-Talk network. Nextel Direct Connect has set the industry standard for Push-to-Talk worldwide. More U.S. workers communicate in less than a second with Nextel Direct Connect than with any other Push-to-Talk service.

Additional key features of Motorola Titanium include:

Support for Nextel Direct Connect Services, including Direct Connect, Group Connect®, International Direct Connect®, DirectSendSM, Group Messaging and NextMail®
Android Market for access to more than 150,000 applications, widgets and games available for download
Google mobile services such as Google Search, Gmail, Google Talk, Google Maps with Navigation, syncing with Google Calendar™ and YouTube
Corporate email (Microsoft Exchange ActiveSync) and personal (POP3 & IMAP) email
5-megapixel camera with camcorder, 4x zoom and flash
Wi-Fi b/g
Stereo Bluetooth
GPS navigation
microSD slot, with a 2GB memory card included, supporting up to 32GB
1820 mAh Lithium-ion battery

To learn more about Motorola Titanium, please visit www.motorola.com/titanium.

Sprint has earned top honors in the competitive business marketplace – winning the #1 ranking for overall satisfaction for wireless voice service providers and a matching #1 ranking in overall satisfaction for wireless data service providers in a survey of large business decision makers, according to a comprehensive study by Yankee Group and Mobile Enterprise Magazine (www.mobileenterprisemag.com).1The study indicated that Sprint ranked first in overall satisfaction in wireless voice and data, and in voice services, ranked first or second in nine of the 10 categories among large business customers.