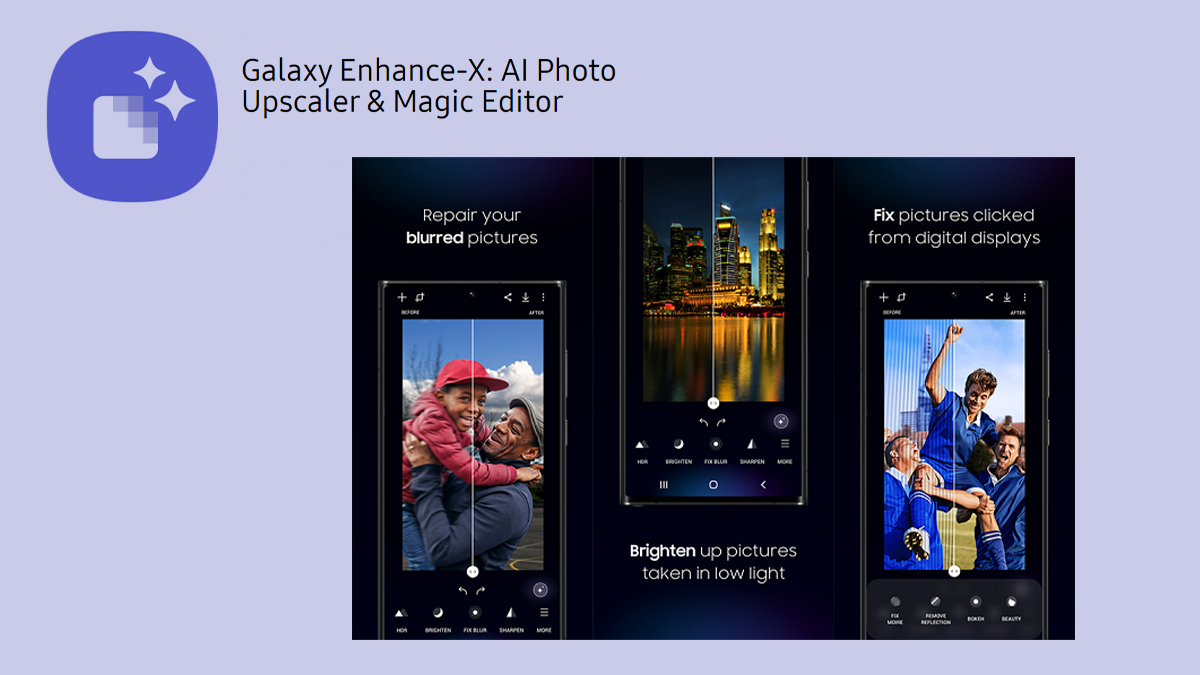 Galaxy Enhance-X is a new app from Samsung that lets you improve your photos using artificial intelligence. With just one click, you can make your photos of higher quality. For those who are experienced photographers, Samsung has the Expert RAW app. However, because of the company's large customer base, not every Galaxy user is aware of what each setting does. They can now "AI Photo Upscaler & Magic Editor" using the new Galaxy Enhance-X application.
As the term indicates, this is not a camera app like Expert RAW, but rather an editor for already-taken pictures. These can be pictures you took with your phone but didn't like, or pictures you took with an old phone or camera. The AI-powered algorithms help sharpen photographs, eliminate reflections, remove blur or add some for a portrait appearance, brighten gloomy shots, imitate HDR, and overlay a beauty mode. This is also true for the AI upscaler, which can make a low-resolution image two or three times bigger than it was before.

The moiré  effect that appears while taking a photo of a digital screen is eliminated by one noteworthy feature. There are other choices that allow you to control the intensity of the effect, and there is a sliding window that compares the before-and after-states. The original and enhanced photos are both saved in the gallery in JPEG format when you use the Galaxy Enhancer-X app to enhance a photograph. Also, the gallery saves both the original image and the one that has been changed. If you don't like the result, you can go back and try again.
Galaxy Enhance-X App availability
The Galaxy Enhance-X app from Samsung works with Galaxy phones running Android 10 or above. The app is available for download and installation on Galaxy A, M, and F-series phones running One UI 2.5, 3.0, 4.0, and 4.5, as well as flagship Galaxy Note, Galaxy S, and Galaxy Z series phones.
Users can get the Galaxy Enhance-X app from the Galaxy App Store and can also be downloaded from APK Mirror.