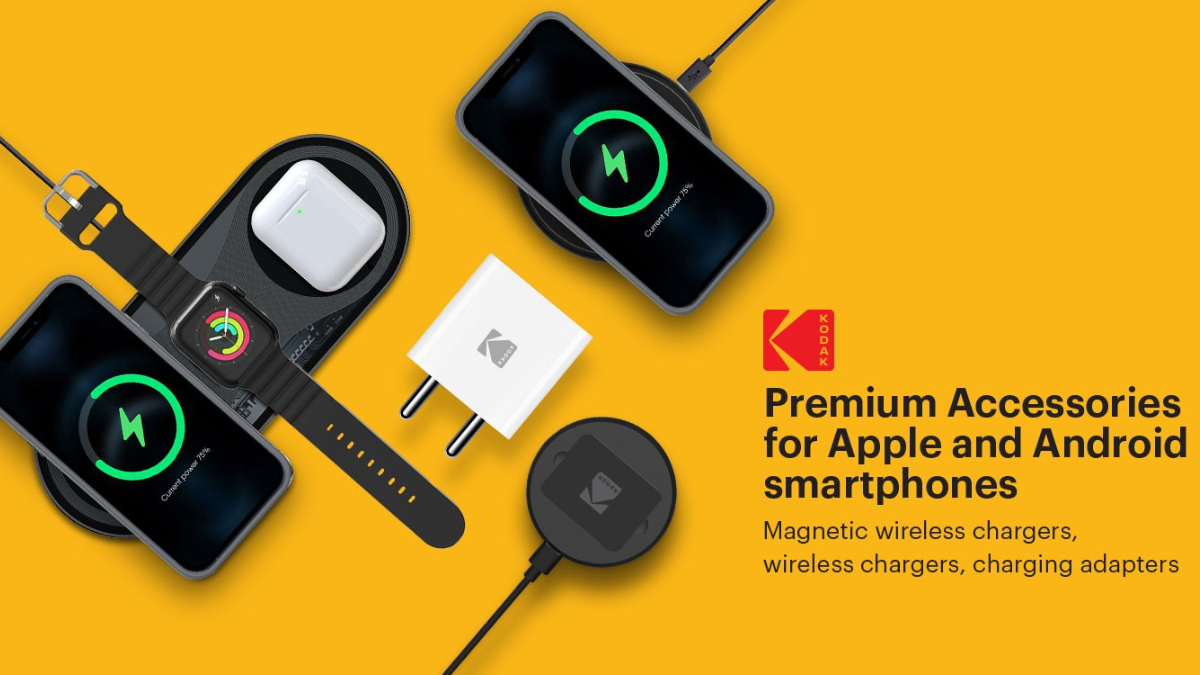 KODAK has announced the launch of five new Kodak-branded premium smartphone accessories for Apple and Android devices. The latest charging accessories are essential for anyone who gets to keep a high-end smartphone nowadays. The new accessories are intended to serve you at home as well as accompany you on every trip.
The company has one wireless charging pad for both Apple and Android devices, three premium Kodak-branded MagSafe-compatible wireless chargers for Apple iPhone 12 or higher, and a PD+QC USB wall charger for all of those fast-charging smartphones or tablets.
The following KODAK wireless chargers come in a sleek, elegant, all-black finish that will look good in any office or car. The wireless chargers are packed with smart safety features, such as overcharging, over-current, over-voltage, overheating, including short-circuit, to achieve maximum safety for your premium smartphone.
They are made by employing strong copper coils and neodymium magnets (MagSafe Chargers). The sturdy magnets keep the smartphone in position for the quickest and most efficient charging. There are also auto-sensing modes that let the charger charge your electronics up to 15 watts of power continuously.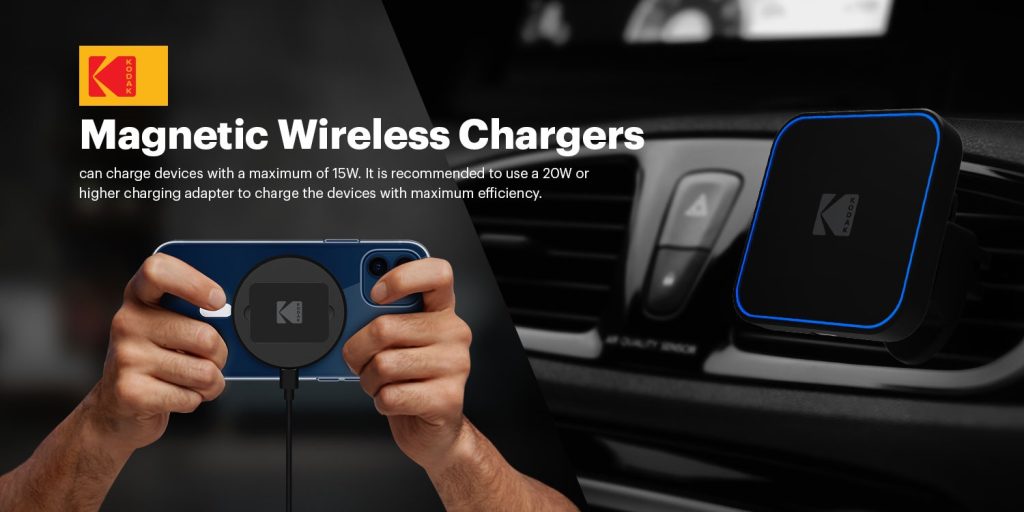 15W KODAK Magnetic Wireless Charger (WCM201)
It is compact and portable and may instantly serve as a stand. During the lengthy trip, a little kickstand on the rear of your smartphone keeps it instantly accessible for a quick video conversation or a movie break. Additionally, while you play games, the WCM201 simultaneously charges your smartphone.
KODAK Magnetic Wireless Charger (WCM101C)
The KODAK Magnetic Wireless Car Charger (WCM101C) travels with you. This magnetic charger makes smartphone viewing pleasant. It features a 360-degree flexible head and a clamp that fits into your car's AC duct. The WCM101C keeps your phone charged, so you may use GPS or watch OTT shows in the driveway.
KODAK Magnetic 3-in-1 Wireless Charger (WCM500)
It is handled with your Apple accessories. This compact stand, which has an elegantly arched shape, serves as a wireless charging pad for your Apple AirPods, a Magsafe-compliant charger for your Apple iPhone, and a wireless charger for your Apple Watch. Additionally, it can charge all of your devices at once on your desk.
KODAK Wireless Charger (WC300)
The KODAK Wireless Charger, is a 15W Type-C PD (WC300). This wireless charging pad is ideal for any workstation, whether it be at home or at the workplace, and it works with both Apple and Android smartphones from any manufacturer, including Samsung, OnePlus, or Pixel. Additionally, it functions with any readily available USB Type-C charger. The 8mm-thick WC300, which has a soft and fireproof silicone body, makes sure that your smartphone won't fall off when charging.
KODAK Power Adapter (PA320)
The KODAK Power Adapter (PA320) is ideal for any workstation. The charger is very secure and comes with a BIS Certification to make sure that your devices are charging as safely and securely as possible. It has a dual-port (USB A+USB C) output for compatible devices.
You can charge devices via the PD port, which is compatible with all smartphones and tablets, or the USB A (QC 3.0) port, which has an output of 18 watts. The charger does indeed have a smart chip that can detect the connected devices automatically and give up to 9 watts of maximum simultaneous power out of each port.
Pricing and availability
KODAK Magnetic Wireless Charger (WCM201): Rs 2,499
KODAK Magnetic Wireless Charger (WCM101C): Rs 2,999
KODAK Magnetic 3-in-1 Wireless Charger (WCM500): Rs 3,799
KODAK Wireless Charger (WC300): Rs 899
KODAK Power Adapter (PA320): Rs 799
KODAK 3-in-1 Wireless Charger (WCM400): Rs 2,799
All the above-mentioned wireless chargers are available in black, while the adapter comes in white. All of the above smartphone accessories will be sold on Amazon.in and Flipkart.com with a one-year warranty.