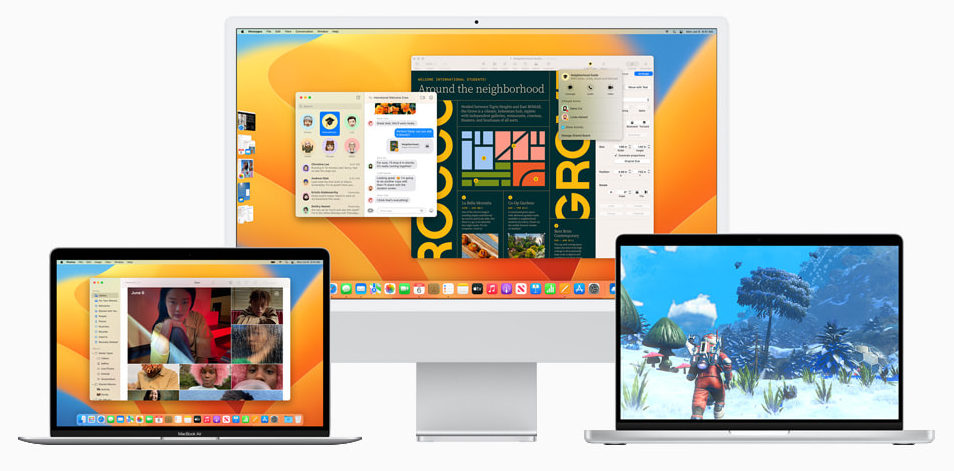 At the WWDC 2022, Apple introduced the next major version of their macOS desktop operating system, called macOS Ventura.  This brings Stage Manager, Continuity Camera that uses iPhone as the webcam on Mac, Handoff is coming to FaceTime, and there are updates for Mail and Messages apps.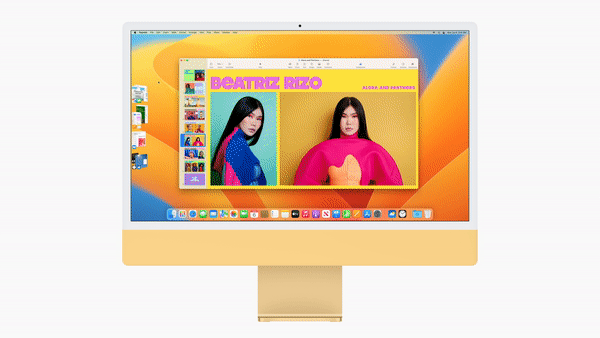 Stage Manager automatically organises open apps and windows, so users can concentrate on their work and still see everything in a single glance. The current window users are working in is displayed prominently in the center, and other open windows appear on the left-hand side, so they can quickly and easily switch between tasks.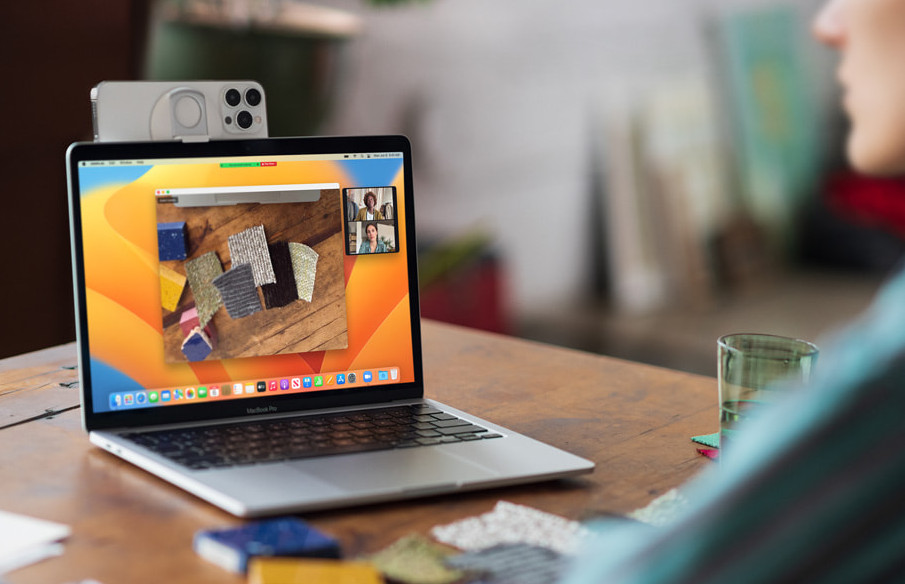 Continuity Camera lets Mac users use their iPhone as a webcam. Mac can automatically recognise and use the camera on iPhone when it is nearby — without the need to wake or select it — and iPhone can even connect to Mac wirelessly for greater flexibility. It also offers Center Stage, Portrait mode, and the new Studio Light. It also lets you use the Ultra Wide camera on the iPhone to enable Desk View, which simultaneously shows the user's face and an overhead view of their desk.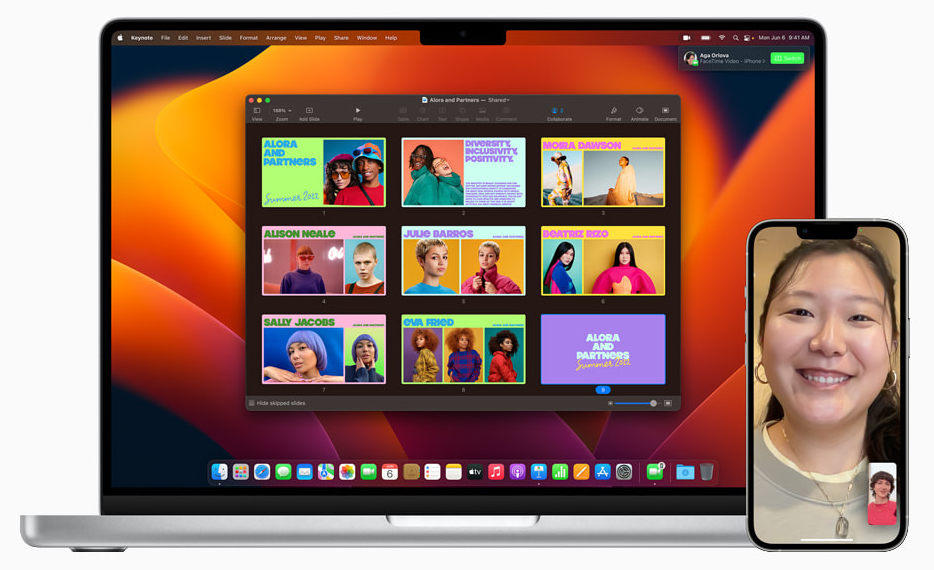 Handoff is arriving for FaceTime so that users can start a FaceTime call on one Apple device and seamlessly transfer it to another Apple device nearby. And when you hand off a FaceTime call, your connected Bluetooth headset automatically.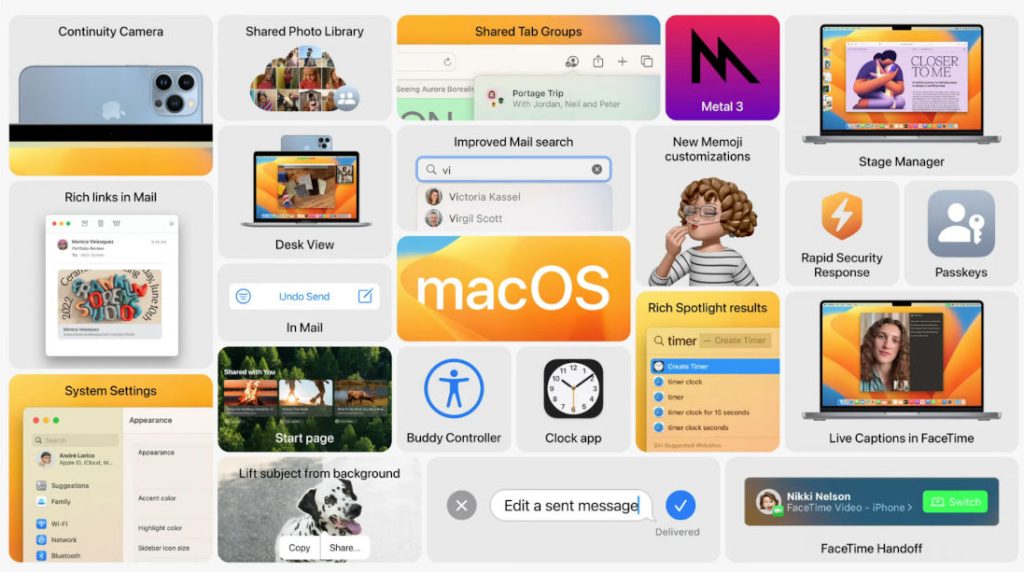 Other features
Share tabs and bookmarks, send messages and start FaceTime right from Safari. Passkeys make it simple to sign in securely, using Touch ID or Face ID for biometric verification, and iCloud Keychain to sync across Mac, iPhone, iPad, and Apple TV with end-to-end encryption. They will also work across apps and the web, and users can even sign in to websites or apps on non-Apple devices using their iPhone.
Improved Search in mail delivers more accurate and complete results and provides suggestions before you start typing. Users can also schedule emails and even cancel delivery after hitting send, and Mail now intelligently detects if items such as an attachment or cc'd recipient is missing from their message. In Mail, users can set reminders to come back to a message at a particular date and time, and receive automatic suggestions to follow up on an email if there has been no response.
You can now edit a message you just sent or unsend a recent message altogether. And you can mark a message as unread if you can't respond in the moment and want to come back to it later.
Spotlight gets Enhanced image search that lets you find images in Photos, Messages, Notes and Finder easily. You can even use Live Text to search for an image based on text inside it. Richer search results bring together all the information you need for contacts, albums, musicians, movies, TV shows, actors, sports and businesses. View large, scrollable previews of your files in Quick Look by pressing the Space bar. You can now use Spotlight to quickly set an alarm, start a Focus, find the name of a song with Shazam, run a shortcut and more.
Live Text uses on-device intelligence to recognise text in images across the system, and now adds support for paused video frames, as well as Japanese and Korean text. Users can also now lift the subject away from an image and drop it into another app. And Visual Look Up expands its recognition capabilities to now include animals, birds, insects, statues, and even more landmarks.
The Weather and Clock apps, with all the features users know and love from iPhone, have been optimized for Mac.
New accessibility tools include Live Captions for all audio content, Type to Speak on calls, Text Checker to support proofreading for VoiceOver users, and more.
System Settings is the new name for System Preferences, and comes with a refreshed and streamlined design that is easier to navigate and instantly familiar to iPhone and iPad users.
macOS security gets even stronger with new tools that make the Mac more resistant to attack, including Rapid Security Response that works in between normal updates to easily keep security up to date without a reboot.
Availability
The developer beta of macOS Monterey is already rolling out, and the public beta will be available to Mac users next month. The final global rollout will be available as a free update later during Fall of 2023 to MacBook, MacBook Pro, iMac and iMac Pro 2017 and later, MacBook Air and Mac mini 2018 and later, Mac Pro 2019 and later.